Environmental Issues Report
By Larry Danos
April 4, 2017
---
Fracking Tracking                                                        
---
(Story from Bloomberg, Mar. 24, 2017)
Sclumberger has hopes of replacing Halliburton as the largest Hydraulic Fracturing company.
The company's new venture with Weatherford International Plc will produce a new company, OneStim, with Schlumberger owning 70%.
Halliburton is still the larger in revenue and other holdings of these two oil-field service providers.
(Story from Washington Post, Mar. 17, 2017)
Larry Hogan, Governor, changes his stance and calls for a ban on hydraulic fracturing in the state.
It would make Maryland the 3rd state to do so, behind Vermont and New York.
The measure easily passed the state's House and now moves to the Senate, where there is more opposition.
The present moratorium on Fracking in Maryland expires in October.
---
Coal Updates                                                    
---
(Story from FiveThirtyEight.com, Mar. 28, 2017)
 The repeal of President Obama's Clean Power Plan will have mixed effects on the Coal Industry.
Since the courts have already put a block on the Clean Power Plan and the main provisions weren't to take effect until 2022, the repeal will not be such a big change.
Natural gas is cheaper and has already been chosen as the preferred source of heating for power in this country, but the Executive Order could  allow coal exporting to ramp up.

Trump will most likely cause an increase in Fracking for gas, which will continue to make natural gas prices go down.
---
Oil and Pipeline Reports                          
(Story from NPR, Mar. 23, 2017)
The State Dept. issues the permit for TransCanada to begin construction of the final, northern leg of the Keystone XL Pipeline.
TransCanada will drop claims against the U.S. for Pres. Obama's stopping the pipeline.
Rex Tillerson, Sec. of State, recused himself back in February, since ExxonMobil has a majority stake in Imperial Oil, which operates in the Tar Sands Oil in Alberta.  (Story from Fortune, Mar. 9, 2017)
Map showing Keystone XL (in black) and the Dakota Access (in

red

) Pipelines (from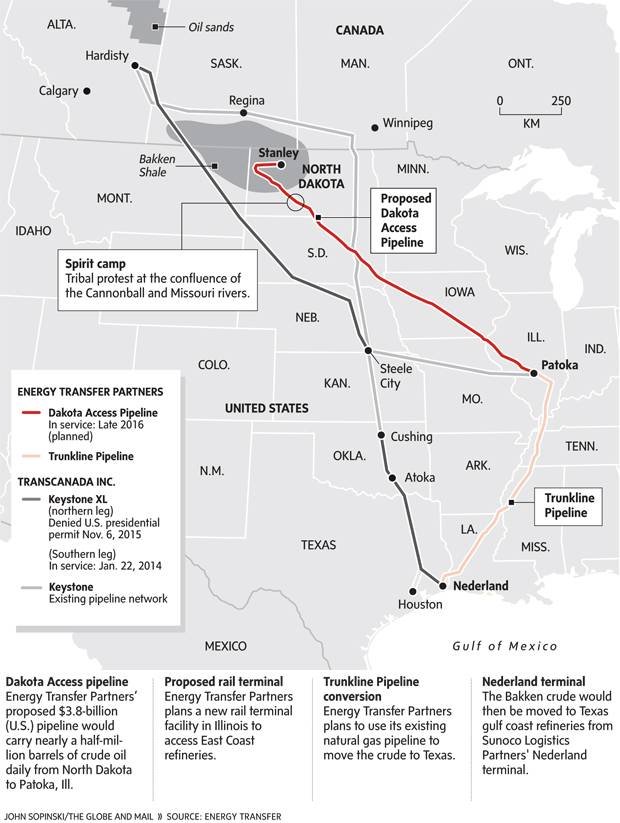 (Story from Newsweek, Mar.6, 2017)
 April 1 is date to be finished; tribes convene at White House.
The Standing Rock Sioux and Cheyenne River Sioux lose legal battle to halt construction.
(Story from Los Angeles Times, Mar. 6, 2017)
 The new CEO, Darren Woods, in his first public announcement, indicated that $20 billion would be spent on expanding refineries and chemical & liquified natural gas facilities along the coast.
Lower oil prices in recent years have caused oil profits to shrink.
He spoke briefly about Exxon's oil ventures in Russia mentioning the possibilities if sanctions are lifted.
Admitting that Climate Change poses problems, he advocates for a revenue-neutral Carbon Tax/Fee, and is concerned about activists at the annual shareholders meetings.
He spoke briefly about Exxon's oil ventures in Russia mentioning the possibilities if sanctions are lifted and he made a statement in Houston on Mar. 1 about his plans for Exxon.
(Story from East Bay Express Feb. 21, 2017)
A proposal for a new regulation, Rule 12-16, would limit the types of oil that could be processed in Bay Area refineries.
It would limit GHGs and particulate-matter emissions, thereby, stopping Tar Sands oil from being processed here.
The Bay Area Air Quality Management District (BAAQMD) and oil companies oppose the rule.
Proponents include the Sunflower Alliance member organizations led by Communities for a Better Environment (CBE).
BAAQMD Board, made up of city and county council members from the nine Bay Area counties will meet May 17, open to the public, to discuss the Rule 12-16 Environmental Impact Report.
---
  California Water Report                             
---
(Story from Maven's Notebook, Mar. 21, 2017)
The California Water Fix is steadily moving through the legislative process as can be seen through this series of meetings, conferences, etc.
It appears the Governor is doing everything he can to get this done.

(Story from Climate Central, Feb. 17, 2017)
Restoring water to the ground as a way to replenish groundwater supplies is being done in agricultural areas.
While building dams and reservoirs is expensive, allowing large agricultural areas to flood during part of the year can recharge the subsurface aquifers.
Underground storage of water has been part of the Los Angeles water plans for years and is now popular in the central valley areas that were over-pumped during the drought.
This gives some hope of restoring some of the state's depleted groundwater resources.
---
  Climate Change                                     
---
(Story from EcoWatch, Mar. 31, 2017)
Following Trump's Exec. Order the Dept of Energy under Energy Sec. Rick Perry, instructions were given to avoid such terms as "climate change", "emissions reduction", "Paris Agreement".
DOE spokespeople deny an official ban on these terms but prefer "jobs", "infrastructure", etc. as preferred language.
(Story from NY Times, Mar. 28, 2017)
The Executive Order is called "Presidential Executive Order on Promoting Energy Independence and Economic Growth".
This will change the national plan toward what he calls "pro-growth and pro-environment" approach to how business is done in this country.
It "eliminates aspects of agency actions that burden domestic energy production" and all references and regulations related to Green House Gases and Climate Change.
Among other things it will rescind Pres. Obama's Clean Power Plan and his Climate Change as a national security issue plan, lifts a moratorium on coal leases on federal lands, and will remove many regulations involving Methane.
It does not mention the Paris Agreement.
(Story from Washington Post, Mar. 9, 2017)
(Contributed by Sara Greenwald, from 350SF.org; taken from National Geographic, Mar 7, 2017).
It started as a grammar school project and as a teenager (19 years old) it has grown into a global, multi-national effort of over 55,000 children activists.

Felix Finkbeiner, from a small town in Bavaria, started the project at nine years old that has led to meeting the Million Tree and the Billion Tree goals.
Inspired by a Kenyan woman, Wangari Maathai, he learned about the role trees can play in Climate Change and about Deforestation, his project,Plant-for-Planet took shape.

---
Foods, GMO, Pesticides, etc.                   
---
(Story from EcoWatch, Mar. 11, 2017)
Glyphosate, part of Monsanto's Roundup pesticide and Dow's, Enlist Duo pesticide have endured much criticism and even approval by the EPA.
California can legally proceed listing glyphosate as known "to cause cancer" per a judge's ruling.
This comes on the heel of a Monsanto lawsuit against the State for attempting to officially list the pesticide.
The WHO (World Health Organization) has already listed glyphosate as a "probable human carcinogen".
(Story from EcoWatch, Mar. 1, 2017)
Organic Farming has come under attack for using  pesticides.
The National Organic Program allows a few natural-based and synthetic substances as pesticides, mostly used in growing fruit and vegetables.
While mostly naturally produced pesticides are used, a synthetic pesticide called Spinosad has an EPA safe tolerance limit.
Organic Farming pesticides are considered by the EPA the least toxic and most safe.
---
Miscellaneous/Politics                       
---
(Story from SJ Mercury, Mar.24 & Community Workshop held in Hayward, Mar. 29, 2017)
The Bay Area Air Quality Management District (Air Dist.) is holding four workshops (Mar. 27 – 30) in communities around the Bay to educate the public about a new ruling to regulate Green House Gases (GHGs), Suphur Oxides (SOx), Nitrous Oxides (NOx), and Particulate Matter (PM).
Communities around the Refineries have submitted Rule 12-16 that calls for a cap on the pollutants and the Air Dist. is submitting alternative Rules 13-1, designed to regulate pollution according to production and Rule 11-18 to handle Health Risk by strengthening regulations in most business sectors in the Bay Area.
The reason for these Rules that may seem at odds with each other is that AB32 (Calif.'s environmental policy) was given industry approval to deal with GHGs separately under the Cap & Trade program and not by using hard caps like Rule 12-16 would have it.
However, it has become obvious to some that the State cannot meet the goals set in AB32, especially with the advent of the very dirty Tar Sands Oil in our refineries, without using a cap and that pollutants in the refinery corridor would ensure against health risks in those communities.

Mar 22:

 

Local Rodeo and Animal Mistreatment Hearing
(Hearing at the Hayward Area Recreation Dept. public meeting)
The Rowell Ranch Rodeo in Castro Valley was the center of attention at a sub-committee hearing for public input on some featured events.
HARD (Hayward Area Recreation Dept) owns the Ranch and permits an annual Professional Rodeo Cowboys Association-sanctioned rodeo and permits a Junior Rodeo, mostly for youngsters.
The Junior Rodeo includes two controversial events: 

Mutton Busting – a young person hangs onto a harness while riding a sheep.
Wild Cow Milking – a cow (lactating with calf) is roped, pinned down and milked.
The use of electric prods – which turns out to be very limited.

About 40 people spoke representing cowboys, rodeo professionals, Rotary Club, Animal Rights persons, Unitarian Universalist Church members, veterinarians, wildlife workers, and various other citizens of Alameda County and other Bay Area counties.
The result was to not go forth with a full Board meeting on this and to allow these events with no modifications to proceed as usual.
(Story from International Bird Rescue, Mar. 14, 2017)
Intern, Connor Matthews – Univ. of NV, focuses on "post-realease and survival information on banded Brown Pelicans.
(Story from EcoWatch, Mar. 8, 2017)
The Sea Shepard, known for shadowing whalers, tracks down other environmentally unsound practices and launches an investigation into Shark Finning operations.
Large shipments of shark fins were uncovered in a warehouse in Hong Kong
The U.S. Congress passed the Shark Finning Prohibition Act under Pres. Clinton in Dec. 2000, which prohibited any U.S flagged ship from unloading shark fins or participating in shark finning in international waters.
(Story from EcoWatch, Mar. 2, 2017)
The "superstar" Pope was given a Nissan Leaf to set the standard for world leaders.
(Story from Guardian, Feb. 20, 2017)
Texas has surpassed Iowa (was #1 in previous years) in total Wind Energy Production with 20,321 MegaWatts of power, which accounts for 12.68% of the state's energy last year.
The top three states in percentage of the state's power (not the same as Wind Energy Production total) are: Iowa, South Dakota and Kansas in that order.
All of these states are Republican-leaning states.
---
Bay Area Events                                        
---
Earth Day Events for April
Sunday Forums in April at UUSF, Environmental Justice Month

April 2

,

9:30am

–  Ash Lauth from Center for Biological Diversity on "California Aquifers".                                                                                                              

April 9

,

9:30am

– Andres Soto from Communities for a Better Environment on East Bay Environmental Justices issues.                                                                   

April 23

,

12:30am

– Deborah Kennedy, author of Nature Speaks, Art & Poetry for the Earth.                                                                                                                             *Forums usually take place at 9:30am but April 23 will take place at 12:30pm, lunch served.  April 16. Easter Sunday, no Forum.

Saturday, Apr. 8:
11:00 – 4:00pm – Berkeley Bay Festival, Shorebird Park at Berkeley Marina, 160 University Ave.
Thursday, Apr. 20 – Wednesday, Apr. 26
San Francisco Green Film Festival, Castro Theater, Roxie, other venues.    (Don't miss Mark Kitchell's film, Evolution of Organic, on Thursday, April 20, 7:30 pm, Castro Theatre.)

Friday, Apr. 21:
12:00 Noon: Protest Rally at the EPA, Earth Day Action for Environmental & Climate Justice, sponsored by Green Action, EPA Region 9, 75 Hawthorne St., San Francisco.  Contact Green Action:  415-447-3904.
6:30 – 9:00pm: Film, Before the Flood, Sensible Cinema at the Unitarian Universalist Church in SF, 1187 Franklin St.
6:30 – 9:30pm:  Film, Before the Flood, David Brower Center, Berkeley.
Saturday, Apr. 22:
March for Science in San Francisco 
11:00 – Rally at Justin Hermann Plaza;
12:30 – March to Civic Center.
Saturday, Apr. 29:
9:00 – 5:00pm:  National People's Climate March in Washington, DC;  Join with others going from the Bay Area.
12:00 – 5:00pm: People's Climate Movement-Bay Area, Lake Merritt Amphitheater, Oakland (near Lake Merritt BART Station).
Monday, May 1:
3:30 – 6:30pm: Climate Contingent at May Day March, place TBD, Oakland.
Other Sources of Events:
Located in San Francisco, emphasizes community projects and promotes ecological awareness with a focus on watersheds.
 The environmental center of leadership and events in Berkeley
Long-time Berkeley nonprofit focusing on green and healthy activities, especially in East Bay.

The Bay Area umbrella organization for spearheading activism centered around the SF Bay oil refineries, oil and coal trains, and environmental justice issues centered in East Bay but not limited to the Bay Area.

 The End