December 5, 2017
I.  Climate Change
---
Story from inside climate news, Dec. 1, 2017.
Oil drilling in the Arctic National Wildlife Refuge in the new tax bill was illusive until the final days of the Senate approval process and even some Republican congress people sent a letter to both houses in opposition to this plan.
They cited the oil/gas resources in ANWR are not really necessary to our energy independence.
Oil companies should concentrate on the National Petroleum Reserve Area (NPRA) in the Arctic already set aside for production.
It would certainly generate a number of lawsuits.
Stories from COP23 website; truthout, Nov. 21, 2017.
The Climate Conference ended Friday, Nov. 17, without great fanfare and with the common message of staying on track with the Paris Agreement, to work toward achieving the Sustainable Development Goals (SDGs), and the aim to do better with the knowledge that time is running out. 
The dramas at COP 23 occurred around Trump's departure of the Paris Agreement e.g., the opening statement about the U.S. extreme weather events as examples of Climate Change; the focus-on-U.S. at some of the side events; and actions taken by attendees at the events. 
Nov 11:

Nov 13:

Nov 15:

Nov 16:

 
Nov 17:

Nov 22:

Dec 3-14, 2018:

Next Conference of Partners (COP24) in Katowice, Poland
Stories from New York Times, Nov. 4, 2017; ClimateWire, Dec. 1, 2017.
Even though the Trump Administration doesn't acknowledge Global Warming by human-caused green house gases, this government-approved report appeared as Trump was leaving on an Asian tour. 
On Friday, Nov. 3, the U.S. Global Change Research Program published its report, as the opening ceremonies of the UN Climate Conference were getting ready to begin on Monday, Nov. 6.
The National Climate Assessment report is a congressionally mandated science report on the climate that's due out every four years and left no doubt about the cause of global warming and the nature of extreme weather events.
It describes the climate effects already suffered by every part of the United States and assures an ongoing, ever-increasing expense to the country in the future.
Scott Pruitt to stage a "red-blue debate" on Climate Change to dispel the "alarmism" by scientists.

Rescinding Obama's Clean Power Plan is integral to this debate while trying to put forth the idea that Carbon Dioxide be considered a non-pollutant.
II.  Fossil Fuels
---
Stories by Washington Post, Nov. 20, 2017; truthout, Nov. 22, 2017; Washington Post, Nov. 16, 2017.
While the State of Nebraska approved the Keystone XL pipeline it did steer it around the sensitive Sandhill-Ogallala Aquifer region causing a five-mile extension to TransCanada's original plan.  This decision guarantees further strife on both sides of the issue that could last for a number of years. 
The Nebraska Public Service Committee voted 3-2 to approve an alternative route for the XL Pipeline.

This decision moves the pipeline further east but still allows 830,000 barrels of Tar Sands Oil to flow southward toward Texas.

Various impacts will now be assessed by TransCanada of the new route, on scheduling and on landowner easements.

Nov 22

– Activists "Promise to Protect".

Nov 16

– The approval comes only a few days after a reported 5,000 barrel spill

on the original Keystone pipeline in a field near Amherst, South Dakota.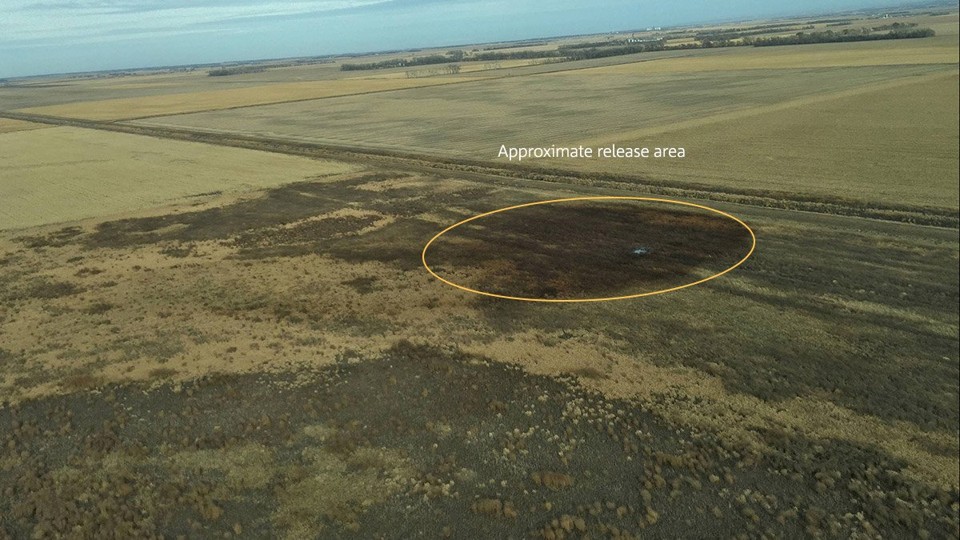 III.  Water and Food Reports
---
Story from Center for Food Safety email, Nov. 19, 2017.
Secret legislation is being crafted by the pesticide industry to dismantle the Endangered Species Act.

You can sign the petition to our local congress people to help bring this to light.
Story from Nation & World, Nov. 10, 2017.
Monsanto's herbicide, Roundup, banned recently in Europe, will require a warning label in California beginning next July.
Non-Hodgkin lymphoma and birth defects linked to exposure.
Other companies, Dow AgroSciences and DuPont, also sell glyphosate products.
Story from Organic Consumers Association, Nov. 9, 2017.

The announcement was made at a conference of organic foods advocates who encouraged Ben & Jerry's to go organic.

Glyphosate was detected in some samples at levels that raised health concerns.

It shows how prevalent glyphosate is in most of our foods.
Story from Baykeeper, Nov. 9, 2017.
Darling Ingredients operates a food processing by-product recycling plant at Pier 92 that converts used cooking oil, fat, bone and protein into other ingredients has signed a binding agreement to remove pollutants from its storm water runoff.  
The agreement reached by Baykeeper's Bay-Safe Industry Campaign is its 40th victory in to stop industrial pollution to the Bay.
IV.  Politics
---
Story from Politico, Nov. 5, 2017.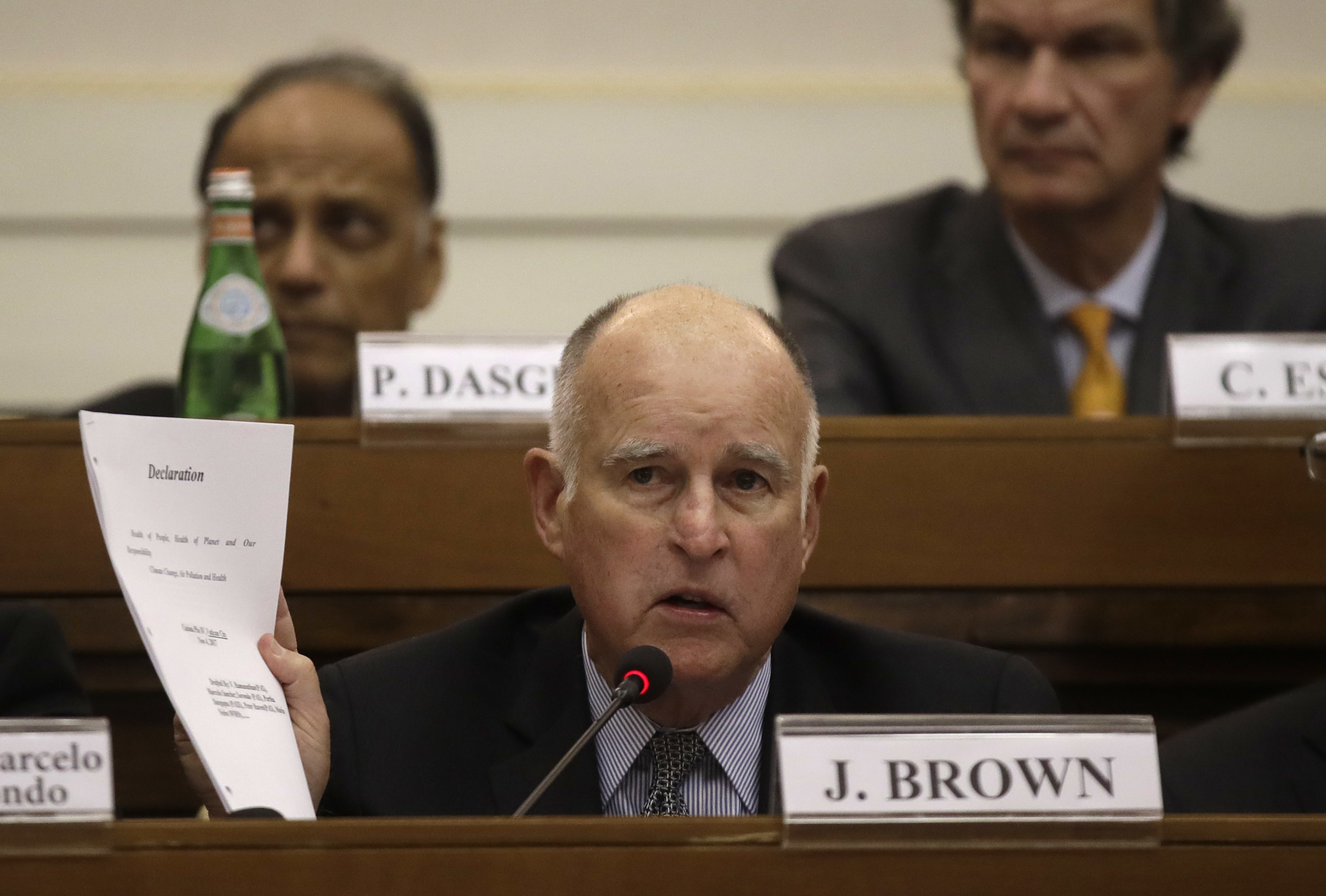 Immediately before COP23 Gov. Jerry Brown gave the keynote address at the Vatican's  Pontifical Academy of Science conference on climate change urging faith organizations to help "awaken the world" toward GHG reductions.
The Governor staunchly supported the Pope's Encyclical, Laudato Si, (May, 2015).
He offered no excuses for President Trump's stance on Climate Change and touts large swaths of the U.S. are on board with working to mitigate the planet's "existential threat".
Story from Environmental Progress, Nov. 1, 2017.

Stanford professor Dr. Mark Jacobson is known for his exhaustive study of how the nation could transition to renewable sources of energy.
He filed suit against the National Academy of Sciences along with the lead author (Christopher Clack) for publishing false statements of fact.
A major part of the NAS report had to do with Jacobson's computer modeling of how the nation could significantly expand hydroelectric power.
V.  Miscellaneous Items
---
Story from EcoWatch, Nov. 27, 2017.
The media company, Meredith Corporation, has secured funds from Koch Equity Development to purchase the news magazine.
While the Kochs have expressed little interest in controlling a news media there's still concern the climate-change-denying moguls would influence editorials or news stories.

Meredith's board claims Koch brothers will not have seats on the board nor will they influence editorials or operations.



Story from Sciencealert.com, Nov. 23, 2017.
This is the latest result in a series of time intervals starting with 75 days in 2015, working up to the present interval that has surpassed the 300-day mark.
Costa Rica has been extending consecutive runs for longer periods of time and on Nov. 18 reached 300 days and still counting.

Its power sources consist of 78.6% hydropower, 10.29% wind, 0.84% biomass & solar, and 0.38% hydrocarbons.
Story from EcoWatch, Nov. 17, 2017.
The court case, Juliana v. United States was filed by twenty-one young plaintiffs in 2015 in Oregon and has a trial date for Feb. 5, 2018, with oral arguments before the Ninth Circuit Court of Appeals on Dec. 11.
It revolves around the government "knowingly destroying our climate system and the healthy future for our young…".

Two judges denied motions to have the case dismissed by the fossil fuel industry enjoined with the government.

They have survived a Mandamus petition from the Trump Administration to go back and review the previous decisions.

The next step is for the government to face trial as evidence is presented by young people.
Story from treehugger, Sept. 28, 2017.
Climeworks, a Swiss company, is the first to commercially remove carbon dioxide from the atmosphere and use it to grow vegetables.
Ambient air is drawn in with huge fans, CO2 is separated, waste heat is used to power the facility and CO2 flows into a greenhouse to help produce vegetables.
While this is done on a small scale it could have promise as a partial solution to reducing GHGs on a broader scale in the future.

———————– Breaking News —————————
Story by Washington Post, Dec. 4, 2017.
As expected, two national monuments were proclaimed downsized today.  Bears Ears and Grand Staircase-Escalante, both in Utah, were shrunk by Trump's Executive Orders. 
Ute Indian Tribe, Hopi, Navajo, Ute Mountain Ute, and Zuni Pueblo will file suit along with environmental groups.

Interior Secretary, Ryan Zinke will release plans for downsizing more national monuments.

Bears Ear was declared by Pres. Obama and Grand Staircase-Escalante was declared by Pres. Clinton.
VI.  Events
---
Saturday, Dec. 2 – Dec. 9:  Save Our National Monuments Week of Action
Mon. Dec 4, 12:00 – 1:00, Protest at SF Trump Building, 555 California St. as Mr. Trump is set to announce his reductions to National Monuments.
Wednesday, Dec. 6, 9:30 – 12:00pm:  Bay Area Air Quality Management District (BAAQMD) Directors meeting on preventing future emissions of CO2 and other toxic pollutants. 
Location: 375 Beale St., San Francisco
Monday, Dec. 11, 10:00am:  Livestreaming of Oral Arguments for Youth Climate Trial in Ninth Circuit Court of Appeals.
Sunday, Dec. 17, 3:00 – 4:00pm:  350SF monthly meeting.
Location:  Unitarian Universalist Church of SF, 1187 Franklin St.
Other Sources of Events:
350Bay Area – Includes other 350.org branches in the Bay Area.
Planet Drum – San Francisco bioregion awareness center
David Brower Center  –  The environmental center in Berkeley
Ecology Center – Berkeley sustainability center
Sunflower Alliance – Bay Area umbrella organization for activism
Sierra Club San Francisco – Bay Area Website
The  End