November 3, 2017
 

I.  Climate Change
---
Story from inside climate news, Oct. 25, 2017.
This is an interview with Dr. Kevin Trenberth, Senior Scientist in the Climate Analysis Section of the National Center for Atmospheric Research, about the 2016 analysis where CO2 concentration reached 403.3ppm.

The changes today that occur in 100 years took 10,000 years in nature in prehistoric times.

While we continue to try to reduce emissions, CO2 concentrations keep going up since we're still adding to GHGs to the atmosphere.

He suggests the need to make a quick transfer to a carbon-free world to have a decent chance of returning to a more normal climate.
Story from inside climate news, Oct. 25, 2017.
The Government Accounting Office report shows costs related to climate change will soar while the Administration neglects and denies the issue exists.
Worsening droughts, wildfires, floods, storms and related events cited as sources of economic distress in decades to come.
It found that the U.S. Southeast, Midwest and Great Plains to be the most economically impacted.
Story from U.S. Climate Action website, Oct. 9, 2017.

It was created by a coalition of state governors, including Gov. Jerry Brown in response to U.S. withdrawal from the Paris Agreement.

The coalition stands behind the importance of collective action in dealing with Climate Change.
Watch for a forthcoming summit happening in 2018.
Story by Bloomberg View, Oct. 2, 2017.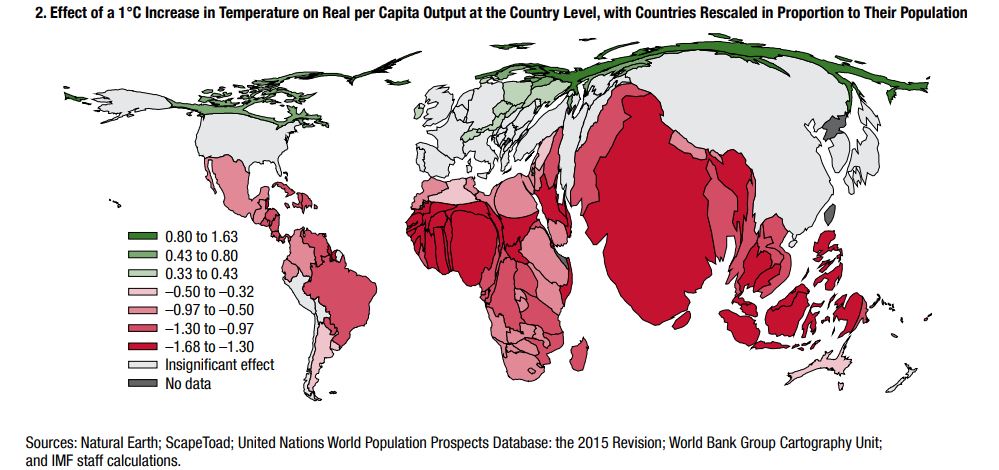 Northern countries fare much better with 1deg C increase.
It's dawning on the business world that Russia would benefit the most from a warming climate. .
II.  Fossil Fuels
---
Story from EnergyWire, Oct. 24, 2017
On March 28, Trump issued an Exec. Order 13783, "Promoting Energy Independence and Economic Growth", promised to review all federal regulations that fetter energy producers in this country, mainly fossil fuel producers.


The Clean Energy Plan was delayed in court in 2016 leaving Trump with the upper hand but will be challenged by many supporters.

The exec. order has scrapped plans to set a social cost of Carbon emissions and all tools to measure the impacts with a dollar amount for possible Carbon Tax or Cap & Trade policies.

Dept. of Interior rules are generally under review:

Oil, Hydraulic Fracking on Federal and Tribal Lands.
Methane and Waste Prevention Rule.
National Park Service regulation on "General Provisions and Non-Federal Oil and Gas Rights".
Fish and Wildlife management of Non-Federal Oil and Gas Rights.

The revival of coal leasing was implemented.
Other proposed or possible regulation changes:

Ozone regulations.
Mercury emissions from coal-fired power plants.
An adjustment to oil, gas, and coal royalty collection procedures..
Adjusting national monument designations under the Antiquities Act that impede energy development.
And many other, so far unmentioned items are possible pending the review process.
III.  Water and Food Reports

      
---
Story by IFL Science!, Oct. 24, 2017; Pesticide Action Network-North America (PANNA)
Story from The Sacramento Bee, Oct. 17, & 25, 2017.
IV.  

Politics and Miscellaneous Items



---
Story from The Mercury News, Oct. 28, 2017.
In a similar manner as is being done with national monuments the Trump administration is looking at eliminating or downsizing national marine sanctuaries.

A report from the U.S. Commerce Secretary, Wilbur Ross, is "undergoing final inter-agency review" which disturbingly is not available yet to the public.

The areas of the San Francisco-Monterey coastline that may become vulnerable to oil drilling are:

Greater Farallones
Monterey Bay

Review the West Coast Region National Marine Sanctuaries and the California Marine Sanctuary Foundation websites: 

https://sanctuaries.noaa.gov/about/westcoast.html https://www.californiamsf.org/index.html 
Story from EcoWatch, Oct. 26, 2017; Reuters, Oct. 23, 2017; inside climate news, Oct. 5, 2017.
Members of Congress, partnered with special interests, are calling to treat Standing Rock and other pipeline protestors as threats to national security.

These are desperate attempts by such corporations such as Energy Transfer Partners (the Standing Rock pipeline company) to silence protestors. 

An infiltrating team and paramilitary contractor called TigerSwan, has gathered a database of information to use as evidence against Standing Rock's standoff against the DAPL.

A congressional letter to Attorney General Jeff Sessions

inquires about the "Valve Turners" as possible domestic terrorists. 

Canada's

House of Commons voted down a motion to invoke RICO charges (Rackateer Influenced and Corrupt Organizations Act)

against Greenpeace and stand.earth (boreal forest protectors).
Story from EcoWatch, Oct. 26, 2017; Seeker, Sep. 1, 2017.
A clear, transparent plastic coating could concentrate solar energy into photovoltaic cells located in the outer edges of the film.
Since there are so many windows this could serve a greater power generating capacity than standard solar panels.
Story from Senate Press Release, Oct. 24, 2017.
Sen. Cory Booker and Rep. Raul Ruiz introduced a bill to require federal agencies to address Environmental Justice.
It provides legal tools for protecting communities of color, low-income, and indigenous people.
It also requires federal agencies to act on mitigation and prevents future environmental injustices.
Story from The Mercury News, Oct. 21, 2017
The State, in 2007, initiated plans to map all risky areas for power lines and continued delays by PG&E left the job virtually undone. 
On Oct. 8, the hot, dry Diablo winds of Northern California began to blow resulting in f

orty-two lives lost and over 8,400 structures burned.

Some scientists come up short of mentioning climate change, citing more vegetation from last year's wet season, more closely built housing in recent years and the policy of suppressing natural fires.

Most agree the higher temperatures, the lower humidity and higher winds are unusual and portend of things to come due to warming climate.
Story from SF Bay Restoration Advisory Council meeting, Oct. 13, 2017.

The SF Bay Restoration Authority created Measure AA, passed in 2016, to decide on funding projects to protect the Bay, shoreline, and habitats from pollution and improving water quality, .
The first Requests for Proposal (RFPs) are due by Nov. 15 for grants for various restoration projects.
The preferred projects mostly include habitat restoration, flood protection, shoreline access with recreational use.

Story from Scientific American, Oct. 6, 2017.
Andrew Wheeler, a coal lobbyist and former aide to Sen. Inhofe (OK), has been appointed Deputy Administrator to Scott Pruitt at the Environmental Protection Agency.
Somehow Halloween is an appropriate time for such a horror, as Trump continues to place people with NO environmental science in their background and who are clearly unqualified into sensitive administrative positions.
 

V.  Events
---
Sun., Nov. 5, 1:00 – 3:00pm – Sunflower Alliance Meeting
Bobby Bowens Progressive Center, 2540 MacDonald Ave., Richmond, CA
Newcomers welcome.
SF Public Library films:
Thurs., Nov 16, 6:00pm & Fri. Nov 17, 5:00pm – Clean Energy Healthy Communities Gathering
Oakland Asian Cultural Center, 388 9th St., Oakland

An entry fee applies
Other Sources of Events:
350Bay Area – Includes other 350.org branches in the Bay Area.
Planet Drum Calendar – The San Francisco bioregion awareness center
David Brower Center  –  The environmental center in Berkeley
Ecology Center Calendar – The Berkeley sustainability center
Sunflower Alliance Home Page – The Bay Area umbrella organization for activism
Sierra Club San Francisco Calendar – Events
The End