February 4, 2020
I.  Climate Change
---
Story from Australia's Vice News, Jan. 7 & 10 2020; ABC News, Jan. 12, 2020; Grist, Jan. 16, 2020.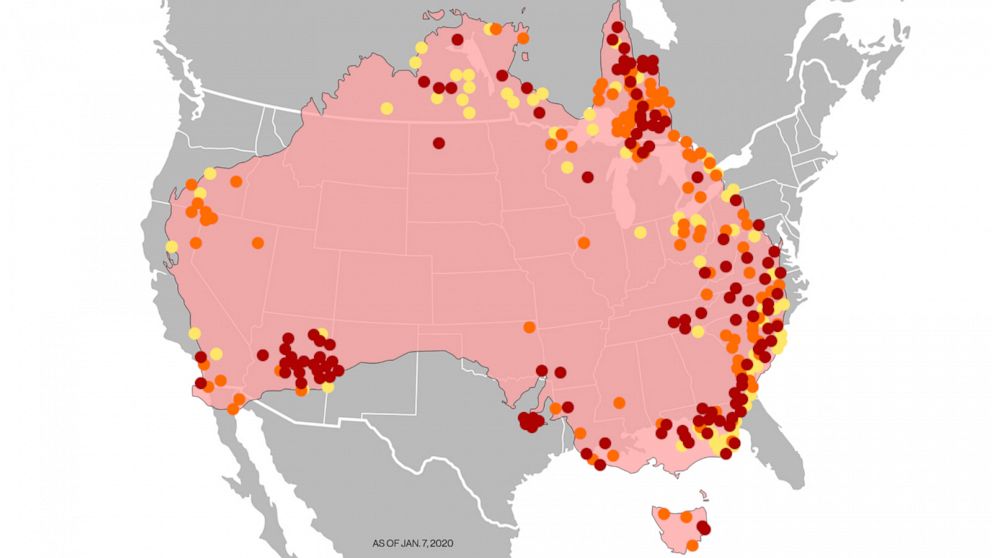 Putting the Australian 'Summer of Fire' into perspective isn't easy.  The highest temperatures ever were reached in December with a world's record of 121.8°F on the south coast of Australia.  The stories in the news include: the controversy of climate change with its deniers; a president who should not have gone on vacation; over 30 persons dead (as of this date); 2,000 homes destroyed; and the threat to endangered species.
While this is being written, the flames still continue to rage through millions of acres in Australia.  Rain has fallen in some areas but there's the risk of landslides in the parched landscapes.  Efforts to save and comfort wildlife are ongoing.  NASA videos show how the smoke is spreading around the globe, especially across the southern hemisphere. 
A rift in the Murdoch family over climate change has arisen.  Rupert Murdoch's son and wife (James an Kathryn) balked at Murdoch's conservative press (Fox News) and have come out against his misleading press citing the damage it does to the public.
Story from The The Guardian, Jan. 18, 2020. 
In 2013, the University of Washington reported an unprecedented  marine heatwave in the northern Pacific Ocean in the area of the Gulf of Alaska.  It grew stronger in the next few years due to irregularities in the El Nino of 2015-16.  It stretched 1,000 miles in the northeastern Pacific from Alaska to California.  It raised water temperature by 10.8° F.   The phenomenon affected most of the wildlife in that region with notable die-offs of an estimated more than one million birds, with many thousands washing up on Alaskan and other Pacific coastal areas. The report states the birds likely died of starvation due to increased competition for food created by the "Blob" (this name was assigned by the researchers). The common murre was one of those most affected.
The "Blob" dissipated but a new heat wave emerged in late 2019.  It now has a more official name, the Northeast Pacific Marine Heatwave of 2019 (and into 2020).  It has generally stayed at a distance offshore due to upwelling of cooler water along the coast except during the fall when it wanes.  The slowing of upwelling allows the heated water to creep into the coastal areas.  The winter weather should cause it to dissipate again but the concern is with the health of our ocean being affected by the nutrient-poor warm water.
Other impacts:
The largest harmful algal bloom recorded on the West Coast. 
It temporarily shut down crab and clam fishing.
Thousands of young California sea lions were left stranded on beaches.
There were many fishery disasters.

NOAA (National Oceanic and Atmospheric Administration) is keeping track of this phenomenon.  It is dissipating, at least somewhat, during the winter months. 
 II.  Politics
---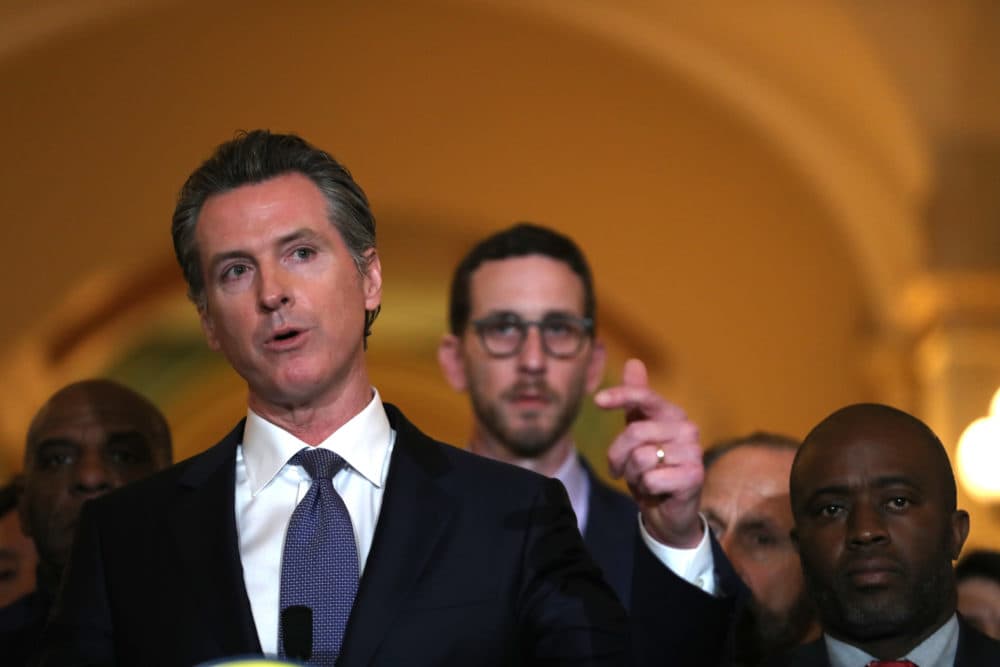 Stories from LA Times, Jan. 31, 2019; Cal Matters, Sep. 18, 2019.
Basic clean water service doesn't exist in some places in California.  About one million residents in the rural areas of the Central Valley have water sources heavily polluted by agricultural contamination: pesticide nitrates, fertilizer runoff and dairy waste.  Arsenic is also showing up in local water sources due to over-pumping of aquifers.  There are many stories of residents taking baths with jugs of bottled water. 
Newsom answered this by proposing a tax on most residential water bills.  That was quickly voted down by the majority of Democratic legislators.  A bill was introduced authorizing $130 million of the state's Cap & Trade funds for this particular drinking water problem and Gov.  Newsom signed that idea into law on July 24, 2019. 
The use of the state's Cap & Trade program to support clean drinking water came under scrutiny since it is earmarked for climate change issues.  It was explained by relating the climate-caused drought to this water issue. 
Story from Cal Matters, Sep. 18, 2019; The Mercury News, Dec. 29, 2019.
 In response to Trump's intervention in California's water supply, SB 1 was quickly drawn up and passed by the California legislature.  The bill's major provision was that if new federal laws (under Trump) were determined to be less stringent than the state's rules, then California could either keep the pre-Trump standards or impose stricter rules.  A major problem with Trump's standard is that it pays little attention to the Endangered Species Act (ESA).  Diverting too much water from the Delta reduces the effectiveness of the ESA.  
Newsom has been negotiating with Central Valley farmers for an equitable answer to this issue and vowed to veto SB 1.  And so he did on Sept. 27, with the statement that the Bill would require the state to assess proposed changes to the U.S. environmental and workplace safety laws.  In his narrative, Newsom sounded strangely close to the Trump and Big Ag interests.  In a closer look, though, Newsom was over a barrel by agricultural groups threatening to leave the negotiating table. The Big Ag interests have gained power with Trump's election and are now able to make a stronger stance than they could have previously.

Newsom was attempting to bring major urban and agricultural stakeholders into a voluntary agreement but the plan backfired on him.  The Westlands Water District (the largest agriculture district in the U.S.) and others kept the meetings off-kilter with their threats to pull out.  The tactic prevented any meaningful talks, making Newsom look bad from both sides. By trying to be the benevolent arbiter of a system with impossible odds, he had put himself into a situation that prevented meaningful arbitration.  Trump has let his plan be known and is narrowly focused on making more water available to Big Ag.  This will bring Newsom and state regulators in head-to-head combat with Trump and Big Ag. 
Stories from Office of the Governor, Oct. 12, 2019; City Lab, Nov. 18, 2019.
Governor Newsom has been in office for one year and his record on the environment, mostly on water, oil and gas production, is still a work in progress.  He announced reforms in October and November and has responded to Trump in ways that make us all proud.  He signed six bills that put regulation and oversight on drilling and oil production.
 His new bills will:
Crackdown on fracking projects and put a moratorium on new oil wells that use high-pressure steam,
Require applications for fracking projects to be reviewed by a board of independent scientists at the Lawrence Livermore National Laboratory,

Attempt to ban oil and gas activities near homes, schools, hospitals and parks, and

Overhaul the Department of Conservation and rename the Division of Oil Gas and Geothermal Resources (DOGGR) to the Geologic Energy Management Division (CALGEM).

Environmentalists would like California to show leadership on the fossil fuel issue by: 
Committing to halt drilling permits,
Phasing down oil and gas production while instituting a "just transition" from our traditional fossil fuel economy to a renewable energy economy, and

Requiring oil and gas companies to show consideration for their communities by maintaining buffer zones between homes, schools, hospitals, and other appropriate civic spaces.

The Governor's actions have been laudable toward these aims, although his record for 2019 leaves us with a bit of skepticism. He has approved 33% more new oil and gas drilling permits than were approved under Gov. Brown in his last year (2018).  Fracking permits showed an increase of 109% through June 2019, when he fired the heads of the Dept. of Conservation and of DOGGR and created CALGEM.  
Despite the increases in permits, extraction of crude oil is down in California.  This started as early as 1985 and extended through Brown's latest term in office.  Water management and the fate of the Delta are still works in progress. Trump's lawyers are, no doubt, working overtime to figure out how to corral California and take water from the northern part of the state and send it to the Big Ag interests in the south, and to help oil companies leave "no stranded assets" in the ground.    
Stories from The New York Times, Jan. 22, 2020; EPA website, Jan. 23, 2020; Wall Street Journal, Jan. 31, 2020.
The EPA Administrator, Andrew Wheeler, announced at the National Home Builders conference in Las Vegas on Jan. 23, that the Waters of the United States (WOTUS) has a new "clearer" definition.  Central to the definition is the Administration's new Navigable Waters Protection Rule.  This rule tries to make clear which waters need to be protected by the federal government, and in the process leaves a lot of ambiguity as to which waters are under the states' control, or in some cases under the control of local jurisdictions.  Administrator Wheeler says it allows flexibility for states and tribes to determine how to regulate their own waters in accordance with the federal government.  The Administration further states that it will keep navigable waters free from pollution, while promoting economic growth.
In the past it has been a struggle to determine whether projects or discharges that affect land, for example gas or oil tanks that could potentially leak, would need a federal or state permit.  The Clean Water Act (CWA) deliberately left smaller sources of water and protection against such leaks to be determined by inspection and environmental assessment.  The protection of groundwater and key species in smaller wetlands has always been a sticky issue and has caused much frustration for developers and farmers alike.
The Rule defines four categories of federally regulated water sources:
The territorial seas and traditional navigable waters, like the oceans, and large rivers such as the Mississippi,
Some perennial and intermittent tributaries that flow into bigger rivers,
Certain lakes, ponds and reservoirs close to navigable waters, and

Wetlands adjacent to jurisdictional waters.

The concern is, how much protection rural folks have with issues like agricultural drainage and irrigation channels?  How much industrial pollution dumped into smaller wetlands will affect the surrounding area?  Wheeler's new rule denies safeguards to significant areas of the U.S.  Only those wetlands in close proximity to "navigable waters" will be federally protected, leaving the more upland marshes without real oversight.
Farmers and ranchers generally approve of the changes.  Environmentalists cite the stripping away of protections to streams, wetlands, and groundwater.  It appears that millions of acres of land will be open to destruction, and open to discharge of pollution to many smaller headland waters that drain into local lakes and streams.  The courts in the past have generally made things messier in trying to legislate WOTUS.  The new rule will go into effect in about 60 days and one thing for sure, this change is bound to have many court challenges.
Story from InsideClimate News, Jan. 9, 2020; Audubon-Alaska web site.
In 2013, President Obama placed 11 million acres of the Western Arctic Reserve under protection from industrial development.  It's home to Native Alaskan communities and is vital habitat for hundreds of species.  The Trump administration has been carrying out its mission to open up the Arctic to drilling for oil and gas as quickly as possible.  The quicker the land comes under lease the harder it is to make changes to that process.  The three main areas at risk are (see map): 
1) The National Petroleum Reserve-Alaska – 23.6 million acres of environmentally sensitive areas, including the Lake Teshekpuk wetlands.  The Administration's draft plan calls for drilling on approximately 18.3 million acres.  Lease sales started in December 2019, with leases averaging a mere $11 an acre.
2) Offshore in the Beaufort Sea – Obama's permanent ban on drilling was overturned by Trump's executive order.  Alaska federal judge, Sharon Gleason, has halted drilling here, and ruled it unlawful, at least in the broader offshore areas.  
3) The Arctic National Wildlife Refuge (ANWR) – 1.6 million acres of coastal plain is home to polar bears, hundreds of bird species, and the Porcupine caribou herd.  Drilling here was strategically placed in the president's 2017 tax bill.  It appears to be on hold while awaiting the results of an environmental review but is expected to be finalized in 2020.  
Environmental groups are pushing back.  Earthjustice is in the forefront of that effort and is standing in the way of this tragic assault on the environment.  The Administration is working at such a frantic pace that it makes many mistakes, which sometimes benefit the efforts of environmental lawyers.
Story from The Mercury News, Jan. 9,2020; The Washington Post, Jan. 9, 202o.
The National Environmental Policy Act (NEPA) was signed into law by Richard Nixon in 1970 affecting projects with federal funding.  NEPA is invoked for such projects as airports, buildings, military complexes, highways and many other infrastructure projects.  
The proposal by Trump's Council on Environmental Quality (CEQ) is to provide "gleaming new infrastructure" that will make America "the envy of the world." Unfortunately it eliminates science-based decisions on many projects and avoids anything that implies paying attention to climate change.  Their aim is to implement NEPA in a way that has little input from the public, shortens the time it takes to study a project before ground is broken, and completely ignores effects on the climate.  
The basic idea is to speed up the approval process, limit the length of reports and set deadlines.  The proposed new NEPA will shorten the time frame for environmental reviews which will no longer consider the cumulative effects of a project.  It's no secret that Trump has a special need to speed up projects like new mines and pipelines.  While NEPA did slow down many projects and drew criticism by developers and politicians, carving it to align with the anti-science mindset of this administration spells danger to humans and to the environment.
Because California has its own CEQA (California Environmental Quality Act), it is believed the changes to NEPA won't have much effect on the State.  However, when taken in context of changes made by Trump to the nation's environmental polices like the Clean Air Act and Clean Water Act, along with his interpretation of "environmental quality" to have a very different meaning.  These changes to NEPA will fit perfectly with Trump's overall policies that will certainly affect all states including California.  
III.  Events
---
Saturday, Feb 9, 10:00am – 1:00pm, Elephant Seal Walk
Guided walk through Ano Nuevo State Park – $15. fee
1 New Years Creek Road, Pescadero.
Sunday, Feb 9, 12:30 – 2:00pm, Legislative Training for New Members
Join the 350 Bay Area Legislative Committee
Sierra Club HQ, 2530 San Pablo Ave., Berkeley.
Sunday, Feb 9, 2:00 – 5:00pm, Everything you need to know about backyard chickens

How to raise/breed/enjoy chickens in an urban environment, fee $40.




Instructor's home – click link above.



Saturday, Feb 10, 12:30 – 2:00pm, Europe's Green New Deal
Presentation about Europe's aspirations
UC Berkeley, 223 Moses Hall.
Friday, Feb 14, 6:00 – 9:00 pm, Bats and Their Role in Our Ecosystem
A

Green Friday

event by Sierra Club
Sierra Club Headquarters, 2530 San Pablo Ave, Berkeley.
Saturday, Feb 15, 10:00am – 1:00pm, San Bruno Mountain Stewardship Saturdays

Caring for a unique island of biodiversity
Contact Ariel, 415-467-6631, see site link.
Saturday, Feb. 15,  4:00 – 9:00pm & Sunday, Feb. 16, 7:00pm, Code Pink on How Will We Survive
Two day exploration workshop and potluck on Saturday
Berkeley UU Fellowship, 1924 Cedar St, Berkeley.
Saturday, Feb 22, 10:00am – 12:00 pm, Urban Chickens
Learn about keeping chickens in an urban setting, fee, $25. – 50.

Lawton St. & 7th Ave., San Francisco.
Other Sources of Events:
Friends of the Earth – located at the David Brower Center, Berkeley.
350Bay Area – Includes other 350.org branches in the Bay Area.
Planet Drum – San Francisco bioregion awareness center.
Ecology Center – Berkeley sustainability center.
David Brower Center – The environmental center in Berkeley.
Sunflower Alliance – Bay Area umbrella organization for activism.
Sierra Club San Francisco – Bay Area website.
The End