March 7, 2020
Special Mention for Women's Month
Story from The Guardian, Feb. 26, 2020.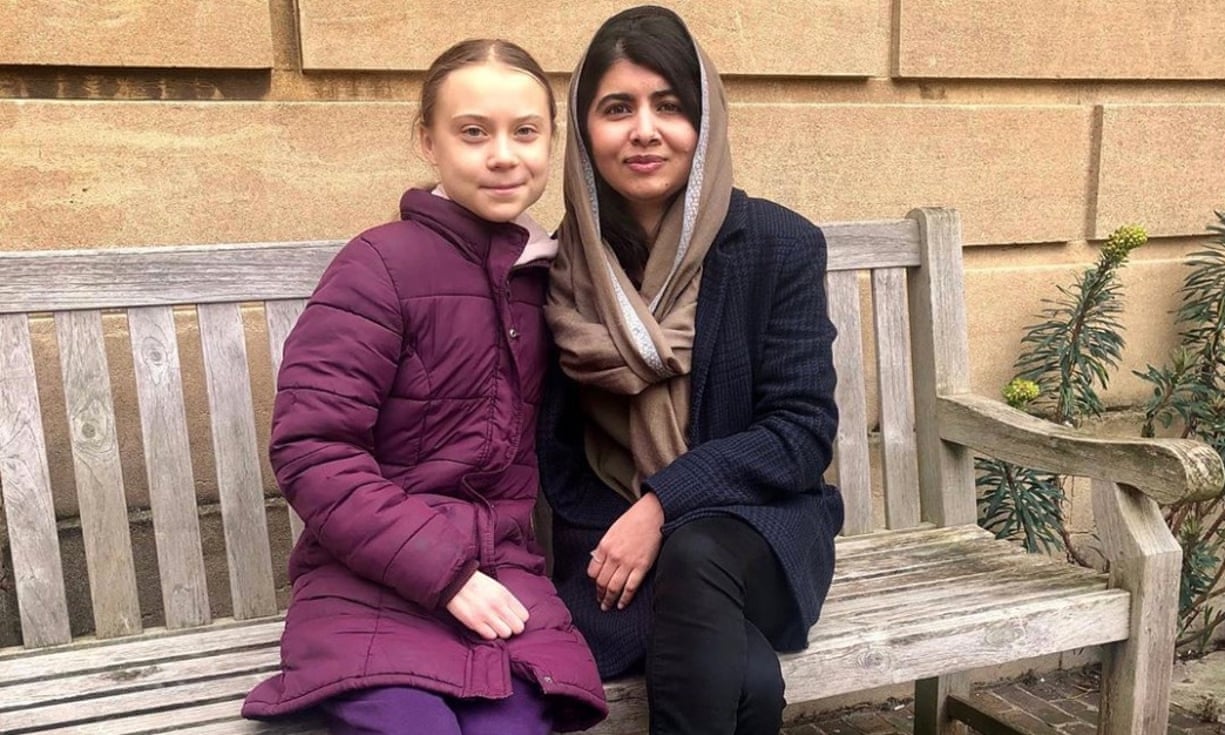 Greta Thunberg and Malala Yousafzai met at Oxford University on Feb. 25.  Malala is a student at the university and Greta was there for a school protest.
Yousfzai (now 22 years old) was shot in the head in Pakistan for speaking out against the Taliban and advocating for the education of women.  She was only 15 years old and suffered severe damage to the left side of her face.   Malala won the Nobel Peace Prize in 2014 at age 17, the youngest Nobel laureate.

Thunberg was 15 when she started spending Fridays on the steps of the Swedish Parliament with her one-girl protest against the government about climate change.  That has been extended into a youth-led, school-strike movement called Fridays for Future.  She is now 17 years old and was nominated for the Nobel Peace Prize in 2019 and recently nominated again in February for 2020.
I.  Climate Change
---
Story from 

Environmental Defense wessite; EPA website; Climate and Clean Air Coalition website.  
Methane (CH4), also known as the other greenhouse gas (GHG), is the second front on the battle against climate change.  Methane and its sources must be monitored, though they are difficult to measure.  It has a number of natural and human related sources:
It's the main ingredient in natural gas and seeps out of oil and gas fields on a regular basis.
It's also the byproduct of agricultural waste such as animal manure.
It is normally locked up in frozen vegetable matter in northern tundra areas of the Earth, but with a warming climate it is now seeping out. 
It's bubbling up in ocean settings, sometimes due to warming seas.
When you do the math on which gases have stronger greenhouse effects, CH4 has 84 times the Global Warming Potential (GWP) of Carbon Dioxide (CO2).  It deteriorates faster in the atmosphere than CO2 – 9 years compared to 100 years for CO2.
Calculations by the Environmental Defense Fund show that CH4 is causing about 25% of global warming. That percentage could easily rise due to both natural sources and human activity.  There are discrepancies in percentage statistics depending on who does the study.   The EPA shows that CH4 makes up about 10% of the earth's GHGs, but calculates the GWP over a time period as opposed to a more straight forward calculation of tons of CH4 per unit of atmosphere.  The EPA also claims that CH4 has only 25 times more GWP than CO2 as measured over a 25-year period. 
President Obama started a program to decrease methane leaks in U.S. petroleum fields.  His plan basically applied to new wells.  The Trump Administration has terminated such "burdens" to the oil and gas industry.  While Obama's plan was not a great plan, it was a plan for regulating methane in oil and gas fields, which is now lacking because of Trump Administration policies.
The Climate and Clean Air Coalition (CCAC) has done separate studies that show there is a chance to apply regulations to obtain immediate results.  The CCAC recommends starting a more concerted plan to reduce methane emissions as quickly as possible.  They claim it's the quickest and most cost-effective way to obtain significant results.  We could actually get a 45% reduction of 2015 CH4 emission levels by 2025 and 60–75% reductions by 2030.

CCAC has created a partnership with oil and gas companies called the Oil & Gas Methane Partnership (OGMP), which was launched by the UN Climate Summit in 2014.  It's a voluntary agreement and, so far, American companies are not inclined to take part.  That could change with a little help from another President, after Trump, and the outlook for curtailing GHGs could look a lot better.
II.  Fossil Fuels
---
Story from The New York Times, May 15, 2019; Climate Change News, Feb. 3, 2020; The Heartland, Aug. 15, 2019.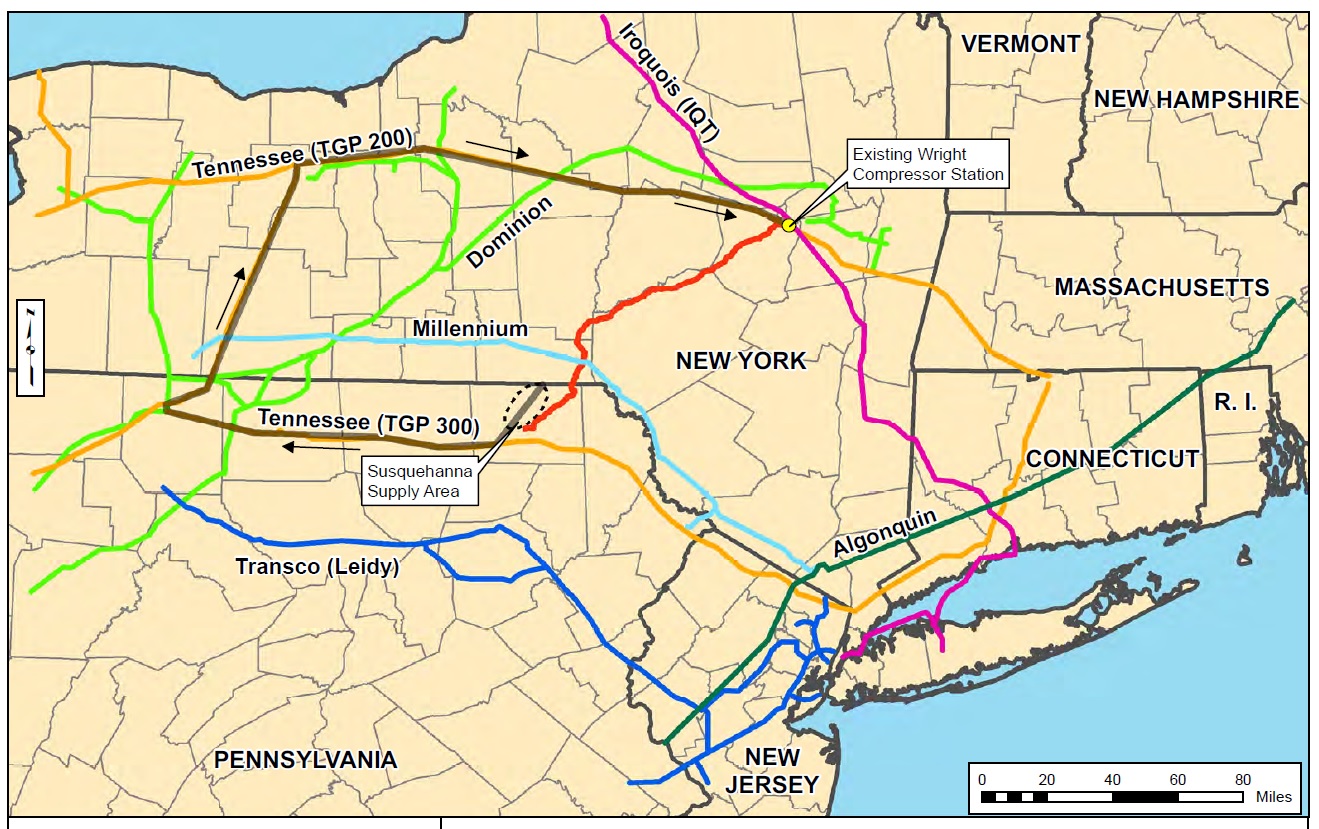 New York, the "Green New Deal" state, has been the center of many pipeline protests, to prevent industry from bringing Marcellus Shale natural gas from Pennsylvania and New Jersey into the state.  The state is in a major struggle to steer away from fossil fuels, yet oil and gas companies are looking to build more pipelines for natural gas consumption.  The fracking gas companies are making major efforts to put their mark on New York's economy as quickly as possible.  The industry claims natural gas is the transition fuel to cleaner renewable fuels and fits with the Green New Deal. 
One certainty is that the pipeline infrastructure is tying the state to a long term use of fossil fuels.  Just the construction and maintenance of such intrusive infrastructure has a major impact on the environment.   Pipelines very often violate the Clean Water Act and other environmental laws.  They are also prone to leaking.  In 2014 New York banned fracking for those and other reasons.  Extracting natural gas by fracking, with its pollution and methane leaks, is not the clean energy source the industry claims it is. 
(The upper map shows some major pipeline infrastructure in the New York – Pennsylvania area.)
Last year, two other pipelines carrying fracked gas from Pennsylvania were protested and were denied environmental permits: 
The proposed 23-mile long Williams-Northeast Supply Enhancement Pipeline (map to the right) to carry natural gas from  New Jersey through New York Bay to Long Island; and

The  Constitution Pipeline (the normal-shade-of-red line on upper map, appears to connect two ends of the Tennessee Pipeline) meant to carry gas from western Pennsylvania to Albany, New York. 
The protests against these projects took place in the past few years as part of a greater stance against fossil fuels. The infrastructure investment needed for these  natural gas projects does not align with the state's goal of sustainable energy sources.
The latest protested E37 Pipeline pipeline is only 7.3 miles long, but would connect two larger interstate lines.  The utility company, National Grid, servicing New York's Upper Hudson River Valley, is part of the link that connects the Pennsylvania shale fields with New York and other nearby states.  E37 is one of the smaller pipelines that escapes scrutiny but will connect larger lines that have become important to service companies.  
As a result, the state of New York is attempting to implement a version of a Green New Deal.  The oil and gas companies from Pennsylvania and New Jersey make it too convenient to step off that platform and go with the easier energy solutions.  Natural gas is not selling all that well in the open markets due to a glut, which makes the companies look for customers wherever they can find them.   Last August, Governor Cuomo signed New York's version of the "Green New Deal" called the Climate Leadership and Community Protection Act and is making an effort to live up to the state's new "green" image.  New York deserves a lot of support as a world business leader and its attempts to align itself away from fossil fuels to meet climate change goals.  
III.  Water, Food, Forests and Pesticide Reports
---
Story from Reuters, Jan. 30, 2020; EPA website, Jan. 30, 2020.

The Glyphosate story is still unfolding and the EPA, again, has come out with a "Safe" stamp if "used in accordance with the label instructions".  Glyphosate is the active ingredient in Roundup, the world's most widely used herbicide.  Originally a Monsanto product it is now manufactured by Bayer AG, who bought Monsanto for $63 million in 2018.  Several trials have taken place that found Bayer liable for millions of dollars for causing cancer in workers who handle the product.
While glyphosate is described as the active ingredient there are several
other ingredients in the Roundup formula that are designed to enhance the herbicide's effectiveness.  One common ingredient is a surfactant to make the pesticide soluble in water or oil-based substances.  It allows plants to internalize the formula and is considered a systemic herbicide because it is absorbed internally by plants.  Roundup has different formula configurations depending on the use, e.g., home yards, gardens, fields and large farm acreage.  Some crops, such as cotton, soy, corn and others, are "Roundup Ready," which means they are genetically modified with glyphosate built into the plant's DNA.
The accepted pesticide labeling system assumes that the whole product is safe if the "active ingredient" is deemed safe.  Little attention is paid to the other ingredients and in this case that is a mistake.   The company claims that the whole formula is not divulged since it is a "trade secret".   The package label reads that a salt of glyphosate, commonly isopropylamine, is the active ingredient.   The label states simply that the Active Ingredient and the "Other Ingredients" are both rated as "No specific occupational exposure limit has been established". 
Approving or disapproving a pesticide is not always an exact science either.  A chemical agent can be classified:
Group 1:  Carcinogenic to humans
Group 2A:  Probably carcinogenic to humans
Group 2B:  Possibly carcinogenic to humans
Group 3:  Not classifiable as to its carcinogenicity to humans
The World Heath Organization (WHO) and the International Agency for Research on Cancer (IARC) found glyphosate is "probably carcinogenic to humans".  The EPA makes the claim that it is simply not carcinogenic to humans if used properly.  That actually implies that it certainly could be carcinogenic to humans if not applied according to directions.  The pesticide court case claimants are usually pesticide workers and they certainly have had accidents. 
Bayer is appealing the court cases to attempt to redeem itself and allow Roundup to be sold as a safe product.  The ubiquity of this chemical formula in our lives can be compared to the use of DDT in the middle of the 20th century.  As we all know, DDT was the focus of Rachel Carson's book, "Silent Spring", that showed how widespread the chemical became and was found in places that affected many other species in the environment as well as the health of humans. 
The fact that human food consumers are exposed to only low dosages is not comforting when those low dosages keep showing up in ever more diverse foods.  For example, studies show many different levels of glyphosate are found in various cereals and chips, cookies, beer, soy-, rice- and almond milk, other soy and corn products, olive oil, nuts, and more.
Stay tuned to this story.  Bayer now has the EPA's support and may well attempt to reverse the court decisions possibly in some sort of mass appeal.  
IV.  Miscellaneous Items
---
Story from The New York Times, Feb. 4, 2020; National Geographic website;
There were many stories from the Australian wildfires about millions of animals killed and populations wiped out.   The platypus, also known as the duck-billed platypus, is now an endangered species and now possibly non-existent in some of its former habitats.  A study by the International Union for Conservation of Nature listed this creature as "near-threatened" even before the fires.  Other agencies have done similar studies that show the platypus will decline about 73% within 50 years.  
The animal looks like a friendly sort of creature.  It is a mammal and the sole
member of a special family, Ornithorhynchidae.  It is similar to an otter with a tail like a beaver, a bill like a duck, and with web feet, somewhat like frogs feet.  The legs are located on the side of the body instead of under the torso, which makes it better adapted for moving in the water. 
Despite its friendly looks, it can deliver a venomous stab from its hind-ankle spurs that are not deadly to humans but can be painfully disabling.  It has thick fur and is semiaquatic, similar to an otter or beaver.  It has no visible ear but the awesome-looking bill contains an amazing system of electroreception for electrocommunication and detecting objects by waving its bill back-and-forth as it swims.  It eats small insects, larvae, and crustaceans.
After mating season (usually June to October), the female builds an elaborate burrow with several safeguards for protection.  She lays one to three leathery eggs that are closer to those of a reptile.  They're almost round, less than a half inch in diameter.  They are in utero for 28 days and 10 days external before hatching.  The female curls around the eggs until they hatch.  She feeds the tiny, blind, hairless cubs with her milk that is secreted from her skin (she has no teats).  The milk pools in her natural skin grooves and the young actually lap it up.  The cubs are cared for like this for three to four months before leaving the den becomes necessary.  The male takes no part in the care of the young.

Australia's human economic growth though the years has been rough on many species.  The platypus ranges only along the eastern Australian coastal mountains and streams and throughout Tasmania.  It was already affected by human population in both areas but a concentration of fires along Australia's east coast has been devastating.   Australians are making brave efforts to capture and save the platypus along with the country's many other unique species.
V.  Events
---
Mondays, Mar 2, 9, 16, 23, 30, 1:00 – 5:00 pm, Alemany Farm "Natives" Restoration 
Volunteer work day on the farm
700 Alemany at Ellsworth.
Fridays, Mar 6, 13, 20, 27, 9:00 am – 12:00pm, Presidio Forest & Trail Stewards
Urban forest, reforestation, trail volunteers
Presidio Visitor Center, SF.
Three Fridays, Mar 6, 13, 20, 6:00pm Art and Activism: From the New Deal to the Green New Deal
Sponsored by the Sunrise Movement – Reception, Presentation, Discussion
Canessa Gallery, 708 Montgomery St., SF.
Saturday, Mar 7, 1:00 – 4:00pm, Community of Repair – Fix It Shop
Community-based fix-it gathering for all home appliances, etc.
Berkeley Public Library, 2090 Kittredge St., Berkeley.

47 Hills Brewing Co., 137 South Linden Ave, South San Francisco.

A series of events from March through May celebrating 50 years of the movement to save San Bruno Mountain

Sunday, Mar 8,  11:00 am – 4:00pm, Sunday Streets in the Mission
Valencia Street becomes a car-free zone with festivals for the day.
Valencia St. from Duboce St to 26th St, San Francisco.
Monday, Mar 9, 12:30am – 3:00pm, Public Health Meeting on Oil/Gas Rulemaking  
Public meeting on living near oil and gas refineries, etc. and public health
Dept. of Conservation, 801 K St, MS 24-02, Sacramento.
Sunday, Mar 15, 6:30 – 8:00pm,  Carbon Trading and Carbon Offsets
 

A panel will speak about this important subject, sponsored by Idle No More and Women of the Amercas Defending Mother Earth Treaty

Northbrae Community Church, 941 The Alameda, Berkeley.
Saturday, Mar 28, 7:00 pm, Visioning Climate Justice
Indigenous leadership and youth activism
First Presbyterian Church, 2407 Dana St., Berkeley.
Sunday, Mar 29, 11:00 – 4:00 pm, Sunday Streets in Excelsior 
Another all day street festival along a major street.
Mission Street from Geneva to Excelsior, San Francisco.
Other Sources of Events:
Friends of the Earth – located at the David Brower Center, Berkeley.
350Bay Area – Includes other 350.org branches in the Bay Area.
Planet Drum – San Francisco bioregion awareness center.
Ecology Center – Berkeley sustainability center.
David Brower Center – The environmental center in Berkeley.
Sunflower Alliance – Bay Area umbrella organization for activism.
Sierra Club San Francisco – Bay Area website.
The End