May 5, 2020
I.  Climate Change
---
Stories from CBS News, Apr. 14, 2020; Nature Communications, Apr. 14, 2020; Climate Home News, Jun. 14, 2019.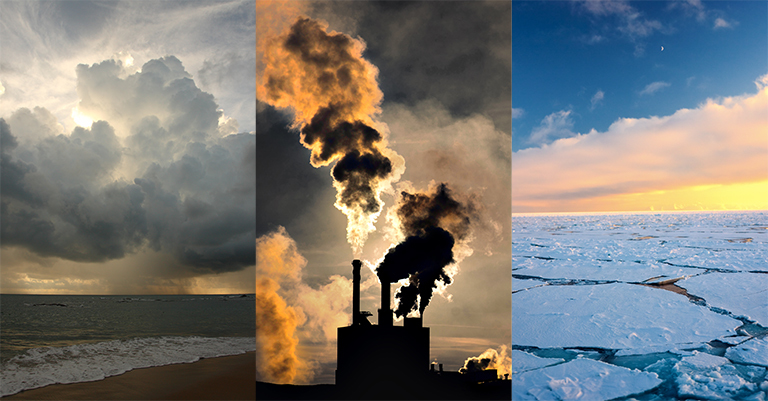 A study done by Chinese scientists, reported in Nature Communications, found that a strong, early response to climate change pays off in the long term.  However, a mitigation effort like the Paris Agreement to limit temperature rise to less than 2°C (preferably 1.5°C or less), would not be an economically effective way to go.  The Nationally Determined Commitments (NDCs), or emission reduction targets by the countries of the world at the UN Climate Conferences, is operating at a snail's pace and the results would not be effective enough. 
Since 2015 when the Paris Agreement was signed, the countries of the world have met annually to study and update their goals.  The last two years have been disappointing in meeting NDCs.  Countries like Norway and Costa Rico are bright spots in the list.  China and Brazil have been disasters with China's increasing coal use and Brazil's burning of its forests.  The others are somewhere in between but overall are failing to meet their commitments, mostly because it would require economic sacrifices.  Here's a list of countries with net zero climate change commitments.
The idea that it costs too much to make financial commitments is a fallacy as can be shown in the study's models.  In thirty or fifty years, the effects of climate change are going to be seriously felt throughout the world and will cost the people and governments of the world dearly.  So, with the computer models of this report showing it is going to likely cost world countries between $127 to almost $800 trillion by 2100, aggressive action early on can reduce those costs.  In other words, "minimize loss and maximize gain" is what the study is saying.  Mitigation efforts can actually be looked at as GDP (Gross Domestic Product) "income" over the long term for each local economy.  As we all know, but governments seem to ignore, the longer it takes to get us moving on emission reduction targets the higher the ultimate cost.  This report validates that and spells it out in dollars and cents.

Story from Earther's Gizmodo, Apr. 15. 2020; The Evergreen Action Plan, Apr. 15, 2020.
The climate team behind Governor Jay Inslee of Washington came up with The Evergreen Action Plan, which borrowed from Bernie Sanders' Green New Deal and Elizabeth Warren's Blue New Deal. The Evergreen Action Plan is, at least tacitly, approved by Alexandria Ocasio-Cortez.  It calls on Congress and the president to fund a massive program to protect the climate and to start the country on a better and fairer economic footing.
The Plan would be a federal stimulus package in the same cost range as the Coronavirus stimulus package.  Those against it will have to come up with stronger arguments since a government stimulus ceiling has now been broken.  It would establish an Office of Climate Mobilization at the White House to coordinate climate action throughout the other federal agencies.  It would also prioritize hiring climate policy experts to more efficiently manage government.
The Plan's five key principles:
Powering the Economy with 100% Clean Energy,
Investing in Good Jobs, Infrastructure, Industry & Innovation,
Building Greater Justice & Economic Inclusion,
Ending Fossil Fuel Giveaways (subsidies and handouts), and
Mobilizing Global Action.
Breaking story:
Story from Inside Climate News, May 1, 2020.
About 69% of the world's fresh water is stored in glaciers and sea ice. The balance of water and ice has been stable for the past 10,000 years and up until recent history.  A new, more accurate way to measure measure ice sheets and glaciers has been developed by NASA. The device is called ICESat (Ice, Cloud, and Land Elevation Satelite).
This device made possible a new extended study on melting ice on Greenland and Antarctica from 2003 to 2019. The new report shows Greenland lost 200 gigatons and Antarctica lost about 118 Gigatons of ice/water per year. That translates to a sea level rise of 0.55 inches or about 0.39 inches per year. One gigaton of ice in 843-acre Central Park in New York City would reach 1,119 feet high.
The data helped scientists determine the marine and atmospheric mechanisms at work on glaciers.  Warmer air temperatures and shifting winds on glaciers' surfaces can send glacial water to the base of the glacier and actually make the glacier move/flow faster.  Warming ocean currents with wind movements melt glaciers at their bases.  Together with other natural forces, like heat transfer and thermodynamics, all are tending to reduce the size of glaciers and raise sea level.
The data shows that East Antarctica actually gained ice while West Antarctica lost mass. Overall, Antarctica is losing ice at an alarming rate.
Here's a global summary of glacial melting during the study period (2003 – 2019):

II.  Fossil Fuels
---
Stories from The Guardian, Apr. 15 2020; The Hill,Dec. 20, 2019 & Jan. 22, 2020 & Mar. 31, 2020; AP News, Apr. 6, 2020 & Apr. 15.
There's a continuous stream of news articles on the Keystone XL Pipeline (KXL).  The KXL, you may recall, was put on hold by Obama in 2015 due to outcries from a Native American coalition, Canada's First Nations, ranchers & farmers, and environmentalists.  A new major concern of the tribes and residents in the area is that the thousands of workers needed for the project will bring the Coronavirus to their communities.
If finished, the KXL would transport Tar Sands Oil from Hardisty, Alberta Canada to Steele City, NE (1,179 miles).  It would make it possible to transport 830,000 barrels of oil per day to refineries in Nebraska with a transfer connection to the southern extension of the KXL to a Texas port and to global consumers.  Trump has been in favor of fast-tracking this project on his watch.
Canada still thinks this is a worthwhile project even with an epic glut of oil on the market.  With the possible election of a U.S. president with less interest in this project, Alberta is using its influence to get things moving this year.  TC Energy Corp., the construction authority, has received funding promises ($1.1 billion) from the Alberta government through 2020 with a loan guarantee ($4.2 billion) in 2021.
Here's a list of news articles you may have seen over the last five months: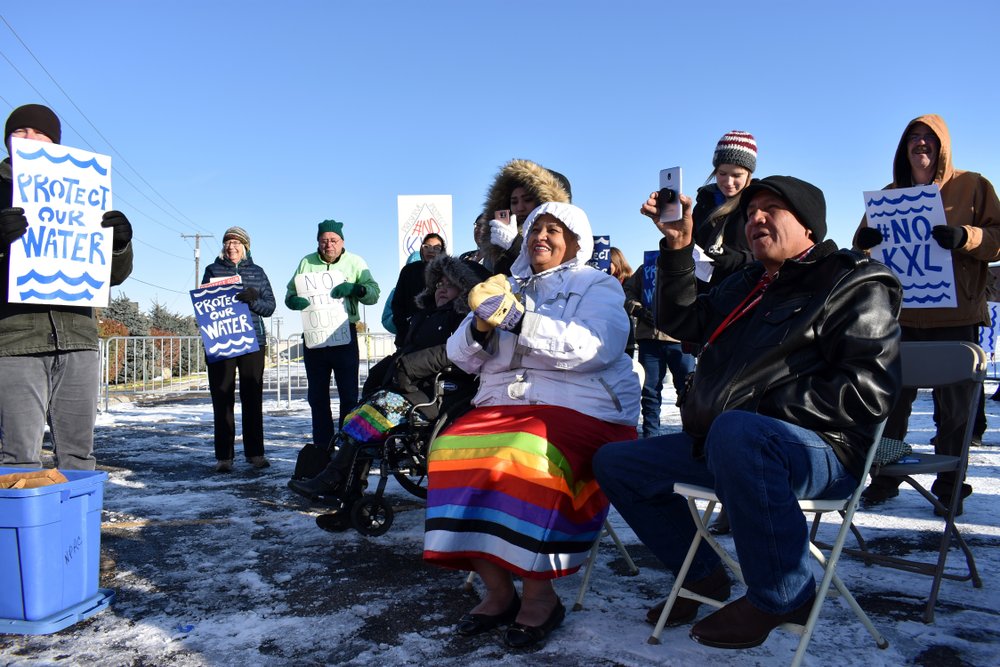 On

December 20, U.S. District Judge Brian Morris found that the Rosebud Sioux and Fort Belknap Indian tribes could proceed with lawsuits against the Keystone XL Pipeline.

On January 22

, Trump's administration approved a right-of-way grant to allow the construction of 44 miles of XL Pipeline in Montana.

On March 31

, TC Energy Corp. (Trans Canada) announced it was proceeding with the XL Pipeline construction. There was an Environmental Impact Report that spelled out climate impacts of the pipeline and it also prompted concerns about transporting construction crews and exposing vulnerable communities during the pandemic.
On A

pril 6, TC Energy started work on the U.S. – Canada border crossing in Montana. This comes after the company's announcement on March 31. The province of Alberta has invested $1.1 billion to get this done and the state of Montana expedited the permits on the U.S. side.  Opponents went to work to stop progress.
On A

pril 15, Judge Brian Morris canceled the permit for the XL pipeline on the grounds that the U.S. Army Corps of Engineers failed to adequately consider the effects on endangered species. This does not halt the cross-border construction that has already started.  However, the Corps does need that permit to cross any bodies of water such as rivers and streams to be in compliance with the Clean Water Act. 
Story from Inside Climate News, Mar. 31, 2020.
In August of 2012, President Obama finalized his groundbreaking fuel efficiency standards that would require automakers to almost double the average fuel economy
standards for new cars and light trucks to 54.5 miles per gallon by 2025. The Obama administration had already standardized fuel efficiency for the same vehicle-types for model years 2011 – 2016 to the equivalent of 35.5 mpg.  These measures would reduce car owner's gasoline bills and were considered the administration's single most important policy toward mitigating climate change.  It was part of the $80 billion federal bailout of the auto industry.
Trump's plan, Safer Affordable Fuel-Efficient (SAFE) Vehicle Rule will increase emissions by 1.5% per year through 2026. His plan would freeze the standards at about 37 miles per gallon. That amounts to an increase of over a billion tons of CO2.  Calculations show that Trump's rule would also allow several million tons more CO2 emissions than the European Union's system.
The other factor here is the authority of the State of California to set its own standards stricter than the federal government's standards.  California has an exemption (known as the California Waiver) built into the national Clean Air Act of 1970.  Twelve other states plus Washington DC sign on to California's tailpipe rules, which makes up 40% of the nation's cars.  Historically California had the most cars and the worst air quality in the nation.  Years of work has improved that situation.
The Trump Administration has been using such things as revoking highway funds, pressuring auto-makers, and revoking the waiver in order to bring California into his fold.  Also, not all automakers are onboard with such a change. Honda, Ford, Volkswagen, Mercedes and BMW are in favor of standing by the Obama standards, which is known as the California pact.
Trump's EPA and National Highway Transportation Safety Administration (NHTSA) disagree with the President's claim that the auto industry would lose 10,00 jobs per year under Obama's plan.  It was cited that the newer technologies in automobiles would most likely create the need for more jobs.  California's governor, Gavin Newsom, states that Trump's plan is in retaliation against California.  Lawsuits will follow this decision.
Here's a Trump tweet on this subject, Mar. 31, 2010:
Donald J. Trump  Great news! American families will now be able to buy safer, more affordable, and environmentally friendly cars with our new SAFE VEHICLES RULE.  Get rid of those old, unsafe clunkers.   Build better and safer American cars and create American jobs.  Buy American!

 

  ✔ @realDonaldTrump
III.  Water, Food, Forests and Pesticide Reports
---
Story from Scientific America, Mar. 18. 2020.
In a recent scientific study centered on the Coronavirus (informally "COVID-19 disease", officially SARS-CoV-2 virus) the number of viral disease occurrences has more than tripled in the last decade. Over two thirds originate in animals, 70% from wild animals. Examples of these animal-borne (zoonotic) diseases are Ebola, HIV, swine and avian flu.  A real scientific connection to climate change at this point seems to be an indirect connection related to human economic development.
The study indicates that the more humans intrude into wild life territories, the more we are exposed to strange pathogens.  Most of the world's living organisms live in tropical forests and in the last century we've lost 50% of those forests to human activity.  Deforestation can drive animals to closer contact with humans. One example are bats that inhabited tropical forest trees before deforestation. That land becomes farms, the bats move to farm fruit trees, and infect pigs on the farm where they become hosts for the virus.  China, Africa, Indonesia, and Brazil are prime examples of countries where tropical forests are being cleared for farm land.
We, human animals, disrupt ecosystems, kill or cage animals for markets, and spread new viruses to humans. The connection to the "wet market" in Wuhan, China has now been exposed.  There are more humans on the planet now and we're expanding into environments with new viruses and bringing them into public places.
IV.  Politics
---
 

Newsom Update: Fracking Permits & Delta Negotiations



Story from KPBS, Apr. 4. 2020; Daily Kos, Apr. 16, 2020.
Gavin Newsom never promised he would ban fracking.  He only suspended it until his independent panel could be put into place to replace the former procedures practiced by DOGGR (Division of Oil Gas and Geothermal Resources).  He fired the head of DOGGR, renamed it Geologic Energy Management Division (CalGEM), and populated the independent panel with scientists from the Lawrence Livermore National Laboratory.
On Friday, April 3, CalGEM, through the independent panel, approved 24 hydraulic fracturing (fracking) permits, and another 282 lined up for review.  This new policy is considered to be a procedure with additional technical disclosures and transparency.  He claims his overall plan is to phase down our dependency on fossil fuels as we move toward renewable energy.

Hydraulic fracturing (fracking) was made lawful by Governor Jerry Brown in 2013.  He helped to draft SB 4, pressured all the necessary powers in the legislature and signed into law a measure that clearly favored the petroleum industry.  It was sold to the people as the law with "the toughest regulations on fracking in the country".  Newsom still has a moratorium on cyclic steaming which is another method of enhanced drilling similar to fracking.  That was the cause of the Chevron disaster in the Central Valley last summer that leaked 1.3 million barrels of oil into an arroyo in Kern County (see picture above).
 On April 15, Senator Dianne Feinstein, along with several other congressmen: TJ Cox (CA-21), Jim Costa (CA-16) and John Garamendi (CA-3) put pressure on Governor Newsom in the form of a letter to halt his lawsuit against the Trump administration.  They implored the Governor to negotiate an agreement on increasing water deliveries from the Delta to the agriculture interests in the San Joaquin Valley.  Senator Feinstein has a long record of supporting the agribusinesses in the southern Central Valley.

Gavin Newsom did try to negotiate voluntary agreements between the parties in December using his downsized tunnel plan  – a single tunnel rather than 2 tunnels.  The very powerful southern California water districts chose to bring Trump and his Department of Interior (DOI) into the fray.  
 The Central Valley water districts' power can't be underestimated, and they turned the tables on Newsom, destroying his negotiation process.  Newsom followed this with a lawsuit to halt the federal government's intrusion on California's water.  This appears to be a deliberate attempt by Newsom to let the courts settle this matter instead of using voluntary agreements.

The California State water biologists have done intense studies on the Delta and the amount of water needed to pass freely from the rivers to San Francisco Bay to maintain the ecology of the Delta. The ecosystems include the almost extinct Delta smelt, the spawning salmon, not to mention the people who make their living in the Delta.  Trump's DOI hastily came up with their own studies that contradict the opinions of the State's scientists. 

You may recall the water draws from the Delta were extremely heavy during the drought (2011 – 2017) and there are fewer smelt sightings.  The Delta smelt is only found in the Sacramento-San Joaquin River Delta and is generally two to three inches long.  Much of the Delta life, including birds and other wildlife, are dependent on the Delta smelt and it is the indicator species that is a measure of the health of the ecosystem.

V.  Miscellaneous Items
---

Story from The Guardian, Apr. 1, 2020.
Experts have drilled into the seafloor in west Antarctica about 1,200 miles from the South Pole and have verified old information and revealed new information about the climate in that area during the Cretaceous Era (99 million years ago).  This is also the latter period of the dinosaur era.  After drilling through many sediments, a final three meters turned out to contain the remnants of organic material in the form of an ancient forest similar to that found on the western part of the New Zealand's South Island.
A German scientist, Dr. Johann Klages from the Alfred Wegener Institute, is a co-author of this research effort.  He said this work reveals a world with very high CO2 levels and a sea level over 500 feet higher than it is now. This site would have been roughly 550 miles from the South Pole at that time.  The poles have shifted to different locations throughout geologic time.
VI.  Events
---
Friday, May 1 & 8, 12:00 pm, Standing on Sacred Ground
Festival of Earth Day film series by Bullfrog Communities


Live weekly post-screening discussions.  Request Zoom link Online:



Thursday, 7 & 14, 2:00 am – 3:30 pm, UCSF Dept. of Epidemiology & Biostatistics
Parks and our health during the pandemic,

Use link to register – free.
Friday, May 8, 7:00 – 9:00 pm, Sierra Club's Virtual Green Friday
The Climate Reality Project discussion on the need for action in politics, business, etc.
RSVP to attend (use link above).
Other Sources of Events:
Friends of the Earth – located at the David Brower Center, Berkeley.
350Bay Area – Includes other 350.org branches in the Bay Area.
Planet Drum – San Francisco bioregion awareness center.
Ecology Center – Berkeley sustainability center.
David Brower Center – The environmental center in Berkeley.
Sunflower Alliance – Bay Area umbrella organization for activism.
Sierra Club San Francisco – Bay Area website.
The End