March 14, 2023
The Colorado River Crisis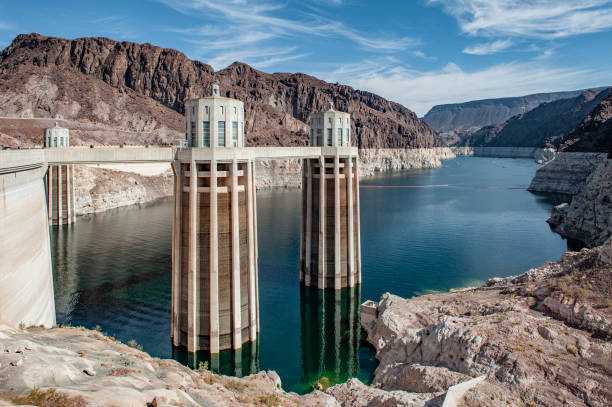 As of the end of 2022, there is a disastrous water crisis connected with the Colorado River's water supply to neighboring states and communities. The shortage has for many years been in the offing as a harbinger of things to come.  However, climate change is bringing the situation into a desperate reality a bit quicker than was expected.  Is this the wake-up call that has been desperately needed almost since the inception of the seven-state pact that has given citizenry a false sense of satisfaction for too long?  The allocation system designed to divert fair amounts of water for a western U.S. expansion was, by design, to give those with first claims the senior rights.  It had to be adjusted frequently to maintain some sense of satisfaction for each year's flow even while the river steadily declined.  The system was set up to provide agricultural irrigation for five million acres of land in those seven states, along with other water uses for 40 million people in many western cities and communities. 
Climate change has added its own layer of difficulty to this situation. Hubris has been generously interwoven into this "Great America" scheme that has always been risky, at best.  For those depending on the Colorado River for their livelihoods, it's going to take creative techniques to get by year-to-year. There are also climatic phenomena at work here that need to be taken into consideration:
A phenomenon known to climatologists in desert regions called "desertification", or "aridification", or, in other words "expanding deserts".  Climate change is causing deserts to slowly expand into neighboring landscapes, to merge with less arid areas.  Forested land can deteriorate into grassland, into arid scrub and eventually to cactus.  The U.S. West is primed for desertification to increase.
Another noteworthy phenomenon is evaporation into the atmosphere due to higher temperatures taking a sizable amount of water from the Colorado system.  While it's difficult to attribute exactly how much is lost to evaporation and other leakage, it is in the range of 10% to 15%, at least a billion gallons of water per year (Buffalo News, Jan. 31, 2023).  It's expected to rise dramatically in the coming years.
The river begins in the central Rocky Mountains as melting snow through many small tributaries, channeling water through increasingly larger creeks and small-sized rivers.  It  eventually becomes the mighty Colorado River.  The river, approximately 1,450 miles long, travels through seven U.S. states and through two states in Mexico (Sonora and Baja California).  The seven U.S. states are: Wyoming, Colorado, New Mexico, Utah, Arizona, Nevada, and California.  All seven are partners in the Colorado River Compact of 1922 , but Arizona didn't ratify until 1944.  The water dispersal to the seven states in the 1922 Compact further divided the Colorado River watershed into an Upper Basin (Wyoming, Colorado, New Mexico and Utah) and a Lower Basin (Arizona, Nevada and California), see map.  One more piece to this puzzle is that Mexico made its own agreement in 1944. Their agreement with the US is considered one of the most consequential agreements between two nations.
The Compact still remains at the center of the "Law of the River" and now is a century old.  California's Imperial Valley is the most senior recipient and Phoenix, AZ is most junior. California was settled and became a state in 1850, ahead of the other six states and was first in making a legal claim on the Colorado River.  This type of water allocation system is legally called "rights of prior appropriation".  California has the largest allocation of 27% of the total each year and Colorado is next with 23%.  Arizona has the most junior rights as the last state to ratify with 17%.  Since it has junior rights, its the first to be cut when there's a shortage for the year.  The cuts to junior rights states could be rather severe in the future.  Arizona was also the last to become a state in 1912.  Mexico's separate water treaty in 1944 allocated its share as 1.5 million acre-feet of water per year.  It guarantees an annual 1.5 million acre-feet with some qualifications during years of insufficient flow.  
Arizona's main complaint with the Compact was the allocation of water to the Basins instead of to the individual states.  However, it finally ratified its place in 1944.  The Lower Basin was unable to come to an agreement on allocations and eventually went to a lengthy case in the Supreme Court, finally making a decision in 1968.  When the case was settled, Arizona gained rights to a massive Central Arizona Project that would rearrange previous allocations in the Lower Basin.  Southern California gets about 25% of its water supply from the Colorado River with the rest coming from Northern California through the State Water Project (aqueduct).  Water reaching Mexico goes to a reservoir on the Melones Dam and irrigates the Mexicali Valley.  Any remaining overflow goes to the Gulf of California, although this rarely happens.  
According to the Colorado River Compact:
The two Basins would count on 15 million acre-feet per year even though the river fluctuated between 4.4 million and 22 million acre-feet requiring annual adjustments.
7.5 million acre-feet would go to each Basin with a balancing caveat that depended on the actual flow over a 10-year period.
The original 15 million acre-feet to the Basins later was modified to 13.5 million to accommodate 1.5 million acre-feet to Mexico per year.
Colorado was able to grandfather some irrigation rights for western Colorado.
The Upper Basin managed a convenient sub-compact to balance each state's allocation as flows varied.
The Lower Basin did not manage a sub-compact, guaranteeing issues to follow.
It's noteworthy that Native Americans were barely acknowledged with only a simple statement indicating the U.S. obligations to tribes would not be affected.  They actually have the most senior rights and the system had to later factor in 29 federally recognized tribes in the region.
The flows of the river over the last century have varied between a bit over 22 million acre-feet to approximately 4 million acre-feet annually.    However, since 1960, there has been only one wet spell, 1984-87, with heavy snow pack, when the flow actually reached the Gulf of California.  Since 1999, the western states have been under drought conditions with some years better than others for water. The seven states began adapting by allowing flexibility in their water management as demand outgrew supply (see this article by the Public Policy Institute, Nov. 2018).  Shortages made it impossible to deliver the amounts allocated and were estimates on paper only.  In the south at the U.S.-Mexico Border the average flow is now one-fifth of what it once was without dams, measuring 2.80 million acre feet per year.
The two most important reservoirs for human use, consumption, and hydroelectric power on the Colorado River are Lake Mead and Lake Powell.  They are easily symbols of modern technology and our civilization in general.  They are very prominently in current news along with their famous dams that document the incredible drought-ridden gorges.  In the past, the reservoirs have mostly been at full or near water capacity for comfortable living in the West. The experts now say that era has come to an end. The two major dam-reservoirs:
Hoover Dam (once known as Boulder Dam) – Lake Mead, the largest. The dam is at the southern tip of Nevada and the lake is located both in Nevada (Clark County) and in the northwest corner of Arizona (Mojave County) near Lake Havasu City.
It was completed in 1936 to control water flow for development in the downstream area, to provide hydroelectric power, supplying a regular amount of water for developing the southwest. and generally services the Lower Basin states.
It has a water storage capacity of almost 29 million acre-feet, sits on about 248 square miles, and is the largest artificial reservoir in the U.S.
It services the Lower Basin states (California, Arizona, Nevada).
As of Feb. 21 – Lake Mead is only at 29% capacity with about 8 million acre-feet.
Glen Canyon Dam – Lake Powell, the U.S.'s second largest reservoir, is located on Glen Canyon in Utah and in Arizona.
The actual dam was completed in 1963, but the hydroelectric generators were added in the 1970s & 1980s.
It's water storage capacity is approximately 26 million acre-feet and covers a surface area of about 254 square miles. The dam reached capacity at a height of 3,700 feet in 1980.
It services the Upper Basin states (Wyoming, Colorado, Utah, New Mexico).
As of Feb. 21 – Lake Powell is at 23% of capacity with about 6 million acre-feet.
There are fifteen smaller dams on the main stem of the river with many more on tributaries.  Together, this dam system and, of course, the two huge reservoirs, supply the water, flood control and power needs for all communities, farms, and industry.  This includes large cities like Denver, Phoenix, Las Vegas and Los Angeles.  The two reservoirs are approaching levels they have never reached in the history of their existence.  Dam officials have already started building new tunnels to get at the water that lies at that level, below which power is not able to be produced.  Even though precipitation is relatively high this year, it's believed that they can never be filled again!  Farmers are looking for ways to use their land for other things, such as solar power fields.  Many are leaving agricultural lands fallow.  Some scientists claim the Colorado River is at the end of its useful life and is unsustainable.  However, it is likely some extreme wet years are ahead for us to allow for some refilling of the reservoirs.  It has also been suggested by western farmers that California drop out of the Compact and allow only the other six states to share the water, presumably, along with Mexico.  Disputes are flaring and it may lead to a re-negotiating of the Compact or drawing up a new agreement. 
The Colorado River is symptomatic of what we are facing in the future – and what our children will face.  The West owes a lot to the water distribution from this mighty source that is dwindling and no longer at its original capacities.  Despite the rains and snow packs of the Winter of 2023, the Colorado River system will remain in trouble.  It does bring forward questions about a reliable source of water for such a massive system.  Officials in western states are looking at this situation — using less water is part of the solution.  Agriculture use is front and center in their plans with things like: crops that are less water intensive, updated irrigation systems and employing more conservative methods of crop growing.  Conservation is definitely what it's all about on fronts other than agriculture.  Generally, taking the pressure off the present water/power sources is a way to focus energy and make a new start.  Where to go from there is going to require some creative thinking.  
Sources of Bay Area Activities and Events
---
Friends of the Earth – located at the David Brower Center, Berkeley.
350BayArea – Includes other 350.org branches in the Bay Area.
Planet Drum – San Francisco bio-region awareness center.
Ecology Center – Berkeley sustainability center.
David Brower Center – The environmental center in Berkeley.
Sunflower Alliance – Bay Area umbrella organization for activism.
Sierra Club San Francisco Bay – Bay Area website.
The End