September 12, 2023
Climate on the World's Stage
When thinking about what environmental issues to write about, the face-to-face encounters humanity is having with Climate Change make it difficult to talk about anything else. This summer is still with us and has already taken us down new paths and off the charts for new records.  The sea ice numbers: polar, Arctic and Antarctic, thus far this year, are frightening.  Figures in thousands of square-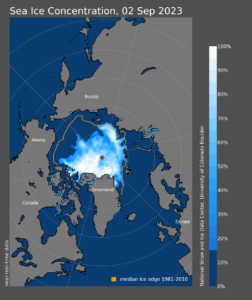 miles may be meaningless to us in the mid-range and tropic latitudes, but the poles are the engines that drive our climate.  Measurements are tracked in the number of sea ice square-miles (floating sea ice rather than on land).  In the south, the Antarctic polar ice sheet hit a new low for sea ice during their winter months.  During this summer, sea ice reached its lowest level ever on Feb. 21, at 691,000 square miles. This summer's Arctic story is not any better. The Northwest Passage (Canadian passages) and the Northeast Passage (along Siberia) are on the verge of becoming a summer reality.  This is good for the shipping and fossil fuel industries, but not good for the world's inhabitants.
Slow moving summer high pressure systems are becoming the norm in the mid-latitudes. Texas and other southern states suffered the hottest temperatures in June and July.  It was not the record in consecutive days but if this trend continues as projected, records will be smashed.  Texas cities are calling it the hottest Summer on record.  "Heat dome" is now a household word.  Mostly forgotten is the hard freeze that the same area experienced in the winter. Such extremes appear to be a norm with climate change.  The overall earth temperature is rising, and with the sea ice receding, the polar engines bring us fluctuations that humanity probably has never faced.  Wildfires on a global scale, a formidable regular hurricane season and other climate crises continue to rattle our confidence in the Earth's stability.
  Some capitalize on the phenomena and attract tourist dollars, such as "World's Tallest Thermometer" in Baker, California.
With all that in mind the countries of the world are already convening on what to do about climate change in the form of the United Nations Framework Conference on Climate Change.  This year's climate conference will take place, November 30 to December 12, in Dubai, United Arab Emirates. It will happen under the leadership of Dr. Sultan Ahmed Al Jaber.  His official UN event title is President-Designate and he promises to be very controversial for this UN Conference of Partners (COP 28).  Dr. Al Jaber is closely tied to the fossil fuel industry, since he is the CEO of the Abu Dhabi National Oil Company (ADNOC).  He is also the Minister of Industry and Advanced Technology for UAE.  Additionally, he was, from 2010-2016 and again from 2020-present, the UN's special envoy for Climate Change.  He will attempt to function on both sides of the climate change issue and claims he can bring both sides together.  This could make for a selling point as to why he might be the perfect controversial host for such an event.
Another feature about COP 28, fossil fuel lobbyists will be required to identify their affiliation with the industry.  They have become very numerous and last year, COP 27 registered 636 lobbyists from oil and gas industries.  This created some degree of outrage among those on the environmental protection side.  This year they will have to reveal their identity in acting in any official capacity at the event.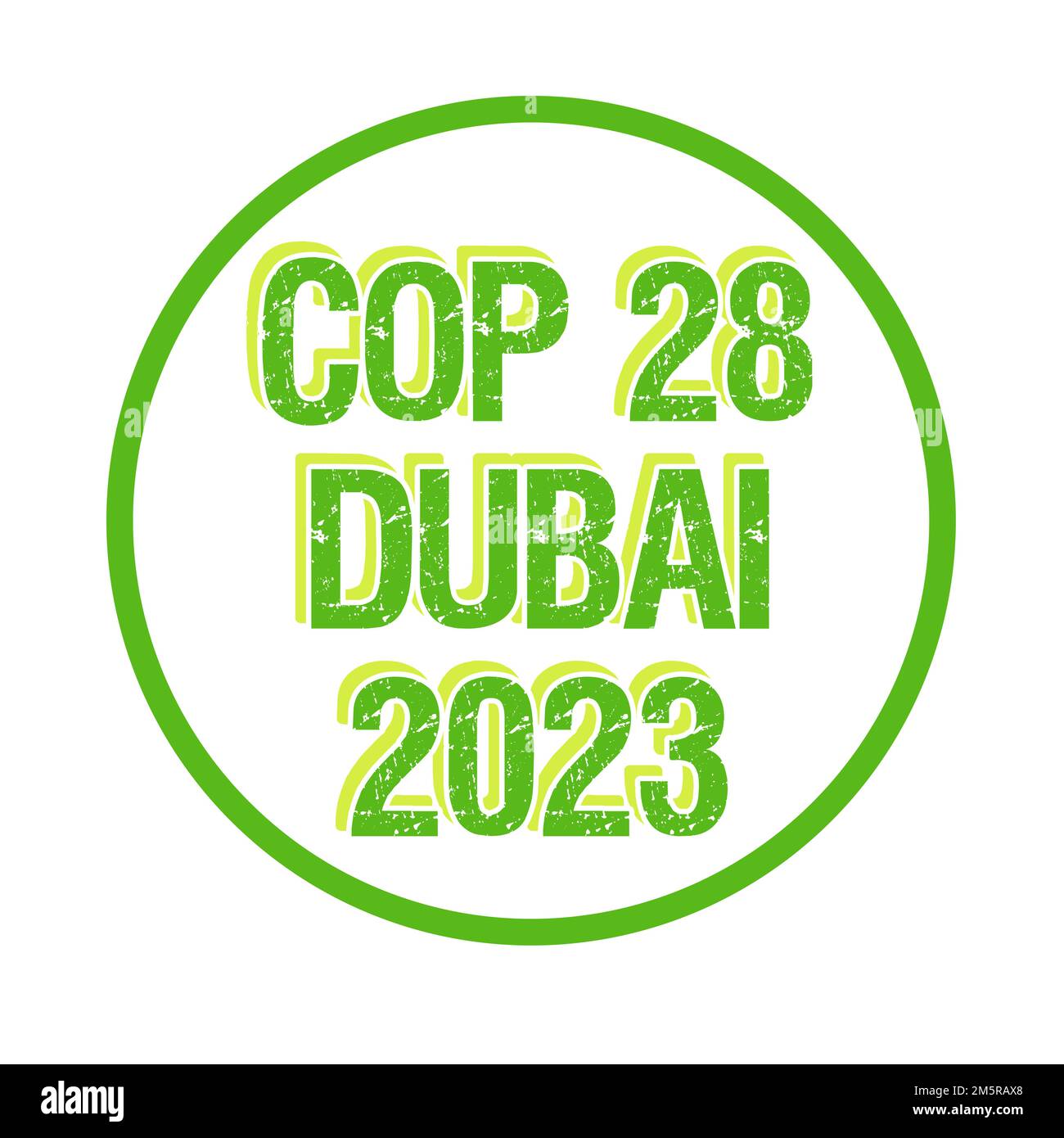 Al Jaber's task for this year's COP begins by joining with the UN's presidency from last year's Egyptian COP 27.  They hope to deliver a successful conference that drives global transformation, not only to steer the world in reducing their carbon footprint but to support the effort towards a low-emission and climate-resilient world.  It will include the first Global Stocktake (GST) of the Paris Agreement to assess the progress that has been made.  Global Stocktakes are part of the Paris Agreement and are to be done every five years, with the first one at the mid-point of the implementation of the 2030 Agenda.  It will actually be a two-year process, with a workshop of mandated elements for this first Stocktake that will take place in November at COP 28.  Also, the President-Designate's COP 28 task will be to focus on "paradigm shifts" that will speed up energy transitions even before 2030.  It will attempt to deliver on promises by more prosperous nations to finance a newer deal and also, focus on nature, people, and their lives.  It should make this the most inclusive COP in the sense that it has a social justice mandate, will relate to many types of people on different levels, advocate for biodiversity and try to bring both sides of the climate issue(s) together.
The COP partners have already been convening at other locations during the year.  They started with a two-week workshop in June, the first since the COP 27, in Sharm el-Sheikh, Egypt.  This was a preliminary meeting convened in Bonn, Germany for the purpose of moving forward in the upcoming COP 28 conference.  One of the biggest problems turned out to be agreeing on the agenda for COP 28 in Dubai, UAE.  The Global Stocktake, of course, was also a major issue along with the other rather persistent matters they're still dealing with after most of the last few COPs, for example, funding arrangements and donors to assist the more vulnerable communities.  Climate finance is probably the stickiest issue in the negotiations.
Nairobi, Kenya has held two more pre-COP 28 events, that took place alongside each other:  Africa Climate Week (ACW) September 4 – 8, and Africa Climate Summit, (ACS) September 4 – 6:   
ACS is a government-held event that brings together the Partners to review their commitments before the main event in November. 

ACW is an annual event to bring together other parties like businesses, governments, and organizations to discuss the reasons for and effects of climate change and how to live with it. 
There is yet another pre-COP meeting: the Climate Ambition Summit held on September 17 – 24, at the UN Headquarters in New York.  This one responds to the IPCC's dire climate assessment presented earlier this year, and will be met with some demonstrations that should call attention to the summit.  It will present a sense of urgency to "accelerate action" for all partners, governments, and financial institutions to recognize the equity and climate justice issues at stake.  It also implies disparity between the poorer countries and to the climate crises that have been leaving deeper scars on the homelands of the poorest people.  The major emitters will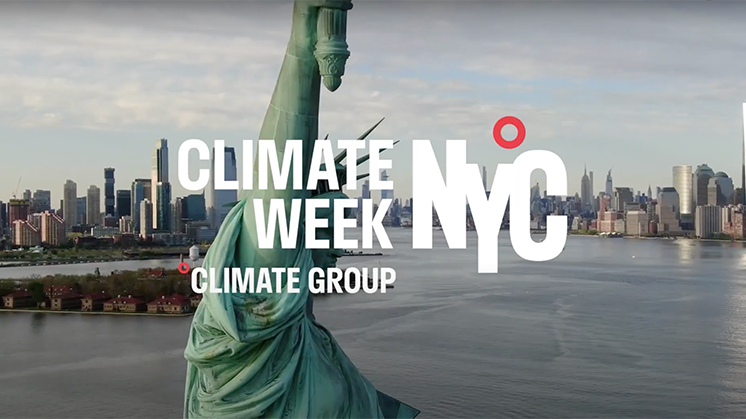 be presenting testimony to their "Ambition, Credibility and Implementation" goals. Such things as their progress with their Nationally Determined Contributions (known as NDCs) pledged back in Glasgow (COP 26) will be front and center along with their plans to deal with their targets to limit the Earth's temperature to 1.5 C° rise.  The meeting at the UN is only part of a larger event called Climate Week NYC, which is a worldwide attempt to "provide a platform for showcasing leading climate action and how to do more fast".  It will be interesting to see how popular Climate Week NYC will be.

Whether the UN Climate Change Conference sounds like a lot of empty rhetoric or not, it's still the world's attempt to solve an existential crisis and needs the serious participation of all countries.  This year's proceedings guarantee more hoopla and have the potential to capture the attention of a wider audience. 
This all makes it likely that COP 28 and surrounding events will likely be the subject for future updates of this Environmental Report.
Sources of Bay Area Activities and Events
---
Friends of the Earth – located at the David Brower Center, Berkeley.
350BayArea – Includes other 350.org branches in the Bay Area.
Planet Drum – San Francisco bio-region awareness center.
Ecology Center – Berkeley sustainability center.
David Brower Center – The environmental center in Berkeley.
Sunflower Alliance – Bay Area umbrella organization for activism.
Sierra Club San Francisco Bay – Bay Area website.
The End