March 6, 2018
 I.  Climate Change
---
Stories from attendee notes, Feb. 28, 2018; San Francisco Chronicle, Feb. 28, 2018. 

The San Francisco Public Library was the site of one of the three Listening Sessions on Wednesday, Feb. 28, for national public comment.  Another one was held in Kansas City, MO on Feb. 21 and the third will be in Gillette, WY on Mar. 27. 
Obama's comprehensive Clean Power Plan (CPP), unveiled in 2015, intended to lend credibility to the effort by the U.S. in the global campaign to combat anthropogenic climate change. It will be repealed if Trump has his way with most speakers in San Francisco speaking against the repeal.  The CPP uses an innovative plan with a three-region approach based on the country's electricity grid and allows states to design their own plans to meet emission reduction standards.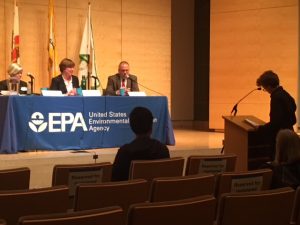 Officials from the State of California's environmental agencies, representatives from various environmentalist organizations and people from Oregon to San Diego appeared to give comment.
San Francisco's EPA Region 9 staged the event and provided professional staffing for the day.
There was an early morning rally outside City Hall, inculding a polar bear.


Sessions started in the morning and continued throughout the day and evening.



It was notably well attended by young people with eloquently articulated comments.


To comment online by midnight April 26,

 click here

and use this docket number EPA-HQ-OAR-2017-0355.
II.  Fossil Fuels
---
Story from Sierra Club Yodeler, Feb. 26, 2018.
After several years of wrangling, the SF Employees' Retirement Board has not been able to fully divest from fossil Fuels.  The best they've been able to accomplish is a small (less than 1%) divestment from coal and an "engagement" strategy to work with others at shareholder gatherings.  The SF Board of Supervisors passed a resolution in 2013 urging the Employees's Retirement Board to divest.
At a meeting on Jan. 24, over a hundred people showed up to give comment and netted the following:

continuation of the strategy including a "phased divestment" of riskier and dirtier funds but did not define these funds yet,

voted to move $1 billion into a carbon-constrained fund,


passed a motion to develop a plan for investment by April 30, 2018 to protect pension funds and divest from some fossil fuels.



Story from DESMOG, Feb. 11, 2018.
The Trump legacy will probably include an "Oil Boom" in his list of accomplishments and oil company spokespersons have promised their stockholders that there "will be no stranded assets", meaning they intend to leave no oil in the ground. This latest report shows they are continuing to expand and even taking oil along the fringes in some areas like Texas. 
The analysis below shows the increase in the number of wells from January 2017 to January 2018 and includes rigs located on U.S. land, as well as in inland waters and the Gulf of Mexico:
 

Jan 2017
Jan 2018
Variance Year over Year (

YOY

)

YOY

% Variance
Colorado

30

34

4

13%

Louisiana

33

52

19

58%

New Mexico

40

83

43

108%

North Dakota

36

50

14

39%

Oklahoma

106

128

22

21%

Texas

367

508

141

38%

Rest of

U.S.

Land

121

172

51

42%

U.S.

Land Subtotal

733

1,027

294

40%

U.S.

Inland Waters

6

5

-1

-17%

U.S.

Gulf of Mexico

34

38

4

12%

U.S.

Inland and Gulf of Mexico

40

43

3

8%

Total

U.S.

Rig Count

773

1,070

+297

38%
Story from attendee notes, Feb. 8, 2018.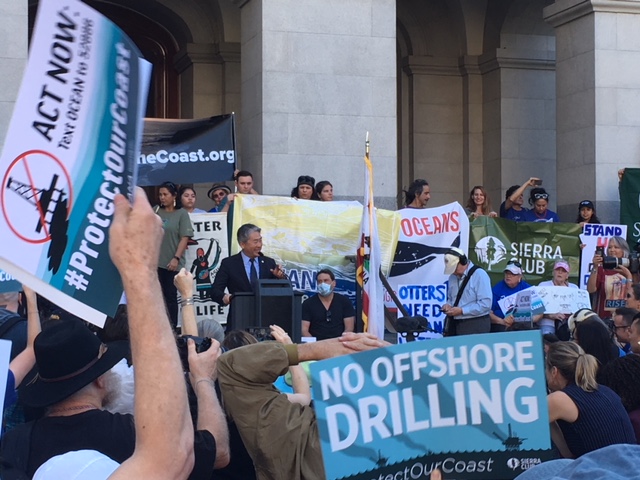 Ryan Zinke's Dept. of Interior staged "open house" meetings in several cities around the U.S., including Sacramento, in an effort to comply with NEPA (National Environmental Protection Act) and give people a chance to comment on his draft proposed Offshore Drilling policy.  It was hosted by the Bureau of Ocean Energy Management (BOEM), which was formerly called the Minerals Management Service (MMS) and restructured under Ken Salazar (Obama's Dept of Interior Minister) in 2011 into two separate bureaus, the BOEM, BSEE (Bureau of Safety and Environmental Enforcement).  The BOEM will oversee the Trump administraion's Outer Continental Shelf (OCS) Oil and Gas Leasing Program.

Story from East Bay Express, Feb. 7, 2018. 
There's a privately owned terminal, the Levin-Richmond Terminal, that has been in operation under the mainstream radar for many years.  The facility has been exporting without much notice 100's of thousands of tons of coal and petroleum coke.  Residents report noticeable and possibly dangerous amounts of coal dust showing up in their neighborhoods.
The coal comes from the same companies in Utah and Colorado connected to Phil Tagami and his Oakland Bulk and Oversized Terminal (OBOT).




The Phillips 66 refinery in Rodeo has been producing the petcoke (refining by product) for export

f

or decades.

Sierra Club has brought the latest news of increased coal and petcoke arriving at the terminal.

The terminal was sued by Baykeeper in 2012 for polluting the Bay, winning in 2014, and the City of Richmond made attempts to regulate the facility in 2015.
III.  Water and Food Reports
---
Stories from Los Angeles Times, Feb. 7, 2018;  The Sacramento Bee, Feb. 7, 2018.

According to the Dept. of Water Resources (DWR), Jerry Brown's dual tunnel project to send water from the Sacramento River to Southern California is now officially limited to only one tunnel (possibly adding the second tunnel later).  It was originally a more grandiose project that included habitat restorations and other ecological friendly benefits that got whittled down to the California Fix: the tunnels along with dams and at least one more reservoir.  Such agencies like the Metropolitan Water District of Southern California and others around the State had already approved funding for the dual tunnels and will now have to decide if the single-tunnel version is what they want. Moving forward in phases allows the State to get moving on the project and to deal with changing minds in the Water Districts later.
The DWR is moving forward with a supplemental environmental review since changes to the original plan will now be made.

The tunnel would feed water from Sacramento River just north of the Sacramento-San Joaquin Delta to the pumping station near Tracy where it would be pumped southward.

It would reduce the cost from about $18 billion to around $11 billion.
Funding was to be divided: 55% by the State Water Project and 45% by the agricultural customers of the federal Central Valley Project.
Stories from the University of California Integrated Pest Management Program; The EPA website; EcoWatch, Feb. 5, 2018.
Pesticide (Insecticide or fungicide) drift has been a problem for many farms throughout the U.S. and the source of lawsuits against pesticide manufacturers like Monsanto, DuPont, and BASF.   It's the unintentional movement of such agricultural chemicals, whether in liquid, vapor, or particulate form, but can include runoff to other locations that may cause damage to human health, environmental contamination, or property damage.  A chemical residue accidentally delivered to an organic farm's crops can persist in the soil and ruin the 'organic' status of that farm for years.

The EPA determines how a chemical is to be used and focuses on labeling for safe use and includes addressing handler precautions; states have a patchwork of regulations from prohibiting spraying to using "reasonable precautions"; and California has zone restrictions mostly to protect groundwater.  Organisms, including plants, develop a resistance to pesticides and herbicides and usually results in more chemical products being used to get the same former outcome.  
Over a billion pounds of pesticide/herbicide chemicals are used per year in the U.S. including:

Glyphosate (the most-used agricultural chemical for weed control), classified as a "probable human carcinogen" and linked to kidney damage and non-Hodgkin Lymphoma.  It was banned in Netherlands and will possibly be banned Germany.

Neonicotinoids (or "neonics," used widely in the U.S.) believed to be the cause of bee colony destruction – mostly banned in the EU.

Atrazine (mostly used on corn is found in 90% of our drinking water) is an endocrine interrupter, affects the immune system, linked to birth defects and banned in the EU.
Dicamba, a favorite herbicide known for its volatility, is prone to drift and is known to cause damage to neighboring farms.

Paraquat (famous for its use against marijuana fields in Mexico) is linked to Parkinson's disease – banned in the EU and in China.

metachlor.
Soil fumigants: metam-sodium, methyl-bromide, dichloropropene.  As vapors, they move easily from soil to air.

Stories by The New York Times, Jan. 31, 2018.
The 1972 Clean Water Act and subsequent revisions from litigation have defined our Waters of the U.S. (WOTUS).  Obama put the latest version into law with the help of the Army Corps of Engineers in 2015.
The Trump Administration took on the task of redefining WOTUS in 2017 and is now finishing that task.  It has been a contentious issue for years that regulated the way certain industries can discharge waste into public waters. 
The latest version was the Obama Rule, now suspended for two years while the present administration figures out how to implement a plan that would lighten the requirements for safeguarding streams and tributaries that flow through farms and lands owned by real estate developers.

Scott Pruitt (EPA Administrator) has pledged to agricultural commissioners that a draft plan is forthcoming.

He claims that the Obama rule over-extended its power in regulating "backyard ponds, puddles, and farm fields."

Environmentalists charge that the Administration's tampering with our drinking water is irresponsible and illegal, and vow to sue.
IV.  Politics
---
Story from BallotPedia, Feb. 2018. 

Gov. Jerry Brown is backing this measure that will appear on the June ballot in California.  It would require that (1) the cap-and-trade revenue be placed into a new fund called the Greenhouse Gas Reduction Reserve Fund (as opposed to leaving as is in the, similarly named GGRF, Greenhouse Gas Reduction Fund), (2) be subject to a one-time two-thirds vote by each house of the legislature, and (3) then go back to the GGRF to be voted on and disbursed through the budget process.

The vote would take place after Jan. 1, 2024 and may end up in gridlock without the 2/3 vote.




Many Environmentalist feel this is an effort by the industrial polluters to undermine the Cap & Trade portion of our Global Warming Solutions Act.



Prop 70 is labeled as a backroom deal rushed through the process with Jerry Brown's help and lacks transparency.

Stories from EcoWatch, Feb. 9, 2018; Resilience. Feb. 15, 2018. 

In addressing his National Congress last October, China President Xi Jinping laid out a vision for an 'Ecological Civilization' that will promote environmental principles to guide civilization into the future.  This speech is in stark contrast to Trump's inaugural speech when he called for a very different vision, more in the way of "destructive nationalism."  It would appear that China will be the leader for a new world policy instead of the United States.  They have been announcing plans for solar and wind that will exceed their future commitments, the closing of some of their coal-fired power plants and other aggressive policies that support this new vision. 

Historically Chinese culture is founded on an intrinsic connection between humans and Nature. 



His speech included statements like:

Ensuring the "harmony between human and nature"..
"we must respect nature, follow its ways, and protect it."
To encourage "simple, moderate, green, and low-carbon ways of life…oppose extravagance and excessive consumption".

Western observers doubt these claims since China is the leading emitter of CO2 — more than the U.S., the EU and Japan combined.
Xi Jinping has, nevertheless, maintained a national respect for the Environment and for regulating resources with environmental management techniques.
Story from E&E News, Feb. 7, 2018.
Scott Pruitt, our U.S. EPA Administrator, is still very much confused about what kind of threat Climate Change is and even states "humans have flourished during warming trends."
He also described the politicization of the science and believes the fossil fuel industry is limiting carbon emissions through innovation.
To his credit, he did say in his confirmation hearing last year that humans affect climate "in some manner."

One can call Scott Pruitt at 

(202) 564-4700 or email at

pruitt.scott@epa.gov

or Twitter at

@EPAScottPrutt

and let him know that he has a deep disregard for science and could be considered dangerous to the Environment and to the public.
V.  Miscellaneous Items
---
Story from Stanford University Press.
Edward Ricketts, the fictionalized character known as 'Doc' in John Steinbeck's Cannery Row, was based on the real Invertebrate collector who, along with Jack Calvin, wrote the original classic work in 1939.  It's a classic resource for lovers of the west coast inter-tidal zones where such creatures as sea urchins, star fish, crabs and other such animals and plants reside. 
The book is now in its 5th Revision and 20% larger than the original. 
It covered the west coast from Alaska to Mexico and became a favorite among readers.

His respect for such creatures and how to view them without destroying their habitats was much appreciated by readers.

Story from EcoWatch, Feb. 20, 2018.
A new report from a data researcher shows 102 cities throughout the world are now mostly (70%) powered by renewable energy sources and another 22 cities are at the 50% level.  Hydropower is included in the mix of renewables, and Latin America leads the way with 57% of those listed, 20% from Europe, 9% from Africa and 9% from North America.
Four cities in the U.S. make the list: Aspen, CO, Burlington, VT, Eugene, OR, and Seattle, WA.
43 cities claim 100 % renewables, including Burlinton, VT, the first U.S. city to make this claim.
Story from The Washington Post, Feb.

 7, 2018.
In April 2017, a sample was taken from an old-growth redwood tree in Butano State Park, located along the coast in San Mateo County, to begin a three-year project to seek out those trees favorable for adapting to climate change.

The genetic code of redwood trees is 12 times larger than that of humans.


The tree's footprint previously extended from northern edge of the southern California arid region to Oregon's Columbia River.




The project will greatly aid the management of second-growth forests with emerging trees competing for space usually stifling growth of healthy trees.




In addition to redwood trees, Butano State Park is home to such species as mountain lions, wandering salamanders, and the marbled murelet.
VI.  Events
---
Tuesday, Mar 6, 12:00 – 1:30pm, A Conversation with Ralph Nader in Berkeley
On dealing with the politics of today's world.
David Brower Center, 2150 Alston Way, Berkeley.
Friday, Mar 9, 7:00 – 9:00pm, Sierra Club's Green Friday

Featuring speakers and discussion topics.

Sierra Club's Bay Chapter Office, located at 2530 San Pablo Ave., Berkeley.
Monday, Mar 10, 6:30 – 9:00pm, Climate Change and Labor with panelists

T

he challenges of transitioning to clean energy.



International Longshore and Warehouse Union (ILWU) Local 4 located at 4 Berry St. at 2nd St., San Francisco.

Sunday, Mar 18, 3:00 – 4:00pm, 350SF Monthly Meeting

Join a group dealing with climate strategies.


Peet's Coffee House, 601 Van Ness Ave., San Francisco.



Wednesday, Mar 28, 10:00 – 12:00pm, Final Hearing in Oakland Coal Trial

The suit brought on by Phil Tagami is reaching an endpoint.

U.S. District Court in San Francisco, Court Room 2, 17th Floor.
Other Sources of Events:
350Bay Area – Includes other 350.org branches in the Bay Area.
Planet Drum – San Francisco bioregion awareness center
David Brower Center – The environmental center in Berkeley
Ecology Center – Berkeley sustainability center
Sunflower Alliance – Bay Area umbrella organization for activism
Sierra Club San Francisco – Bay Area Website
The End