September 4, 2018
Special Events in San Francisco:
---
March for Climate, Saturday, September 8.

Meet 10:00am at Embarcadero Plaza, San Francisco. 

March starts at 11:00am, ends at Civic Center Plaza.



I.  Climate Change
---
Story from The Guardian, Jul. 24, 2018.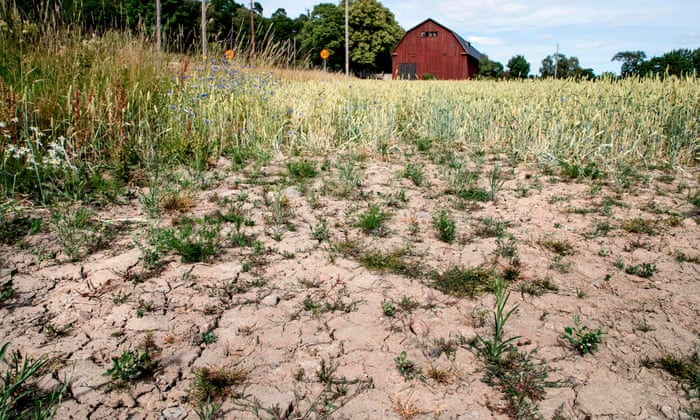 A heatwave and drought conditions across central and northern Europe are having drastic consequences in European agriculture.  Wildfires in Sweden, 86 degrees (F) Arctic Circle temperatures, and lack of rain on fields are all leading to reduced harvests and resulting bankruptcies.  Countries affected include Scandinavia, Scotland, Ireland, the Baltics, the Netherlands, and northern Germany.
Story by inside climate news, Jul. 11, 2018.
When it's supposed to be the coolest part of any particular day, climate change is showing us the new normal.  Night temperatures are staying high enough and actually outpacing daytime temperatures, disrupting sleep patterns around the world, and generally causing health problems.  Temperatures as high as 80 – 100 Fahrenheit at night are becoming more commonplace.

Story from inside climate news, Jul 19, 2018; U.S. News, Aug. 22, 2018.
In a case similar to the one dismissed in June by the U.S. District Court in San Francisco, a New York District Court dismissed a case against the same five oil companies:  BP, Chevron, ConocoPhillips, ExxonMobil, and Royal Dutch Shell.  The cases argue that companies have conspiratorially shifted the cost of climate change to the people while distributing false information about the cause of global warming.

The judge maintained, in a manner similar to the San Francisco case, that Congress is the place to settle this manner – not the courts.

Meanwhile, major Texas oil companies are asking the U.S. Government to pay for a protective barrier along the Texas coast from the Louisiana border stretching about 60 miles to protect the petrochemical concentrated in that area.  This request for $12 billion is a transfer of cost of global warming infrastructure expenditures to the tax payers, while the oil companies continue to make profits that are the cause of that same global warming!!  It's all in the name of national security!!!
II.  Fossil Fuels
---
Story from Reuters, Aug. 30, 2018.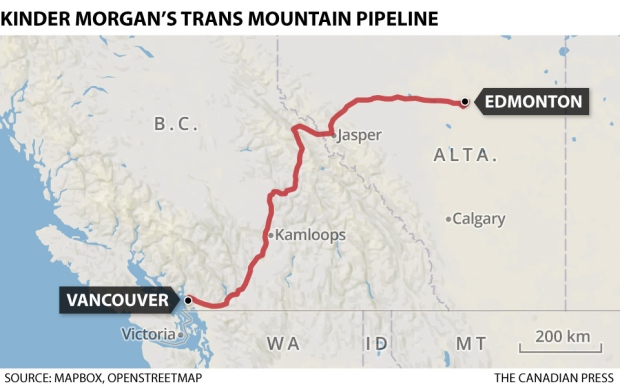 Trudeau's government took steps in May to buy the Kinder Morgan (Trans Mountain) Pipeline while implementing a carbon tax to help reduce emissions and supporting the oil industry at the same time.  The Trans Mountain Pipeline was meant to triple the output of oil from Edmonton and make it easier to get the crude to ships in the Vancouver area. 
The sale of the pipeline is due to be decided this week. Meanwhile, Canada's Federal Court of Appeal ruled against the government for failing to adequately consult First Nations. This would delay the construction and seriously harm the nation's economy.

Story from The California Report, Aug. 17, 2018.

The Bay Area Air Management District (BAAQMD) approved a 4,000 barrel per day increase at its Rodeo refinery.  The approval came under the radar of local environmental groups who have long opposed refinery expansions.  This comes after Phillips 66 has proposed expanding the number of of crude delivery ships from 59 to 135 per year.

Story from Kallandish Energy, Jul. 26, 2018.
The Alameda County Board of Supervisors voted to end oil operations.  E&B Energy was in the process of expanding oil drilling and using an aquifer under the city of Livermore for disposal of its drilling waste water.  But now it has four supervisor votes (and one abstention) to terminate its operations.  Opposition to the expansion permit was spearheaded by Ash Lauth of the Center for Biological Diversity and the volunteers of the Livermore Eco Watchdogs.

In 2016, a fracking ban was put in place by the county.  However, the oil company managed to eke out a permit to use water flooding in its drilling process to produce more oil from its existing wells and to apply for a permit to expand its use of the aquifer for disposal. 
The Board of Supervisors decision terminates oil operations by E&B Energy, the only oil company that had been doing business in the county.

Story from Kelly Trout of Oil Change International and other researchers, May, 2018.
This Report by OIL CHANGE INTERNATIONAL, first cited here last month (July), examines the spirit of the Paris Agreement in managing the global carbon budget and defines a responsible role for California as a world leader.  It certainly deserves a closer look.

Sunflower Alliance has a synopsis available — click the title link above to read it. The Report itself includes a Key Findings and Recommendations chart that summarizes the concepts in a fairly non-technical manner.

"Oil Change International is a research, communications, and advocacy organization focused on exposing the true costs of fossil fuels and facilitating the coming transition towards clean energy."
  III.  Water and Food Reports
---
Story from California Water Board, Aug. 21, 2018; Maven's Notebook, Sep. 18, 2016; The Los Angeles Times, Aug. 20, 2018.
The Bay Delta Plan, officially known as the San Francisco Bay/Sacramento-San Joaquin Delta Estuary Water Quality Control Plan, is being updated by the State Water Quality Control Board, as it is required to do periodically.  The plan update takes on great importance this year due to drought worries and how sustainable water supplies will be maintained for agricultural and other uses. 
It has been shown that the Delta's health is dependent on the water flow through the watershed to stabilize water temperatures and salinity necessary for the survival of species on the brink of extinction including spawning salmon in the Delta.  The amount of water flow through the southern Delta from the three tributaries (Stanislaus, Tuolumne and Merced Rivers) was scientifically determined to be about 60% but in combination with such efforts as conservation practices and adaptive management, the level of flow needed in the system could be as low as 30 – 50%.  

The San Francisco Public Utilities Commission (SFPUC) came out in its regular meeting on Thursday, Aug. 28, in opposition to the State's recommendation with its own plan that is based more on maintaining its ability to service water district clients, especially during droughts, rather than on flow through the Delta.
The agricultural interests in Central and Southern California claim the Bay Delta Plan is too controlling and are also advocating for something similar to the SFPUC.  There's a lot of rhetoric on both sides of this issue to the point of suggesting "water wars".  The State Water Resources Board will make a decision on this issue in November.

Ryan Zinke (Sec. of the Interior)has also come out in opposition to the State's plan and openly sides with getting as much water as possible to the farmers in central and southern California, while paying little regard to the Endangered Species Act.
Story from EcoWatch, Aug. 17, 2018 & Jul. 20, 2018; Reuters, Aug. 16, 2018.
"Two of the nation's largest independent seed sellers, Beck's Hybrids and Stine Seed, are urging the U.S. Environmental Protection Agency to place limits on the spraying of the drift-prone pesticide dicamba, Reuters reported. "

Pesticide drift has been poorly dealt with by the big chemical companies leaving crop damage and unhealthy doses of pesticides in communities.  Dicamba is an herbicide used against those weeds that don't respond to Monsanto's RoundUp, which suggests super-weeds are now developing due to agribusiness' scheme to become the global provider of GMO seeds and related herbicides.
Stories from Business Insieder, Aug. 16, 2018.
Karenia brevis (official name of red tide algae) rolled in last year.  It thrives offshore in warm water and gains momentum when additional
nutrients flow into rivers and streams from agricultural areas and mix with the algae in the Gulf of Mexico.  It usually starts somewhat "naturally" when warmer conditions occur.  But now with global warming, and resulting warmer conditions, Florida's southwest coast has become the latest site where this red tide phenomenon proliferates.  In Florida's case the pesticide accumulation in Lake Okeechobee is allowed to flow out to the Gulf supplying nutrients to create a larger than normal bloom.

Stories from NBC News, Aug. 10, 2018; The Guardian, Jul. 23, 2018.
Dewayne Lee Johnson, the plaintiff in the RoundUp herbicide trial in U.S. District Court in San Francisco, won the first round against Monsanto with $250,000 in punitive damages and $33,00 in compensatory damages.  He took the stand on July 23, explaining how he, as groundskeeper at the Benicia Unified School District, contracted non-Hodgkins Lymphoma in 2014 after extensive use with the herbicide, RoundUp.

August 10 update: total award is $289 million.
Monsanto will appeal and steadfastly maintains that the active ingredient in RoundUp, Glyphosate, is safe and does not cause cancer.  
Story from Common Dreams, Jul. 26, 2018; EcoWatch, Jul. 26, 2018.
In the aftermath of Hurricane Maria a scheme to privatize the water supply of Puerto Rico is being hatched with the funds from private equity exploiters.  At the same time  Bernie Sanders and Elizabeth Warren are coming to the rescue with a comprehensive bill to help rebuild and offer debt relief. 
IV.  Politics
---
Story from The Mercury News, Aug. 23, 2018.
Gov. Brown is proposing new rules that will allow thinning of trees to ostensibly mitigate wildfire damage.  Pressures from the lumber industry to allow road construction and cutting of trees without permits in certain cases allows them to take advantage of the fire situation.

"Environmentalists say they support some relaxation of the logging rules to make thinning overgrown forests easier to limit fire risk. But they worry that Brown's proposed changes, which are expected to be introduced into a bill by a legislative deadline Tuesday, would allow loggers to cut large redwoods on the coast in wetter forests that don't burn often, and other trees — some over 100 years old — without enough oversight."
Story from The Washington Post, Aug. 18, 2018.
Despite the Trump Administration's attempts to roll back environmental protections in almost every way, federal judges keep ruling in favor of the standing laws.  Here's a list of recent attempts at deregulation:

A District Judge in Washington, DC ruled against Trump's EPA move to delay chemical & safety requirements.
A South Carolina District Court reinstated a rule in 26 states protecting streams and waterways.
A Montana District Court ordered the U.S. State Dept. to conduct an extensive environmental impact statement for the proposed route of the Keystone XL pipeline in Nebraska.
A Los Angeles federal judge ordered the EPA to restrict stormwater discharges from commercial and industrial sites.
The U.S. Court of International Trade halted sales of seafood caught in gill nets in Mexican waters to protect the endangered vaquita porpoise.
Story by Bloomberg, Jul. 5, 2018; CNN, Aug. 21, 2018; Earthjustice, Aug. 15, 2018.
The Administrator of the Environmental Protection Agency, Scott Pruitt, submitted his resignation to Pres. Trump in the midst of 13 federal investigations about his choice of travel, living, spending and behavior.  He blamed the "unrelenting attacks" for his reason for stepping down but there was a long list of ethics scandals that was the focus of his opposition along with those environmentalists that disapproved of his closeness to the petroleum industry.
The new focus will be on who will replace Mr. Pruitt.  The interim appointee, Andrew
Wheeler, the Deputy Administrator, a former coal lobbyist could, in some ways, be a more formidable 'non-protector' of the environment.  He served as chief of staff for Senator James Inhofe from Oklahoma and spent time as a coal lobbyist for the coal company, Murray Energy.  His experience in Washington as a lobbyist makes him much more comfortable in Congress. 
Wheeler is expected to continue with the agenda set forth by Pruitt and Trump.  For example: the rollback of Obama's Clean Power Plan.

A more important third person to keep in mind regarding our Environment is Ryan Zinke, the Secretary of the Interior, who is also seeking accessibility to our public lands by petroleum & coal companies, lumber companies and ranchers.  The DOI has a broad range of responsibilities that include overseeing the EPA, USDA, Fish & Wildlife, National Monuments, coastal protection, off-shore oil drilling, Bureau of Land Management, Indian Affairs, and more.

Here's an example of Zinke's operation tactics: "As California Burns, Trump and Zinke Use Catastrophe to Benefit Industry"
V.  Miscellaneous Items
---
Story by City Lab, Aug. 16, 2018.
Stella Bowles lives on the shore of the LaHave River in Nova Scotia and got worried when she found there's "poop" in the river.  She learned how to take water samples and with her Facebook page was able to turn back the tide of raw sewage emitted from local septic tanks.

Story from NBC Bay Area, Jun. 29, 2018; Petition to NRC, Jul. 26, 2018; KTVU, Jul. 26, 2018. .
Greenaction for Health and Environmental Justice under Bradley Angel's leadership has petitioned the Nuclear Regulatory Commission to revoke the license of Tetra Tech, the firm accused of falsely documenting the Hunters Point Shipyard cleanup process: 
Two employees are facing prison terms after pleading guilty to falsifying data. 
The Navy has an on-going investigation into the work done by Tetra Tech.
A lawsuit for $27 billion

for damages has been filed by residents living in the contaminated areas. 



Greenaction's license revoking effort has far-reaching  consequences since Tetra Tech has been cleaning up contaminated sites with various agencies within the federal government for over 50 years.
Story from The Olympian, Jul. 25, 2018.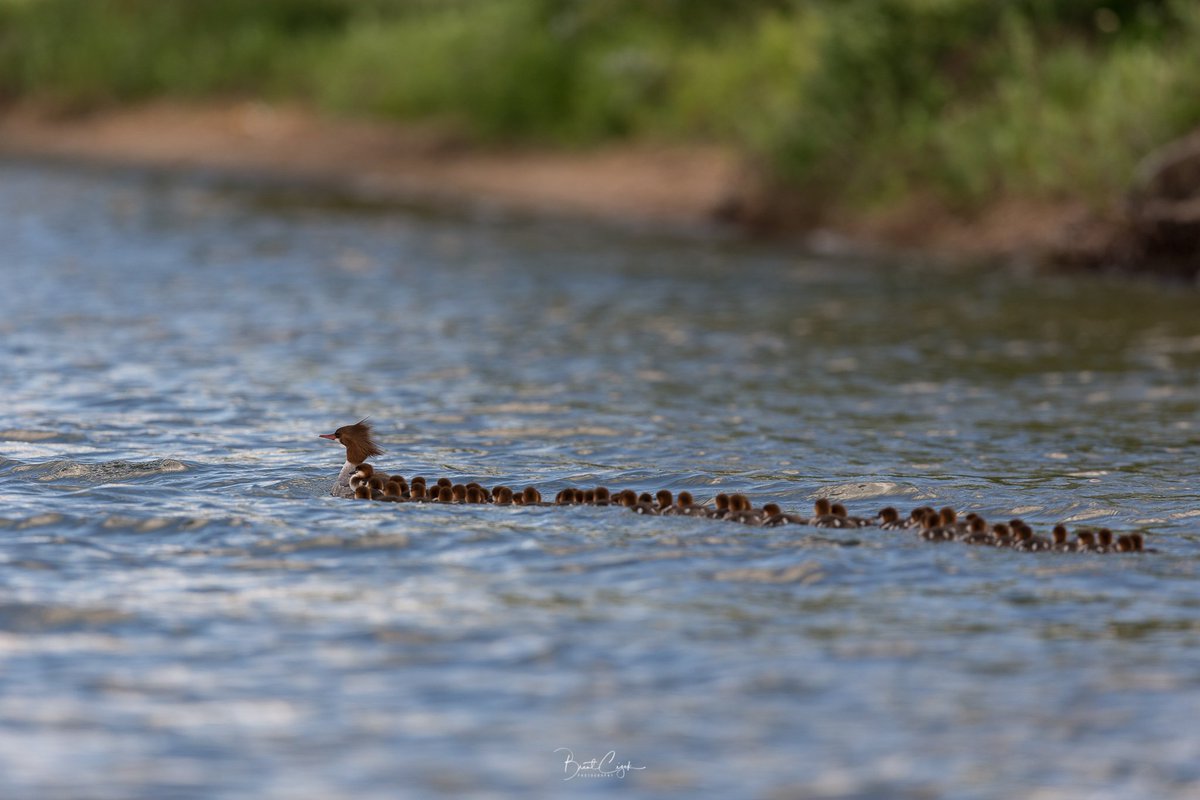 This photo of a female common merganser with an extremely large brood was snapped by Brent Cizek on Lake Bemidji northwest of Duluth, MN.  It stirred some curiosity among ornithologists with many expressing doubt that a mother duck could even sit on so many eggs.

VI.  Events
---
Direct Action Nonviolent Training for Climate Summit
Sunday, Sep 2, 1:00 – 5:00pm

– Greenpeace Warehouse, 955 7th St, Oakland


Friday, Sep 7, 5::00 – 9:00pm

– Unitarian Universalist Church, 1187 Franklin St. San Francisco.
Thursday, Sep 6 – Thursday, Sep 14, San Francisco Green Film Festival
Opening night at the Castro, 6:00pm.
Various venues.
Saturday, Sep 8, 9:00am – 2:00pm,  Rise Against Climate Capitalism

Pre-march gathering.


Embarcadero Plaza, San Francisco.



Sunday – Tuesday, Sep 9 – 11, 5:00 – 9:00pm, Soil Not Oil Conference

The annual conference for those interested in restoring global systems.


2665 Mission St. and other venues in San Francisco.



Monday, Sep, 10,  8:00am 12:00pm, Rise Against Climate Capitalism

Nonviolent action where carbon-trading climate profiteers are meeting.


55 Cyril Magnin St., San Francisco.



Tuesday, Sep, 11,  1:00 – 8:30pm, Women's Assembly for Climate Justice

The Women's Earth and Climate Action Network public forum on the day before the Global Climate Summit.

Drop in, stay as long as you like.
401 Van Ness Ave., The Green Room, San Francisco.
Wednesday, Sep, 12, 12:00 – 1:30pm, Oakland Coal Terminal Protest

To expose the Bank of Montreal's irresponsible financing.


San Francisco Marriott Hotel, 780 Mission St., SF.



Wednesday – Friday, Sep, 12 – 14,  9:00am -5:00pm, Global Action Climate Summit

Gov Brown & Bloomberg sponsored event for world climate leaders and dignitaries.

Moscone Center in San Francisco.
Friday, Sep. 14, 7:00 – 9:30pm, Sierra Club's Green Friday.
Sierra Club's Green Friday event for September.
Sierra Club office, 2530 San Pablo Blvd., Berkeley
Tuesday, Sep. 18, 12:00 – 1:00pm, Webinar – Transformational Resilience within Communities for Climate Change
Sign up ahead of time at web site..
Saturday, Oct. 6, All Day, BAY DAY 
Other Sources of Events:
350Bay Area – Includes other 350.org branches in the Bay Area.
Planet Drum – San Francisco bioregion awareness center.
David Brower Center – The environmental center in Berkeley.
Ecology Center – Berkeley sustainability center.
Sunflower Alliance – Bay Area umbrella organization for activism.
Sierra Club San Francisco – Bay Area website.
The End