October 2, 2018
I.  Climate Change
---
Story by The REAL news, Sep. 17, 2018.
Professor Jennifer Francis at Rutgers University's Institute of Marine and Coastal Sciences spells out the relationship between the warming Arctic polar region, currents in the ocean, the jet stream in the atmosphere and the basic patterns that emerge on the east and west coasts of the U.S.  Click the link above to view the video.

Story from Forbes, Sep 12, 2018; HuffPost, Sep 10, 2018; Environment News Service, Sep 10, 2018; Governor's Office, Sep. 14, 2018.
The Global Climate Action Summit in San Francisco (Sept 12–14, 2018) was attended by many of the world's local-scale leaders such as mayors, environmentalists, companies, and other dignitaries supporting climate action in their respective countries.  The Summit was in contrast to the annual Conference of Partners (COP), attended by heads of state.

The first day, September 12, was an all-day workshop from the WASI (We Are Still In) campaign that featured panels of speakers.  Later that day was the Opening Ceremony for the Summit at Grace Cathedral.  The events on Day 1 and Day 2 of the Summit (Sept 13–14) can be viewed as a video stream at the Climate Summit web site.
In the days prior to the Summit California Governor Jerry Brown signed various climate-oriented legislation into state law:

On Saturday, Sept. 8, Gov. Brown signed two bills designed to stop off-shore oil drilling,

SB 834 and AB 1775

.

On Monday, Sept. 10, he signed

SB 100 and an Executive Order

committing California to getting 100% of its power from renewable sources by 2045, and putting the state on a carbon-neutral path by 2045 with further reductions in subsequent years.

At the closing of the summit, Gov. Brown announced that California would be "launching our own damn satellite" to help the world track atmospheric pollution. 
II.  Fossil Fuels
---
Story from Earther, Sep. 25, 2018.
The Dept. of Transportation's Pipeline and Hazardous Materials Safety Administration rolled back the Obama Administration's policy of requiring Electronically Controlled Pneumatic (ECP) brakes.  These more reliable brake systems were deemed necessary and were to be phased in by 2020, since about 20 derailments of trains carrying oil and ethanol had occurred between 2010 and 2013.  Unfortunately, under the Trump Administration these more reliable brake systems will no longer be required.

Story from The Guardian, Sep. 20, 2018.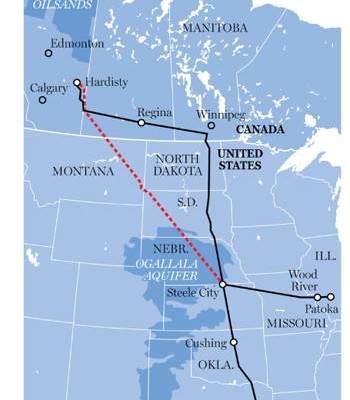 The Department of Homeland Security (DHS) is revving up new procedures and using a new tactic in dealing with Keystone XL Pipeline activists and other pipeline activists, namely labeling them as "extremists" and their activities as "terrorism".  
The Keystone XL Pipeline alternative route (1180 miles) is due for approval soon and activists are watching closely.  It is planned to cross many environmentally sensitive areas as it traverses Montana, South Dakota, and Nebraska to Steele City on the Kansas border, where it would link up to the existing southern section of the pipeline.   

  III.  Water and Food Reports
---
Story from Sustainable Pulse, Sep. 26, 2018.
A reliable home testing kit is now available for measuring concentrations of Glyphosate in common household foods and water.  Since Monsanto's RoundUp herbicide is so prolific in our environment, dangerous concentrations have shown up in items such as water, beer, honey, and in various chips, cookies and cereals — even in infant cereals.  Click the link above for more information on ordering kits.

Stories from EPA website, Sep. 2018; The Hill, Sep. 24, 2018; EcoWatch, Sep. 25, 2018.
Chlorpyrifos is an organophosphate pesticide sold under the trade name Lorsban, which is used on various fruit and vegetable crops such as citrus trees, strawberries, broccoli, and cauliflower.  It has been shown to cause nervous system disorders and measurable deficiencies in brain function in children.  It was banned during the Obama administration, then brought back by Trump's EPA under Scott Pruitt.  It was taken to court by EarthJustice and banned again in Aug. 2018.  Now, in September 2018, the ban is being repealed by the Trump Administration.

In a side story from EcoWatch:  The U.S. Environmental Protection Agency's Office of the Inspector General released a report Tuesday finding that the agency's practice of routinely granting "emergency" approval for use of pesticides across millions of acres does not effectively measure risks to human health or the environment.
Story from Pesticide Action Network North America (PANNA), Sep. 21, 2018.
A new position was created by the recently passed Farm Equity Act of 2017 and is being filled by Thea Rittenhouse.  The Act is meant to help the disadvantaged (people of color including Native Americans and women), farmers and ranchers.  It is intended to bring fair access to land and resources by making technical assistance and financial support available to those that have been left out.  Passing the Farmer Equity Act was an an attempt to bring about equity justice to a system with a long history of social and racial disparities.
Ms Rittenhouse was chosen as the new Farm Equity Advisor.  She has an MS in Community Development and ten years experience working with farmers, farmworkers, school garden programs, community food security projects and other programs. 

IV.  Politics
---
Story from The Nation , Jul. 20, 2018.
Initiative Measure 1631 (AKA I-1631) was filed on March 13, 2018 in Washington's State Capitol to "tackle both climate change and economic inequity in Washington."  A $15. per ton fee on CO2 emissions starting in 2020 would commit the state to a reduction of 20 million tons per year, and the revenue would would be invested in clean energy and water.  The funds would be directed to certain employers for economic, environmental, and community health care, as well as low-income assistance programs and on-job retraining, to benefit workers in the fossil fuel industries.  Support I-1631.
Story by The Revelator, Sept. 11, 2018; CNN, Aug. 21, 2018; Earthjustice, Aug. 15, 2018.
It's feared that Brett Kavanaugh, Trump's candidate for the Supreme Court, will narrowly restrict public agencies like the EPA in regulating pollutants in the environment.  If he is seated on the Court, there are many cases that he and conservative Justice Neil Gorsuch could be ruling on, including Endangered Species, Clean Water and Clean Air Act(s).

Conservative congressional tactics tend to give agencies the authority to do only what they are told and not allow them to regulate past certain limits.  It has been shown in Kavanaugh's rulings dealing with the Clean Air Act, for example, that the "statutory authority" of such agencies goes too far, that is, making decisions that curtail regulations when pollutants cross state borders.
V.  Miscellaneous Items
---
Story from The New York Times, Sep. 27, 2018; EPA website, Sep, 2018.
The Science Advisor is yet another EPA Office slated to be closed or radically changed by the Trump Administration!  The reason given by the Jennifer Orme-Zavaleta, the present science advisor, is to "combine offices with similar functions".   This action fits with this administration's disdain for scientific research, and to make policy with an EPA that has a diminished capacity for environmental regulations.
"The Office of Science Advisor (OSA) contributes to the Agency's mission through the development of solutions to science and technology policy issues, and in doing so, plays a unique role of coordinating cross-agency intragency consensus building. OSA develops Agency-wide products, such as scientific policies, guidance, tools and training to enhance EPA's ability to meet its mission of protecting human health and the environment."
Story from The New York Times, Sep. 26, 2018.
Trump's EPA Administrator placed Dr. Ruth Etzel on Administrative leave without explanation.  She has been a children's health leader for 30 years and has won numerous awards for her work.  It is believed it has to do with the Administration's general policy of weakening environmental protections.  Dr. Etzel and her Office of Children's Health Protection operated with the assumption that tougher regulatory standards than those required of adults are needed.

Story by NPR, Sep. 24, 2018; WildEarth Guardian website, Sep. 24, 2018.
Grizzly Bears in the U.S. live in fragmented areas in and around Yellowstone, Grand Teton and Glacier National Parks, where they have been struggling to survive as a species since they were protected in 1975.  They were hunted and killed in various ugly ways until they were almost extinct in the 1930s. Today they number only about 1,500, living in relatively small 'recovery areas' in the lower 48 states in and near those national park areas.

The Trump Fish and Wildlife Service attempted to remove Grizzly Bears from the threatened species list to allow trophy hunters to kill 23 bears this year (starting Sept. 1) in Idaho and Wyoming.  Matthew Bishop, an environmental attorney for WildEarth Guardians, argued the case in Missoula, MT before Judge Dana Christensen and WON!, restoring Endangered Species Act protections to those bears in protected areas.

The Judge, Ms Christensen, indicated the "federal government didn't use the best available science" in removing the bears from the threatened list.  Also, the U.S. Fish and Wildlife Service failed to analyze the effect killing bears from those areas would have on the broader population.

Story from The Mercury News, Sep. 21, 2018.
What is believed to be the nation's first statewide straw law by Assemblyman Ian Calderon, D-Whittier, will prohibit dine-in restaurants from automatically providing disposable plastic straws when serving beverages to their customers. When it takes effect in January patrons at dine-in restaurants will have to ask for a plastic straw.

It is believed it would start a change in behavior that would limit the pervasive single-use plastic item that is found on beaches, in coves, floating in ocean gyres, and connected in many ways to the death of sea creatures.

VI.  Events
---
Wednesday, Oct. 3, 5:30 – 7:30pm, Hunters Point Naval Shipyard Community Meeting
Learn more about the radiological retesting.
OCII Community Room, 451 Galvez Ave., SF
Wednesday, Oct. 3, 7:00pm, Population, Climate Change and Women's Rights
A Healthy People, Healthy Planet committee event.  Click

on link to

RSVP.
UC Berkeley, School of Public Health, University Hall, 401.
Saturday, Oct 6, All Day,  Bay Day

Celebrate the Bay with restoration,  education, or exploration events.


See the web site for events in various places in the Bay Area.



Saturday, Oct, 6,  1:00 – 4:00pm, FixIt Clinic
Bring any device that needs fixing.
Berkeley Public Library South Branch, 1901 Russel St. Berkeley.
Saturday, Oct 7, 3:00 – 5:00pm, Election Strategy Meeting
Make climate part of the election.
UUSF, 1187 Franklin St., San Francisco.
Sunday, Oct 9,  8:00am 10:30pm, First Sunday Bird Walk – SF Botanical Gardens

Monthly bird walk by Audubon.

Botanical Gardens, 9th Ave & Lincoln Way, San Francisco.
Sunday, Oct 7 – 9, 1:00 – 3:30, Green the Church Summit

A gathering of black churches to engage in the fight against climate change.


Glad Tidings Church of God in Christ, 970 Glad Tidings Way, Hayward.



Thursday, Oct, 11,  6:30 – 9:00pm, Nature Nurtures:  The How and Why

Local experts help one connect to nature.
UU Church Fellowship Hall, 1924 Cedar St., Berleley.
Saturday, Oct, 13, 11:00am – 4:00pm, Berkeley Harvest Festival
2nd Annual Harvest Festival – food, music, kids zone.
Cedar Rose Park, 1300 Rose Ave., Berkeley.
Saturday, Oct, 13,  12:00 – 4:30pm, Watershed Festival
23rd Annual Watershed Poetry Festival.
Civic Center Park, 2151 Martin Luther King Jr. Way, Berkeley.
Wednesday, Oct. 17, 9:00 – 4:30pm, Alameda County Watershed Confluence Conference
Meeting/Conference for those interested in creek and watersheds.health.
Scottish Rite Center, 1547 Lakeside Dr., Oakland.
Sunday, Oct. 28, 9:30 – 11:00am, Ash Lauth on Oil Drilling in Alameda County and in California

California Field Campaigner for Center for Biological Diversity, Ash Lauth, speaks on what happened to oil drilling, fracking and drilling  disposal water in Alameda County and plans the possible phase-out of oil drilling in California.

Unitarian Universalist Center, 1187 Franklin St., San Francisco.
Monday, Oct 29, 12:00 – 2:00pm, Support Rally for Youth Suing Govt. for Contributing to Climate Change

Support rally for youth lawsuit taking place on that day in Eugene, OR.


Ninth Court of Appeals, 95 7th St., SF.



Other Sources of Events:
350Bay Area – Includes other 350.org branches in the Bay Area.
Planet Drum – San Francisco bioregion awareness center.
David Brower Center – The environmental center in Berkeley.
Ecology Center – Berkeley sustainability center.
Sunflower Alliance – Bay Area umbrella organization for activism.
Sierra Club San Francisco – Bay Area website.
The End