November 2, 2018
I.  Climate Change
---
Story from EcoWatch, Oct. 29, 2018.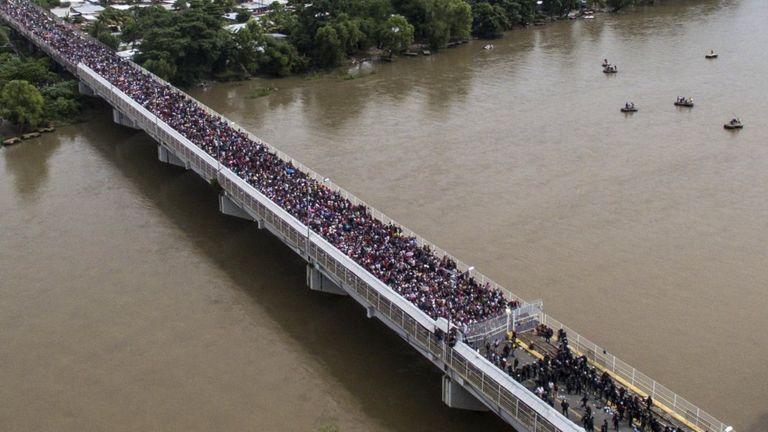 The effects of climate change are being felt foremost by Third World countries.  Unemployment, local politics and economic effects are cited for this but lingering in the background are meteorological phenomena like drought, floods, and storms.  Weaker economies with an agricultural base can't ignore the intensified weather created by a globally warming climate. 
The predicted human crisis caused by climate change has already started and people on several continents are making decisions to pack up and move.  National Geographic's article on Guatemalan migration reveals the plight of a nation with poor conditions and limited resources.
The UN World Food Programme points out that world food systems are being broken down by the increased frequency of climate-related disasters. 
Stories from inside climate news, Oct. 8, 2018; Carbon Brief, 2018; The Guardian, Oct. 4, 2018.
The International Panel on Climate Change (IPCC) met Oct. 1 – 5.  Their report, the Sixth Assessment Report (AR6), has recommendations based on available data, though it struggled with defining the immediacy of the situation.  The main criticism of the report is that it understates the seriousness of the problem.

The world's climate has increased in temperature 1.1 deg C above pre-industrial levels  and is already melting glaciers and polar regions even faster than earlier predictions.  The Paris Agreement goal is to limit the rise  to 1.5 deg C.  The report is a reality check on the 1.5 deg C target and the proposed path forward falls short in mitigating climate change.

What does a half degree rise from 1.5 deg. C to 2.0 deg. C mean?  Small changes can have devastating impacts.  One-half deg C rise can translate to deeper water caused by melting ice packs, millions more people people affected, hundreds of thousands of square miles of permafrost thawed, and many more flooding events especially in eastern Asia and eastern North America.  Here's an interactive map showing the "impacts of climate change at 1.5C, 2C and beyond."
Carbon Sequestration is the process of removing CO2 and storing it, either by natural means (e.g. agriculture & forests) or by using engineered technical solutions.  In the aftermath of the IPCC's report on the inadequate course of action for dealing with climate change, scientists are looking at ways to undo the damage done already.   The IPCC report lays out a portfolio of negative emission technologies, which are not yet tested, and their costs.

A sustainable and inexpensive way to sequester carbon is with the use of eco-friendly farming techniques.  One technique called Agroecology, which is not given much credence by agribusinesses, is gaining momentum in many countries such as France, India, and in some localities in the U.S.  Vandana Shiva's book, Soil Not Oil, offers a connection to climate change and industrial dependence on fossil fuels and has led to the Soil Not Oil Coalition conferences.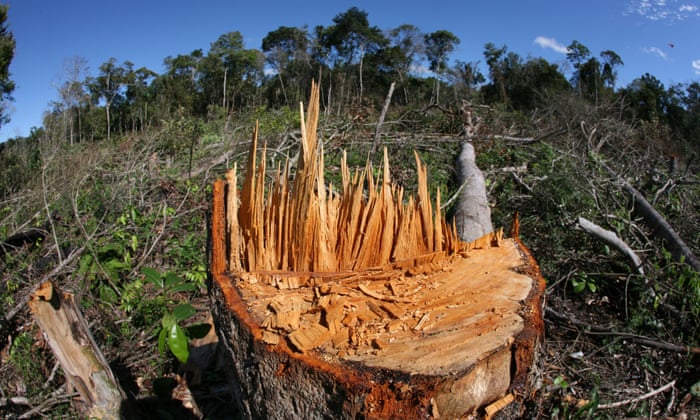 The IPCC report places a focus on Forests as being "just as urgent" as decreasing fossil fuel emissions.  Forests have been disappearing at alarming rates and the situation is not getting the kind of attention needed:

Razing forests would result in 3 trillion tons of CO2.
Protecting forests would account for 18% of the 2030 emissions mitigation needed.
Encouraging "afforestation" (planting new forests) could absorb a lot of CO2.

The Guardian Series on Drought in Austraila:
Story from The Guardian, Oct., 2018.
This is a two-part series that puts Australia's persistent drought situation into perspective.  Part I spells out a 'New Normal' and puts current conditions into historical context.  Part II takes a look at the 'New Normal' seen through people's experiences.

II.  Fossil Fuels
---
Story from The Washington Times, Oct. 15, 2018.
Ryan Zinke revealed a plan to use West Coast military bases to ship fossil fuels (coal and natural gas) to Asian ports.  He claims it's a national security issue and would keep the U.S. a leader in energy export.  The only site mentioned by name was the abandoned Adak Naval Air Facility in Alaska but suggested military facilities in Washington, Oregon and California.

Story from Bloomberg, Oct. 12, 2018.
The Dept. of Energy commissioned a report from the University of Texas' Webber Energy Group to use as "the administration's primary argument" to keep coal and nuclear plants open.  The Trump plan is to use the authority under the "Defense Production Act to force grid operators to buy electricity from the specific power plants at risk of closing". 
The report was turned in six months ago but did not have the overwhelming support Energy Secretary, Rick Perry, wanted.  Power plants' roles in resiliency was to be the focus and It finds vulnerabilities with all power sources – recommending "a suite of options". 

Story from OurFuture.org, Oct. 3, 2018.
A grassroots group-action shutdown a hearing during public comment at the EPA in Chicago on Trump's "dirty energy" solution to Obama's Clean Energy Plan.  Trump's so-called "Affordable Clean Energy rule" intends to relax restrictions so that coal power plants can operate.  Trump's plan is to allow states to adopt their own rules to exempt coal plants from federal restrictions.

  III.  Water and Food Reports
---
Story from KQED, Oct. 22, 2018.
Judge Suzanne Bolanos denied Monsanto's request for a new trial in the Dewayne Johnson decision (Johnson vs Monsanto, July 9, 2018) but she reduced the punitive damages amount from $250 million to $39 million.  This was Round 2 of the trial that won against Monsanto and helps with the fight to halt the spread of Glyphosate (RoundUp) that has been prodigiously spread into our food, water, and environment.  Both sides are weighing this decision and another round is likely.
Stories from LA Times, Oct. 19, 2018.018; WineWaterWatch.org, Oct. 20, 2018.
In an attempt to maximize water delivery to farmers, while ignoring environmental concerns, a directive from the Trump administration begins federal government involvement in California's water politics.  Ryan Zinke, Interior Secretary, ordered the Bureau of Reclamation to come up with a plan of action to streamline water delivery from the the Sacramento-San Joaquin Delta to the agribusinesses in southern California. 

IV.  Politics
---
Story from The New York Times, Oct. 17, 2018.
The candidate, Jair Bolsonaro, was elected and is now the protector of the great Amazon tropical forest.  His attitude, however, is that "Brazil's  environmental policy is suffocating the country."  Much like Trump, he wants to do away with the country's Environment Ministry.  He's equally unfriendly to indigenous people, LGBTQ people and women.  He's striking a serious similarity to Trump.

Deforestation has been happening in the Amazon for a long time and former Brazilian governments have made efforts to curb illegal ranching and logging.  With this new regime there's reason to fear the forest protections will halt and the "lungs of the world" will be lost in order to make profits by agriculture, logging and mining interests.
Story from DCReport.org, Oct. 31, 2018; The New York Times, Oct. 31, 2018.
Zinke's plan is part of a broad effort to weaken the Endangered Species Act by hiding information on oil leases and land purchases.  Since the Endangered Species Act was signed in 1973 by Richard Nixon, more than 1600 species have been protected and less than 50 have been removed.

Ryan Zinke is also under scrutiny for ethics violations ranging from travel abuse to affiliations with business dealings and closeness to corporations.
Story from ThinkProgress, Oct. 31, 2018.
"The Environmental Protection Agency (EPA) appears to have put a deeply controversial plan limiting the use of scientific data in policy making on hold for the time being. The move follows significant outcry from experts and the agency''s own staff."
The rule, "Strengthening Transparency in Regulatory Science," introduced by Scott Pruitt, would exclude confidential scientific data from the EPA's policy making.  Environmental experts say eliminating private data would hinder efforts to protect the environment and human health.

The Administration's Interior Dept. has been rolling back environmental regulations and ordering it's own "open science" which usually prioritizes the fossil fuel industry.
Story from The Nation, Jul. 20, 2018; BALLOTPEDIA, 2018.
Initiative Measure 1631 (AKA I-1631) filed on March 13, is "an act relating to reducing pollution by investing in clean air, clean energy, clean water, healthy forests, and healthy communities by imposing a fee on large emitters based on their pollution … ."

Enact a carbon emissions fee of $15 per metric ton of carbon beginning on January 1, 2020;
Increase the fee by $2 annually until the state's greenhouse gas reduction goals are met; and
Use the revenue from the fee to fund various programs and projects related to the environment.
V.  Miscellaneous Items
---
Story from the Real news, Oct. 25, 2018.
Plastic pollution in the oceans continues to be a factor for governments and the EU has responded by passing comprehensive legislation. 
It addresses:
banning most single-use items like food containers and plastic cups, plastic cutlery, plates, cotton buds, straws, drink stirrers, and balloon sticks,
mandating a reduction of cigarette filters (which have plastic fibers), calling on cigarette companies to reduce the plastic by 50% by 2025 and 80% by 2030,

ensuring recycling collection of 90% of plastic drink bottles.
Story from New York State Attorney General, Oct. 25, 2018.
The lawsuit was filed by NY State Attorney General, Barbara Underwood, and alleges a fraudulent scheme by company officials dating back many years.  ExxonMobil is accused of deceiving investors about the financial risk of its business due to the cost of increasing climate change regulations.

The company accounted for regulation costs in the form of a carbon "proxy cost" to deal with the increasing future costs.  The accusation alleges the company used "alternate accounting methodologies" or did not apply costs to future increasing costs of regulations giving a false impression of the company's risk. 
Story from The New York Times, Oct. 15, 2018.
At least Trump no longer denies climate change and admits "something is happening".  He denies the scientific explanation and indicates it's only a natural cycle in weather patterns.

Story from The Revelator, Oct. 1, 2018.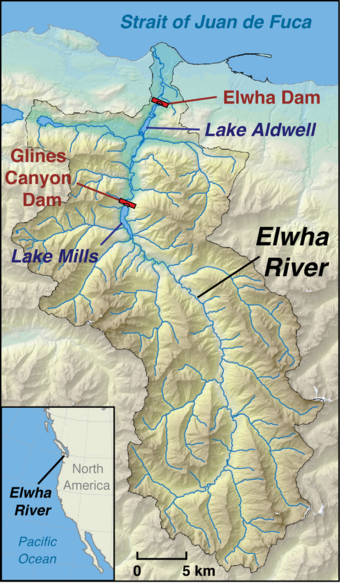 Four years ago two dams were successfully removed from the Elwha River in northern Washington and the project is now giving new chances of existence for many species from insects to elk.  Salmon is the most watched species in Northwest rivers and all five traditional runs were positive.  
The results are encouraging but still inconclusive: 
Scientists are reporting the return of just about all expected species of fish but not yet in the numbers desired. 
Not all salmon runs showed strong numbers yet but is encouraging.

The return of fish will also inspire the return of birds.

Sediment transported to the coast is making for new beach habitat for other species.
VI.  Events
---
Last Month to see Planet Drum Exhibit at SF Main Library
Planet Drum's exhibit on its work on bioregional sustainability, education, and culture.
SF Public Library Environmental Center, 100 Larkin St., SF
Sunday, Nov 4, 6:30 – 8:30pm, Film – Abundant Land
New film on Hawaii's Moloka'i opposing tech industry.  Cost $7 – $10.
Ecology Center, 2530 San Pablo Ave., Berkeley.
Thursday, Nov 8,  6:00 – 8:00pm, Taking Action After the Global Summit

Join the Berkeley Climate Action Coalition to direct that energy after the Global Climate Summit – free.

South Berkeley Senior Center, 2939 Ellis St., Berkeley.

Wednesday, Nov 14, 6:00 – 8:00pm, Bay Area Labor Rise for Climate, Jobs and Justice
Discussion on establishing a Labor Network for Sustainability.  RSVP required.
International Federation of Professional & Technical Engineers Local 21, 1167 Mission St., SF
Thursday, Nov 15, 9:30am – 4:00pm, Fighting Resegregation Through Community Control

State of the Region conference on housing justice.  Fee $40.

California Endowment's Oakland Conference Center, 2000 Franklin St., Oakland.

Thursday, Nov 15,  7:00am 9:30pm, Protecting Our Marine National Monuments

Photography by Ian Shive; $5.00 – 20.00 donation requested.


David Brower Center, 2150 Allston Way, Berkeley.



Thursday, Nov 15, 12:30 – 2:30pm, Building Local Clean Energy and Justice in Alameda County
Discussion on building projects under the new East Bay Community Energy program.  RSVP required.
1200 Harrison St., Oakland.
Saturday, Nov 17, 11:30am – 1:30pm, Solar Simplified

A foundation for making the decision to go solar – cost $5 – 10.


Ecology Center, 2530 San Pablo Ave., Berkeley.



The End