December 4, 2018
I.  Climate Change
---
Stories from The Hill, Nov. 24, 2018; Sunrise Movement website.
A new campaign has surfaced from a group called the Sunshine Movement, is heartily endorsed by Representative-elect Alexandria Ocasio-Cortez of New York and supported by a number of House members.  It's considered a youth movement that takes the IPCC report on climate change seriously with these ambitious goals:
Shaping America's economy to 100% renewable energy sources in about ten years. 

Restore and create new carbon sinks in the way of forestation projects, agricultural techniques, zero waste, infrastructure upgrades, and resilience projects.



Targeted investment to create jobs in the green sector with training programs for a new workforce to take on this new direction toward clean energy.
Stories from National Climate Assessment website, Nov. 23, 2018; NOAA website, Nov. 23, 2018; Second State of the Carbon Cycle Report, Nov. 23, 2018.
The U.S. Global Change Research Program (USGCRP) released their Fourth National Climate Assessment on climate change on Friday, Nov. 23, revealing expected vulnerabilities in our government mitigation and adaptation policies.  The Research Program is made up of 13 federal agencies with the Commerce Dept. as the parent agency.  The report was released on the NOAA (National Oceans and Atmospheric Administration) website. 
The USGCRP's 13 agencies

include:  the Departments of Agriculture, Commerce, Defense, Energy, Health & Human Sevices, Interior, State, Transportation, and these non-department-level agencies:  Environmental Protection Agency, National Aeronautics and Space Administration, National Science Foundation, Smithsonian Institution and the U.S. Agency for International Development.

The Key findings outline the impacts on a wide range of national interests with supporting evidence for such categories as:

Communities
Agriculture and food production
Ecosystems
Water and coasts
Health of the American people
Released simultaneously with the Fourth National Climate Assessment is the Second State of the Carbon Cycle Report (SOCCR2), which is put out each decade by experts from the U.S., Canada, and Mexico; located in national laboratories, universities, private sector, and research institutions.   The report indicates that the Carbon Cycle is changing at a faster pace than at any other time in geologic history. 
Stories from UNFCCC website, Nov. 2018; .
 The United Nations Framework Conference on Climate Change (UNFCCC) begins this month in Katowice, Poland.  Patricia Espinosa, the UNFCCC Executive Secretary, was interviewed recently by Ryan Heath, Politico's Senior EU Correspondent.  She discussed achieving the goals of the Paris Agreement and how that will play an important role at COP 24. The conference will begin on Dec. 2 and end on Dec. 14.  This annual meeting of the partners (192 countries) will convene to continue the effort of bringing the world leaders to agree on a viable solution to global climate change.  This conference follows the UN Special Report by the IPCC, concluding that the goals set to achieving the 1.5 deg. C are not enough and time is running out.

Story from NBC News, Nov. 19, 2018.
The Norfolk Naval Shipyard where the dry dock for the U.S. Nuclear Fleet is located has been experiencing sea level rise in the form of chronic flooding, especially during higher tides and extreme weather events.  Video animation of the shipyard risk.

The Government Accountability Office and the Navy have warned the Pentagon that the dry docks are at risk and the situation could cause a security threat to the nation in the form of catastrophic damage to ships.  Temporary measures have been put in place to meet each crisis, so far.  However, one serious hit from a mighty storm could be disastrous. 
Story from The Guardian, Nov. 17, 2018.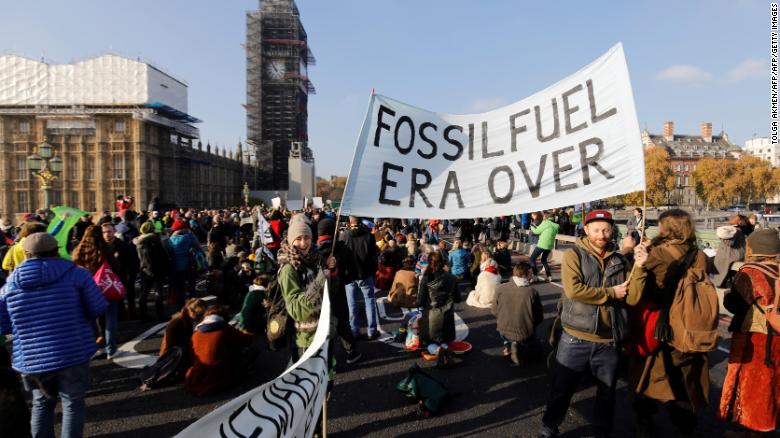 On Saturday, Nov. 17, five London bridges were targeted and blocked during one of the city's largest peaceful actions.  Participation in the event represented all walks of life in London and highlighted the need to deal with the reality of climate change. 
The Bridges included:  Southwark, Blackfriars, Waterloo, Westminster, and Lambeth.   There were speeches in Parliament Square and the event ended with an interfaith ceremony at Westminster Abbey.

II.  Fossil Fuels
---
Trump's Widening Arctic Oil Drilling
Stories from DC Report, Nov. 30, 2018; EcoWatch, Feb. 2, 2018; The Liberty Project website, 2018; The Guardian, Nov. 15, 2018.
The Alaska North Slope has been the subject of oil and gas exploration for many years and in the 1970s oil companies managed to convince the public and congress of the need for a Trans Alaska Pipeline System (TAPS).  It would stretch 800 miles from Prudhoe Bay, southward to the port at Valdez, AK.  Now Trump's "U.S. energy dominance" plan involves opening oil and gas drilling in the Arctic on several fronts – on land, in the Arctic waters and via a proposed new pipeline:
1.)  Drilling in the National Petroleum Reserve – If things go according to plan, Dept. of Interior Secretary will open for lease 2.85 million acres of the National Petroleum Reserve (NPR) to oil companies on December 8.  The NPR was set aside in 1923 during Warren Harding's presidency and has become an ecologically important area for caribou, migratory birds and other species.

2.)  The Arctic National Wildlife Refuge –  Trump managed to open the so-called 1002 Area in ANWR to drilling as part of his tax reform bill passed in December, 2017.  The refuge is home to 37 species of land mammals, eight marine mammals, 42 species of fish, and 200 migratory bird species.
3.)  The Liberty Project – A 9.3 acre island will be built offshore near the town of Prudhoe Bay to allow for safer drilling in the waters of the Beaufort Sea.  It will be about 6 miles offshore in 19 feet of water and has already run into problems with thinning sea ice making construction more difficult. 

4.)  The Alaska Natural Gas Pipeline – This would be the second 800 mile Alaskan pipeline extending from Prudhoe Bay to Nikiski (southeast of Anchorage) and mostly parallel to TAPS (the first such pipeline).  Nikiski would be the port to send natural gas to domestic and international markets.  It's to be financed mostly (75%) by China and they would receive most of the natural gas it provides, saving about 25% to be distributed to Alaska and other domestic markets.  American oil companies are signing on to the deal.

Story from The Mercury News, Nov. 10, 2018.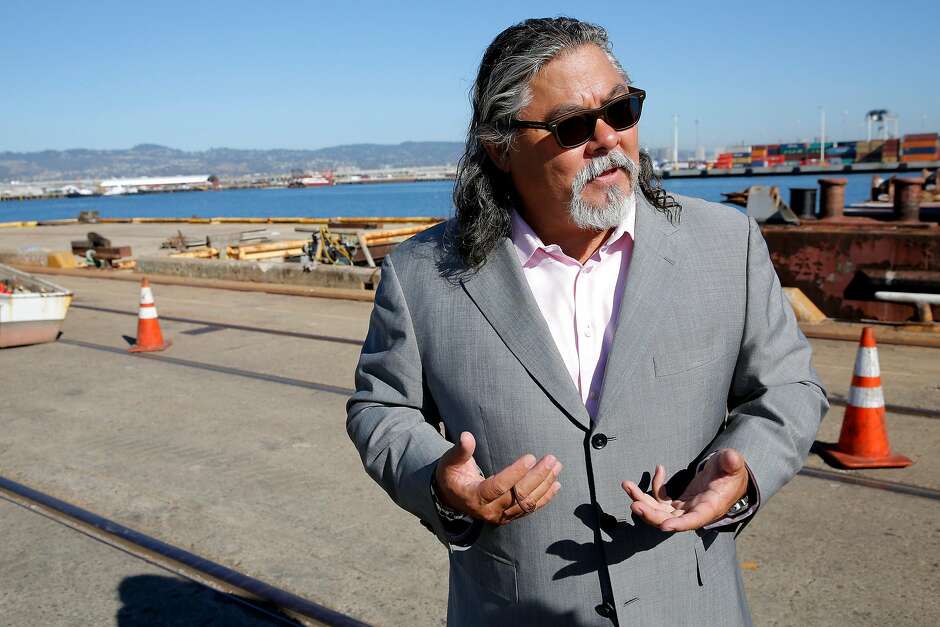 The City of Oakland took steps to terminate any agreement to allow Phil Tagami's Oakland Bulk and Oversized Terminal (OBOT) because of deadline improprieties by the developer.  This news couldn't be better to citizens of Oakland and the No Coal in Oakland campaign.
City officials declared the real estate developer's lease terminated for failing to meet agreed upon milestones, namely, $1.6 million in project liquidated damages specified in the lease.  Mr. Tagami's lawyer indicated he vows to fight Oakland on this matter on the grounds that the city has not lived up to its end of the bargain.  There are other financial concerns as to whether he has the funds to continue the project.

Story from The New York Times, Nov. 9, 2018.
Judge Brian Morris of Montana's U.S. District Court ruled
the administration failed to follow proper rules and procedures.  Trump has responded, "It was a political decision made by a judge".   The decision blocks the 1179-mile pipeline that would make it possible to transport 800,000 barrels of Tar Sands Oil per day to a facility in Texas on the Gulf of Mexico. 
The Keystone XL Pipeline (KXL) is the version of the Keystone system that shortens the length of the route between Hardisty, Alberta to Steele City, Nebraska (green line on map).

Phase I – delivers oil from Hardisty, Alberta to Steele City via the extension to Manitoba and southward to Steele City, NB and on to Patooka, Ilinois. 
Phase II – the extension from Steele City to Cushing, Oklahoma. 
Phase III – started under the Obama administration, extends the pipeline to the Gulf Coast.
Phase IV – Keystone XL Pipeline.
Stories from DW, Oct. 6, 2018; The Guardian, Oct. 6, 2018.
Germany is one of the world's largest users of coal fired electric plants and thousands of activists converged on Düren, Rhineland, Germany to halt a lignite mine's operations.  The mine, owned by RWE, Rheinisch-Westfälische Elektrizitätswerke (German Power Supplier), has been the subject of many actions and resulted in a serious demonstration on Oct. 6, when the Muenster administrative court issued a temporary halt to the company's expansion into the adjacent ancient Hambacher forest (nicknamed "Hambi").  The direct action has continued throughout the month of October and into November.  A mechanical excavator was occupied and many demonstrators were arrested.

  III.  Water and Food Reports
---
Story from Reuters, Nov. 15, 2018.
Oakland's Superior Court Judge Ioana Petrou granted the trial for an elderly couple, Alva and Alberta Pilliod, to begin on March 18, 2019.  This will be the second trial regarding the chemical in RoundUp known as Glyphosate.  Over 9,000 similar cases are still pending against Monsanto.

Stories from Pesticide Action Network-North America, Nov. 2, 2018; EPA website, Nov. 9, 2018.
The Environmental Protection Agency announced its decision to continue the registration of Monsanto's herbicide called Xtendimax after it previously pulled the registration.  It's meant to work with
genetically engineered cotton and soy bean crops.  The herbicide, Dicamba, has a reputation of being volatile and very drift prone and its registration was pulled for widespread damage to crops in 2017.  The EPA offered an explanation for its decision saying that a new formulation and additional label restrictions will make it safer.  For example:
Added formulation to reduce volatility.
Prohibiting early morning spraying.
Spraying 45 days after soybean planting and 60 days after cotton planting.
Dicamba, first registered in 1967, has the chemical name of 3,6-dichloro-2-methoxybenzoic acid.  It's considered safe to handle by humans but needs more study in how it breaks down in soil.  There is some concern about it being an endocrine disrupter and that herbicide resistant plants are now causing problems for farmers.  Environmentalists say these new limitations on using Dicamba won't make much difference.
IV.  Politics
---
Story from Politico, Nov. 28, 2018.
Andrew Wheeler, Scott Pruitt's replacement at the Environmental Protection Agency, makes it a priority to shape the next Climate Assessment.  He maintains the recent Fourth National Climate Assessment was directed by Obama to focus this report on "worst case scenario" outcomes.

Story from California Secretary of State website, Nov. 6, 2018.
While the Blue Wave didn't materialize as we would've liked and there was not exactly a Green Wave across the country, California did experience a Blue-Green Wave.  Listed below are the results of California's environmental propositions, Congressional District changes, along with the results of Washington's Initiative-1631, an important attempt at a carbon tax.
A total of forty-three U.S. House seats were flipped to the Democrats and three were lost making a net gain of 40 House seats for Democrats.  Seven House Districts in California were flipped from Republican to Democratic with special emphasis on Orange County's shift from mostly Republican to totally Democratic.

Dist. 10 (Stanislaus and portions of San Joaquin & Modesto Counties)  – Josh Harder;
Dist. 25 (Portions of Los Angeles & Ventura Counties) – Katie Hill;
Dist. 39 (Portions of Los Angeles, Orange & San Bernardino Counties) – Gil Cisneros;
Dist. 45 (Larger portion of central-eastern Orange County) – Katie Porter;
Dist. 48 (Portions of Coastal Orange County) – Harley Rouda;
Dist. 49 (Northern Coastal San Diego & Small Portion of Southern Orange Counties)  – Mike Levin.
Prop. 68 – Passed 58 – 42%.  Bonds for grants for state and local parks, environmental, water infrastructure and flood control projects.

Prop. 70 – Failed 64 – 36%.  It would have required a 2/3 vote on how to spend cap and trade funds.
Prop. 72 – Passed 84 – 16%.  It gives tax break to people who install rain barrels or other roof-top systems to conserve water.
Regional Measure 3 – Passed 54 – 46%.  Raises funds through a $3.00 toll increase over 6 years for seven Bay Area bridges (not including the GG Bridge) in order to fund transportation projects (BART, Caltrain, ferries, buses & bike lanes).
Prop. 3 – Failed 52 – 48%.  This was to make tax payers pay for infrastructure and habitat damages incurred by agribusinesses from over-pumping groundwater.
Prop. 6 – Failed 55 – 45%.  If it had passed, it would have repealed the 2017 gas tax that is funding highway, road, and transit projects.
Prop. 12 – Passed 62 – 38%.  This expands the amount of room needed in defining what cage-free means for poultry, chickens, hogs, and calves, and bans the sale of products that do not comply.

From Washington State:
Initiative 1631 – Defeated.  It was a well-funded, valiant attempt at a carbon tax that had a lot of promise to fund many types of projects having to do with clean air, water and land programs, especially in vulnerable communities.
V.  Miscellaneous Items
---
Environmental Justice Working Group Meets Goal
SF Environment has set the city's goal of reaching Zero Waste by 2020 and has rolled out the tools to do that with the 3-bin collection program (recycle, compost, & landfill).   With that in mind the UUSF Environmental Justice Working Group (EJWG) chose to make a special effort to reduce the amount of waste from the church going to landfill.  The former 4-yard dumpster has now been replaced with a 2-yard dumpster as visual proof of the reductions.  It was done with the help of the church staff and the use of EJWG members as "Trash Talkers" to keep the congregation on course with this effort.   This is a continuing campaign that will require 'trash talking' and other means to keep this on tract.
Story from mother nature network, Nov. 16, 2018; Infographic from Dept of Energy website.
China's Institute of Plasma Physics accomplished a nuclear fusion experiment achieving a brief temperature of 180 million degrees Fahrenheit (seven times hotter than the sun).  Nuclear Fusion as a viable form of energy has been researched for decades and has the promise of a continuous source of energy with no emissions and no long-lasting radioactive waste.  So far, the goal has been elusive, but steps in that direction continue with China becoming a leader in research.

VI.  Events
---
Monday, Dec 3, 4:00 – 5:30pm, Online Townhall with Sanders, McKibben, Ocasio-Cortez

A national web-based real-time townhall called "Solving our Climate Crisis".

To participate you will need access to a computer with a high speed connection.
Thursday, Dec 6, 6:30 – 8:30pm, Commonwealth Club – Going Carbon Negative

T

wo environmental leaders discuss effective climate change options.




The Commonwealth Club of SF, 555 Post St., San Francisco.



Thursday, Dec 6,  7:00pm, No Coal in Oakland Briefing

Community meeting to discuss dramatic new developments.

West Side Missionary Baptist Church, 732 Willow St. Oakland.

Friday, Dec 7,  9:00am – 12:00pm, Forest & Trail Stewards

Assist with maintenance while learning urban forestry.

Presidio Transit Center, 214 Lincoln Blvd. San Francisco.

Saturday, Dec 8, 12:00 – 3:00pm, Sea Level Rise Mission Bay
An historical walking tour of Mission Bay with sea level rise in mind. – cost $10. – 20, RSVP required.


Meet at Pier 36, ends at 20th & Illinois St.



Tuesday, Dec 11, 8:15am, Sunrise Movement action at Rep. Nancy Pelosi's office

Action to memorialize those who died in recent wildfires and to demand Pelosi's support for the Green New Deal.


90 7th St., Suite 2-800, San Francisco.



Saturday, Dec 15, 11:30am – 1:00pm, Going Solar Workshop

Learn the basics of going solar power at home – free.

Berkeley Pub Library – South Branch, 1901 Russell St., Berkeley.
Other Sources of Events:
350Bay Area – Includes other 350.org branches in the Bay Area.
Planet Drum – San Francisco bioregion awareness center.
David Brower Center – The environmental center in Berkeley.
Ecology Center – Berkeley sustainability center.
Sunflower Alliance – Bay Area umbrella organization for activism.
Sierra Club San Francisco – Bay Area website.
The End