January 2, 2019
I.  Climate Change
---
Story from Reader Support News, Dec. 26, 2018. 
The American Psychological Association issued an important report about the toll climate change is having on mental health.   It's being called "Climate Grief" to explain a mourning-like syndrome of emotions, including depression, anxiety, fear, anger, helplessness, and exhaustion.  Watching and experiencing extreme weather disasters amid reports of where the world is headed by 2030, by 2040, or by 2050, etc. are having various affects on our collective psyche. 
Experiencing loss in the environmental sense is not a well-defined psychological diagnosis.  Nevertheless, it's leaving people suffering feelings of accepting life with more uncertainty than previously expected. 
Healing centers are coming into existence to help people deal with complex emotions:  
Stories from UNFCCC website; World Resources Institute website; BBC News, Dec. 8, 2018; The Guardian, Dec. 16, 2018.
 The United Nations Framework Conference on Climate Change (UNFCCC) started with the usual plenary, with speeches from dignitaries all with the same sense of urgency about climate change and with the sense that the Paris Agreement is at best a minimal path forward but still is the credible path with some adaptions needed.   The President of COP 24, Michael Kurtyka, presided over the conference in Katowice, Poland.  The area surrounding the conference venue is a mineral-rich area, with large amounts of coal making Poland a world-class industrial economy.  Poland makes no excuses for its dependency on coal but looks to this conference to help it and others migrate toward cleaner energy.
The Coal Pipeline (Video) – Who is Bankrolling Coal Companies? 
Other UNFCCC video podcasts can be found here.

An important presentation was the report from the World Resources Institute (WRI) on the importance of world food production and its relationship to Climate Change.  Solutions to greenhouse gas (GHG) emissions can't be realized without limiting agricultural deforestation (to make way for beef cattle, palm oil and other crops) making this subject intimately tied to mitigating climate change and enforcing the Paris Agreement.  Forests are an important form of carbon sink and a global effort of protecting what we have along with a reforestation effort (re-planting) of some of those thousands of acres that have been clear cut.  Working with farmers to achieve changes in the system is part of the process.
The U.S., along with Russia, Saudi Arabia and Kuwait, have interfered with the process by thwarting attempts to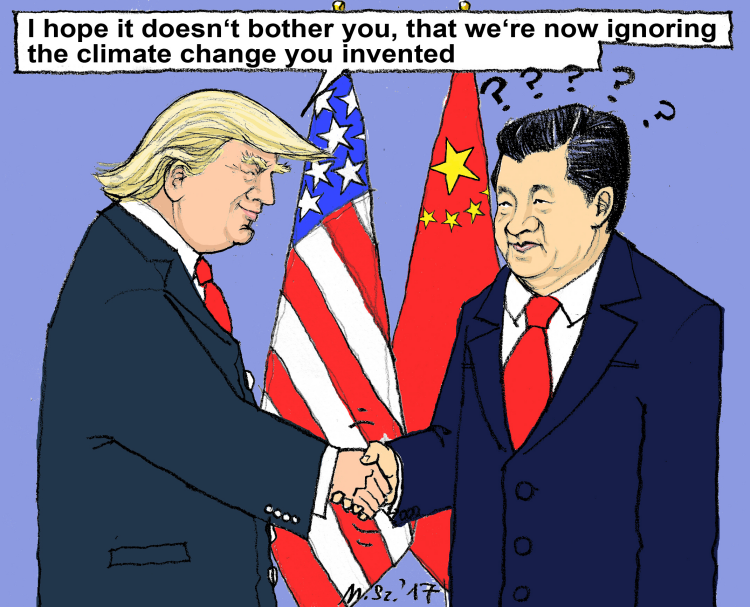 include the IPCC (International Panel on Climate Change) Report into COP 24 talks.  The Report outlined the alarming impacts of the 1.5°C temperature rise and was to be a major piece of documentation for moving forward.
COP24 ended on a note of qualified success after an extra day was allocated to allow wrangling over sticking points.   The "rulebook" took center stage, requiring wording that guided the parties and their countries toward their Paris goals: 
Two successful resolutions were: measuring and reporting greenhouse gas emissions, and deciding how to assist poorer countries financially. 
Important Issues that could not be resolved:

Setting national targets for attempting to meet the 1.5°C called for in the IPCC Report.
Establishing carbon markets (cap & trade, forest credits, e.g.).

Next year's conference, COP25, will be in Chile.  Brazil withdrew as the host country after the recent election of President Bolsonaro, who is very publicly against the Paris Agreement.
Stories from inside climate news, Dec. 5, 2018; Nature Magazine, Dec. 5, 2018..
A new study by Nature Magazine showed that Greenland's ice sheet is adding more water runoff toward sea level rise
now than in the past 350 years.   Surface melting has been increasing since the industrial age (1800s), and the previous 30 years have been dramatic.

These findings in Greenland, and with Arctic ice melting at twice the normal rate: 
support a prediction of about 8 to 12 inches in sea level rise by 2050, 
indicate that all Greenland ice would melt if the average temperature rises 1.5° C and sea level would rise 10 to 30 inches by 2100,  
show that an additional 4 inches of rise is predicted if average temperature rises 2° C.
Our Planet Has a Fever



A potpourri of selected stories supporting the title.
The evidence:

Hurricanes Florence and Michael (both Category 4's) were the worst hurricanes to affect the U.S. in 2018. Both were made more intense by warmer-than-usual Atlantic waters. They wrought severe damage and flooding to the Southeast US.

California's wildfires, the Camp Fire, largest in California state history, and the Woolsey Fire.  Both were the result of drying atmospheric heat combined with a lack of rain to create forest tinder boxes.
The reports:
The UN's IPCC:
Major Climate Report Describes a Strong Risk of Crisis as Early as 2040

National Climate Assessment, mandated by Congress
The findings conclude that public health, the environment, and the national economy will be threatened by climate change over the next century if we do not take action.

The conference:

COP24 in Poland, 2018  Katowice Climate Conference

Arnold Schwarzenegger calls for climate action at COP24 in Katowice, Poland  (video, 2:15 min)  An unlikely spokesman effectively summarizes the conference and the crisis.
Some solutions:
U.S. elected officials say 'No' to continued reliance on fossil fuels — 311 signatories from 40 US states.

The Green New Deal —– a proposal for Congress to comprehensively tackle climate change and, at the same time, the country's income inequality, which is the worst it's been since the years before the Roosevelt administration implemented the original New Deal.

The Green New Deal is championed by many including newly-elected Congresswoman Alexandria Ocasio-Cortez: "This is going to be the New Deal, the Great Society, the moon shot, the civil-rights movement of our generation," she said.
II.  Fossil Fuels
---
Story from EcoWatch, Dec. 6, 2018.
Charles Koch is going after tax credits for electric cars as he did with renewable energy.  In an effort to curtail the sale of electric vehicles (EVs), he saw to it that the House Republican tax reform bill terminated an income tax credit for up to $7,500 for EV buyers. 

In blatant Koch style, payments are going to the Republican congressmen to make sure they eliminate the tax credit all together.  Koch foundations are also funding studies from groups favoring fossil fuels, to be used by congress, that show tax credits benefit the wealthy, reduce tax revenue, and prove fossil fuel vehicle engines are as clean as EVs.  They don't mention that petroleum fuel industries have received billions of dollars in annual tax breaks (subsidies) since 1918.
  III.  Water, Food, Pesticide Reports
---
Stories from the Tuolumne River Trust web site; The San Jose Mercury, Dec. 4, 2018; SF City Hall hearing, Dec. 11, 2018.
Essential Bay Delta Plan video
An effort spearheaded by Peter Drekmeier from the Tuolumne River Trust, supports the latest Bay Delta Water Resources Control Plan (Bay Delta Plan), and has managed to get enough supporters giving public comment in various hearings in Sacramento and San Francisco to get this version passed.  
The SF Bay Delta has been experiencing degradation for many years due to increased diversion of water from Delta rivers to agriculture interests.  An updated Bay Delta Water Resources Control Plan (Bay Delta Plan) has been passed.  This updated plan limits the amount of water coming from three Sierra tributaries so that more water can be added to the San Joaquin River before it flows into the Delta.  The three rivers are:  
Tuolumne 
Stanislaus 
Merced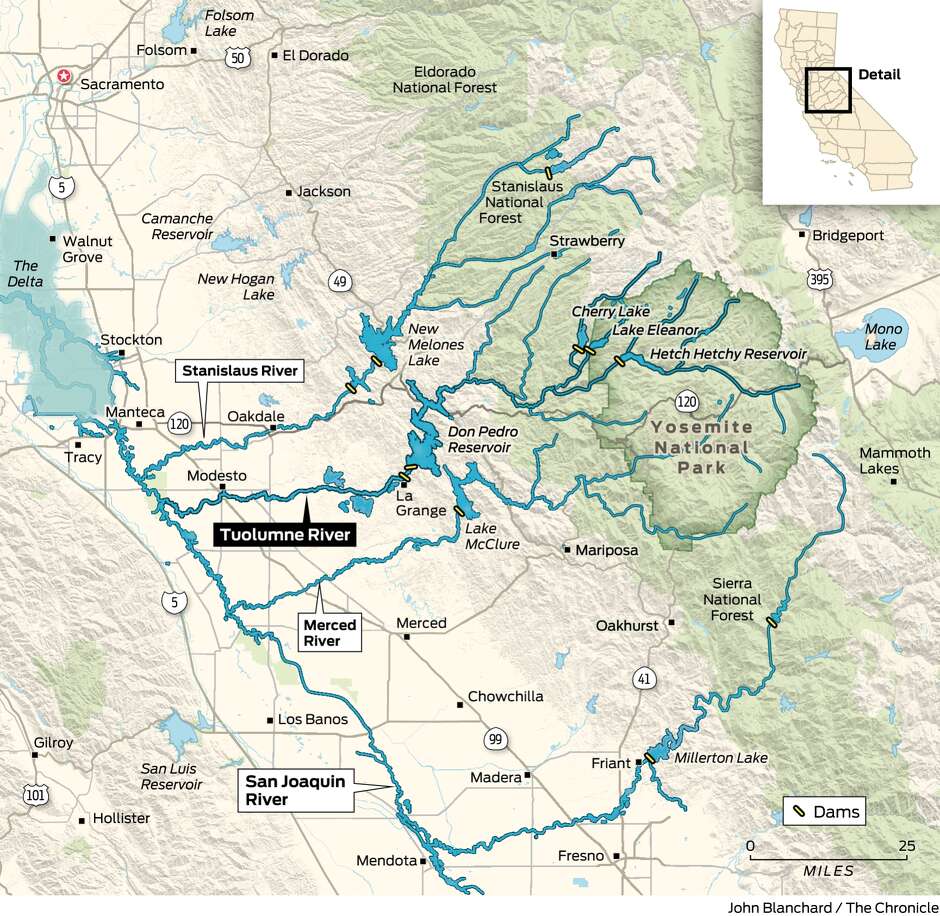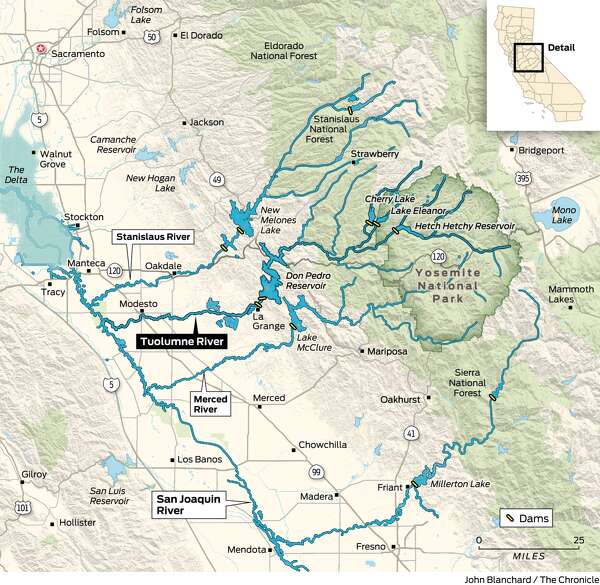 Waters from these tributaries were diverted to agricultural interests cutting flows to about 20% and sometimes even lower percentages to the San Joaquin River and then to SF Bay Delta.  The state's water scientists have shown the health of the Delta and its ecosystems would fare best with an unimpaired flow of fresh water.  The scientists recommended a 40% minimum from these three rivers with some room for compromise (30-50% depending on wet or dry seasons).  Fresh water flows provide temperature and salinity control which support spawning salmon and other species, while preventing toxic algae blooms.
On Oct. 30, the SF Board of Supervisors (BOS) voted unanimously in favor of the Bay Delta Plan, and on Nov. 2 SF Mayor London Breed vetoed this action.  The SF Public Utilities Commission (SFPUC) was also against the Bay Delta Plan, citing customer use of Hetch Hetchy and other water sources from tributaries.  Governor Brown and Senator Feinstein came out against the Bay Delta Plan and generally support the movement of more water southward to support big orchard interests.

Finally, the Bay Delta Plan got an airing on Tuesday, Dec. 11, with the SF Public Utilities Commission, and again on Wednesday, Dec. 12, at the State Water Resources Control Board.  The State Water Board basically approved new flow standards bringing this to a reasonable resolution for now.
IV.  Politics
---
Story from FERN (Food & Environment Reporting Network), Jun. 12, 2018.
Essential short video explanation of the Farm Bill.
Why should we care about the Farm Bill?  Its basic form is left over from FDR's depression era solutions to getting the U.S. back on track and has to be updated periodically.  This version will take us through 2023 when it will come up for renewal again. 
The $867 billion 2018 Farm Bill is a bipartisan effort to deal with the controversial measure that is never easy.  While it's not perfect it does give farmers some measure of a safety net, includes benefits for cotton farmers, and legalizes hemp as a new industry. 
The Bill does not correct those major subsidies going to factory farms and it has work-requirement reductions to SNAP (Supplemental Nutrition Assistance Program) for needy people.  It also does not require farms to do much about greenhouse gas emissions.  
It does have appeal to many farmers for recognizing conservation challenges in a world with climate change disasters.  With newer, more concentrated issues like drought, floods, crop diseases, and pests, farmers are coming around to the realities of a globally warming climate.  The conservation measures include:  
a boost for soil health,
recognition of climate resilience, and

a start of a new conservation era with science and technology. 
Story from The Washington Post, Dec. 20, 2018.
Following a growing line of people who were part of the Trump administration and have left facing charges, either by Trump or federal regulators, is Ryan Zinke, Secretary of the Interior.  The President announced Zinke's resignation by tweet – whether it was truly a resignation or firing is still uncertain.  He was accused by the DOI's Inspector-General of more than a dozen ethics violations and conflict of interest charges.

His legacy includes the unprecedented degradation of public lands.   He was expanding public land leases to oil, gas, and coal exploration; tampering with standards around safe levels of emissions and releases to the environment; shrinking national monuments; and drilling in the Arctic, including in the Arctic National Wildlife Reserve. 

He also had a run-in with the President, which may have to do with his forced resignation.  Zinke allowed Florida to be exempt from the offshore oil drilling that he required of other states.  He made a deal with Florida's then-governor Rick Scott that helped Scott win the Senate seat from Bill Nelson in the November election.  This was contrary to Trump's plan for Florida.
Zinke's replacement is likely to be his deputy secretary, David Bernhardt, who is no better and may even be more efficient at environmental destruction than his predecessor.
Story from The New York Times, Dec. 4, 2018.
Michael Bloomberg is considering a run for the presidency and, like many politicians, has recently visited Iowa to start getting his message out to voters.  In sharp contrast to Trump, he's a believer in climate science and advocates strongly for cutting coal. 
In contrast to Progressives, he advocates for fracking as a transitional energy fuel and has some human rights history with his New York "stop and frisk" law and his lack of support to regulate Wall Street.
Story from Politico, Nov. 28, 2018.
Andrew Wheeler, Scott Pruitt's replacement at the Environmental Protection Agency, makes it a priority to shape the next U.S. Climate Assessment.  He maintains the recent Fourth National Climate Assessment was directed by Obama to focus on "worst case scenario" outcomes.  The report also revealed a 10% economic shrinkage due to global warming.  The assessment was started under the Obama's tenure but was mostly done in the last two years under Trump's regime.  

V.  Miscellaneous Items
---
Story from The Guardian, Dec 25, 2018.
Japan has withdrawn from the International Whaling Commission (IWC) and will resume commercial whaling limited to its own territorial waters.  It will cease Antarctic whaling, which is where it ran into trouble with the likes of Greenpeace and other environmental groups. 
Japan will officially inform the IWC of its decision by the end of this year.  It will officially begin commercial whaling in July, 2019, and it makes the claim that sufficient stocks of whales have recovered from threatened status and need not be protected.  It's worrisome that more countries may follow suit with Japan.
Story from The Mercury News, Dec. 6, 2018.
On Dec. 5, the California Building Standards Commission officially added energy standards to the building codes to start in  2020.   All new homes will be required to use solar power in an effort to reduce the consumption of fossil fuels.  This follows the California Energy Commission's wish for the past ten years to make the state reliant on cleaner energy.
VI.  Events
---
Sunday, Jan 6, 10:00 – 3:00pm, Sunflower Alliance Retreat
One day planning retreat open to interested environmental activists.
Sports Basement, Community Room, 2727 Milvia St. (at Derby), Berkeley.
Tuesday, Jan 8, 12:00 – 2:00pm, Stop Chase Demonstration
Rainforest Action Network's rally against JPMorgan Chase's funding climate destruction.
The Westin St. Francis Hotel, Union Sq., 335 Powell St., San Francisco.
Wednesday, Jan 9, 6:00 – 7:30pm, Electric Cars 101
Workshop presented by SF Dept of the Environment.

Richmond Branch Library, 351 9th Ave., San Francisco.



Thursday, Jan 10,  7:00pm, The Nature of Music:  Anne Guthrie

The first of The Nature of Music Series for 2019.
David Brower Center, 2150 Allston Way, Suite 100, Berkeley.
Saturday, Jan 12, 2:30am – 4:00pm, 350 Bay Area Monthly Meeting

Declaring a climate emergency in San Francisco.
SF Unitarian Universalist Society, 1187 Franklin St., San Francisco.
Saturday, Jan 19, 10:00am – 12:00pm, Sibley Volcanic Regional Preserve
Stroll one of the most unique East Bay Regional Parks. Oakland.  Parking fees may apply.
Contact:

East Bay Regional Park District

Phone:

888-327-2757
Saturday & Sunday, Jan 19-20, 8:00 – 5:00pm, Wilderness First Aid Class
Outdoor first aid and hazard reduction workshop.
Sierra Club Bay Chapter Office, 2530 San Pablo Ave, Berkeley.
Sunday, Jan 20,  4:30 – 6:00pm, Sunset Low-Tide Walk
View the visitor center and stroll the beach at Crab Cove in Alameda.
Crab Cove Visitor Center, 1252 McKay Ave, Alameda.
Saturday, Jan 26, 11:30 – 1:30pm, Creative Reuse Art Class

Using past-use textiles and plastic.
Ecology Center, 2530 San Pablo Ave, Berkeley.
Sunday, Jan 27,  9:00am – 12:00pm, Gray Whale Watching
Sanctuary Explorations:  Morning cruise on Half Moon Bay, $65 fee.
Contact:  Sara Heintzelman, 415-530-5366.
Other Sources of Events:
350Bay Area – Includes other 350.org branches in the Bay Area.
Planet Drum – San Francisco bioregion awareness center.
David Brower Center – The environmental center in Berkeley.
Ecology Center – Berkeley sustainability center.
Sunflower Alliance – Bay Area umbrella organization for activism.
Sierra Club San Francisco – Bay Area website.
The End