February 5, 2019
I.  Climate Change
---
Story from 

Common Dreams

, Jan. 25, 2018. 
The sixteen year-old climate activist pulls no punches when she speaks at various public forums.  She shocked the elite members of the World Economic Forum by telling them "to their faces" the unbridled truth about the causes of and lack of action on climate change.  She was featured at the UN Climate Conference (COP24) in Katowice, Poland.  
Story from 

Mother Jones

, Jan. 18, 2019; DoD Report on Effects of Changing Climate to the Department of Defense, Jan. 2019.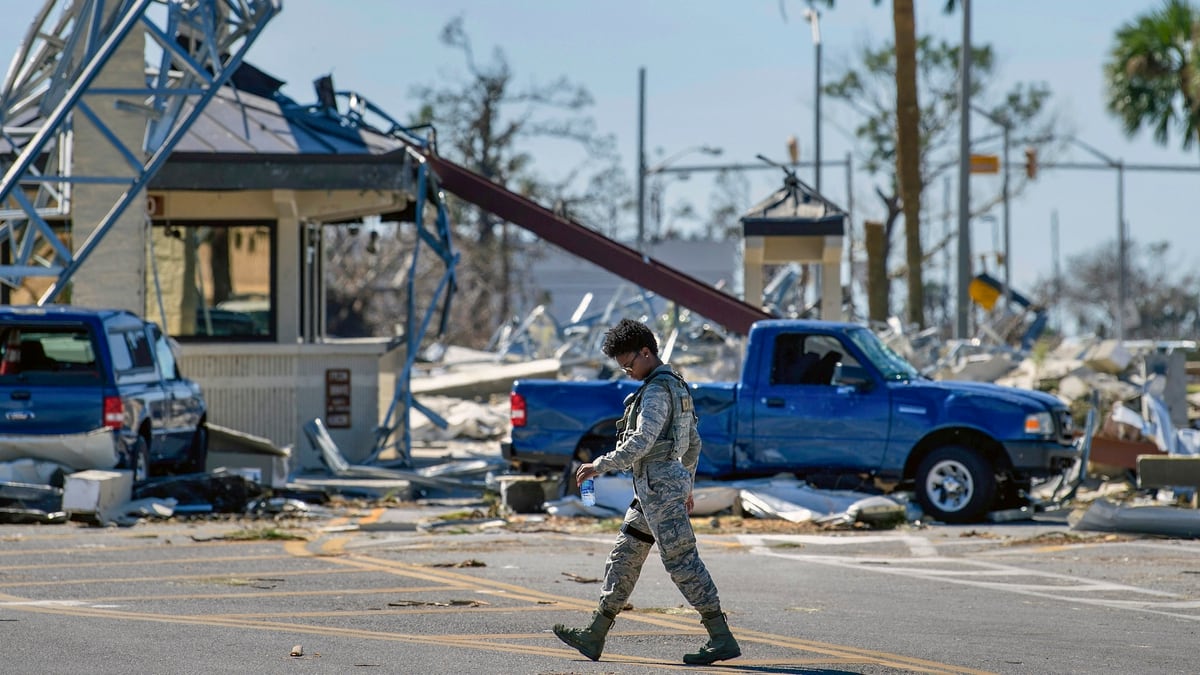 The Department of Defense (DoD) produced a report in January indicating two-thirds of critical military installations are vulnerable to climate change.  The report is in response to Trump's denial of climate change, and highlights floods, droughts and wildfires.  It clearly states, "The effects of climate change are a national security issue."  The report submitted without fanfare drew criticism for missing details such as the effects of hurricane Florence in North Carolina last year (see pictures above).  While the report does contradict Trump on climate change, the DoD uses careful rhetoric in dealing with the commander-in-chief.

Mongabay News

, Nov. 14, 2018; 

California Air Resources Board

 website.
A deforested section of the Amazon Rainforest.
One important concept that came out of many climate conferences: how forest destruction affects climate change.  Deforestation accounts for approximately 15% of  greenhouse gas (GHG) increases.   California is proposing a new standard, the California Tropical Forest Standard (TFS), in order to establish criteria for its Emissions Trading System (Cap & Trade program).  The system allows industries to purchase credits in lieu of reducing GHG production, so that those companies can come in under their CO2 cap for the year.  
The TFS is a controversial piece of legislation which adds an international deforestation prevention component into the State's carbon trading system.  The reason for this component is that credits for offsetting emissions have come under scrutiny, and have been looked at as an unfair method that allows industries to postpone making emission cuts.  This latest version of an allowance, with the deforestation prevention component, carries more weight and has the approval of indigenous tribes.

There was a lot of public comment testimony at the last meeting of the California Air Resources Board (CARB) in November.  The Board postponed its decision until the next meeting in April, 2019.

Story from 

The Guardian

, Jan. 31, 2019; 

NOAA SciJinks

 website.
The polar vortex phenomenon is the counter-clockwise movement of air around the North Pole, which tends to keep colder air near the pole.  The planet experienced a meandering polar vortex in January 2014 and again this year in January 2019.   After a huge sheet of ice broke off from Greenland, the polar vortex around the North Pole had a wobble in it. This year it split into two pieces.
The NOAA SciJinks website provides a simplified explanation of what the Polar Vortex is and how it operates.

II.  Fossil Fuels
---
Story from 

Common Dreams

 & 

The Seattle Times

, Jan. 28, 2019.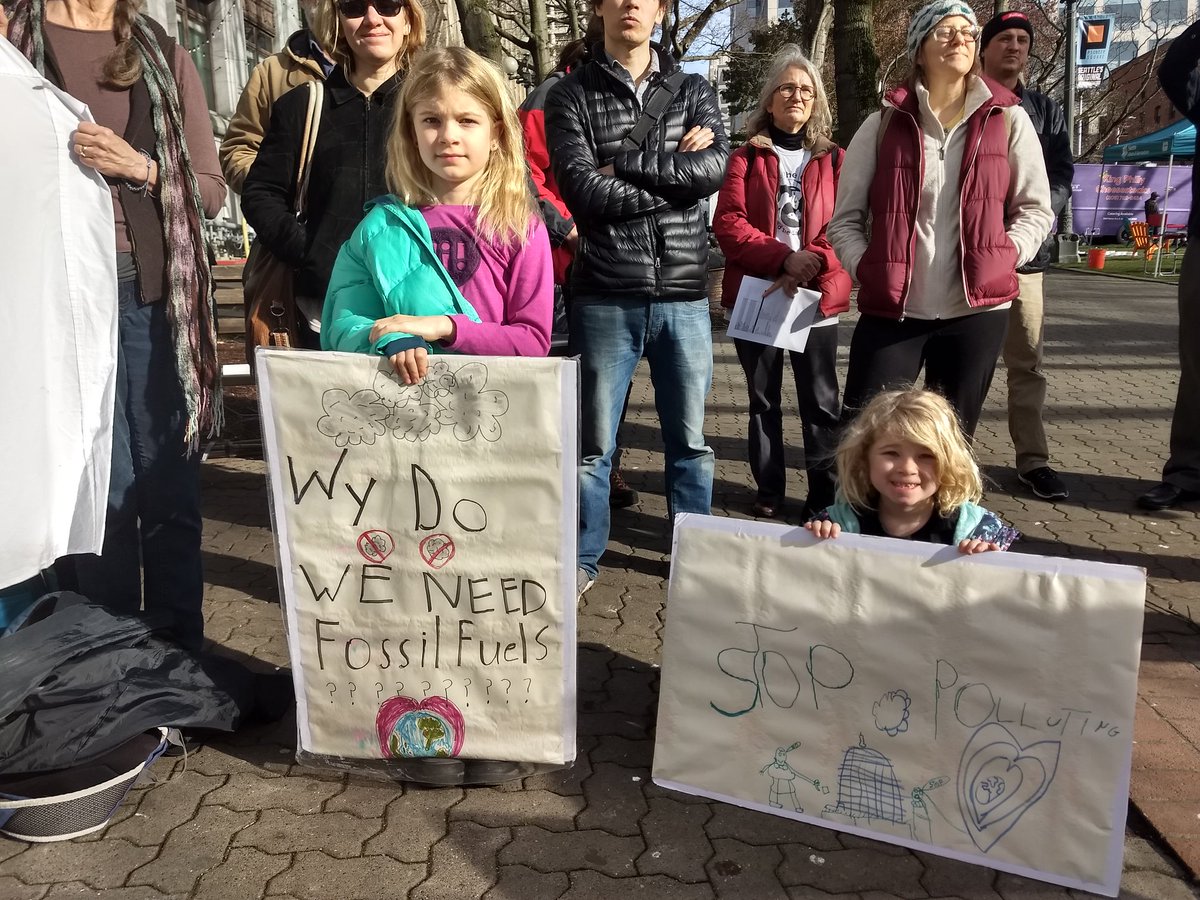 Activists working with the King County council placed a temporary moratorium on expanding fossil fuel infrastructure. The ordinance is part of a trend in western states that allows counties to come up with local plans to restrict infrastructure used in fossil fuel production.  While it's a limited measure it does give county officials time to debate climate change, to listen to their constituents in public comment, and to make statements on the future of our planet.
III.  Water, Food, and Pesticide Reports
---
Story from Maven's Notebook, Jan. 10, 2019. 
There have been new developments in the Bay Delta Plan since last month's article.  The City of San Francisco has filed suit against the State Water Resources Control Board (Water Board) in defiance of their Bay Delta Plan decision.  The valley farmers have also filed suit against the Water Board claiming the decision is a "water grab".  These two parties find themselves on the same side against the Water Board, which is  unusual since valley farmers traditionally find themselves at odds with all things San Francisco.  They have filed suit in an attempt to halt and change the provisions that will take water away from the those farmers, and from the SF Public Utilities Commission and its water customers.  
The Water Board scientists along with other environmentalists have shown the Delta has been deteriorating throughout the drought years.  Some species have deteriorated to the point of extinction, spawning salmon have all but disappeared, and algae blooms have become too common.  The State's Bay Delta Plan aims to protect the health of the Delta by allowing a higher rate of water flow through the Delta as a way to rejuvenate the eco-habitat.

There will be more to come as this battle takes place in the courts.
IV.  Politics
---
Story from 

inside climate news

, jan. 28, 2019.

Recently elected Republican Gov. Ron DeSantis is taking Florida in a new direction when it comes to the environment and climate change.   He's quickly addressing issues such as sea level rise, the recent massive red tide blooms, and oil drilling.  Gov. DeSantis even sounds like a Democrat to some of his constituents but is at least responding to public pressures to deal with climate science, unlike his predecessor, Gov. Rick Scott.
Stories from 

Vox

, Jan. 16, 2019; CNN, Feb. 2, 2019.
In Andrew Wheeler's confirmation hearing on Jan. 16, climate change was front-and-center.   He does agree that climate change is "an issue to be addressed globally" and even that it is a human-made phenomenon.  However, as Sen. Bernie Sanders pointed out, he did not mention climate change in his opening address and doesn't feel it's a top priority.  He generally stands for rolling back environmental regulations and seems to be standing true to his former career as a coal lobbyist.  Wheeler is the Acting Administrator and is in the process of becoming the new director of the EPA to replace Scott Pruitt.  He is awaiting Senate approval.

In more recent reports it has been noticed that he spent far more time with industry (petroleum, power, and industry leaders) than with non-profit environmental groups.  Scott Pruitt kept close ties with his industry "friends" as he began streamlining the implementation of environmental laws and opening the country to fossil fuel exploitation.
Story from 

truth out

, Jan. 5, 2019; Thomas L. Friedman Column, Jan. 19, 2007; NewStatesmanAmerica, Jul. 17, 2018; the 

Sunrise Movement

 website. 
The Green New Deal (GND) is slated to be a massive package of reforms designed to address climate change and economic inequality.  Its goal is to transform America's economic system on a grand scale much like Franklin Roosevelt's New Deal that helped the U.S. emerge from the Great Depression.
The GND has been in the making for many years.  An early mention was in a Thomas Friedman 2007 column and in a 2008 New Statesman American  magazine article.  Various versions have been presented and referenced by environmentalists and economists.  The latest young people's campaign and notably the Sunrise Movement, brought the GND to current political awareness in the form of a demonstration at Rep. Pelosi's Capitol office.  It was adopted and strongly supported by newly elected Representative Alexandria Ocasio-Cortez, (D-NY). 
It's worth noting that Obama's Green Energy Plan was a market-based package to incentivize businesses.  It was definitely an important effort to include green technology into the American economy .  His Green Energy Plan included such things as:
tax credits and funding to increase clean energy for wind farm and solar arrays,
refineries for biofuels,
carbon capturing projects,
improved energy efficiency for cities, towns, and homeowners, and
energy research projects.  
Ocasio-Cortez revealed a few details of the GND's funding plan signaling the key element of a high tax on the very rich, in the form of a 70% marginal tax rate on income over $10 million. (She was, of course, much criticized by Fox News and many conservative commentaries for mischaracterizing the marginal rate.) The bill that will be introduced is still being written by Ocasio-Cortez and Sen. Ed Markey (D-MA) and is due to be released very soon.
Story from 

The Guardian

, Jan. 2, 2019; 

EcoWatch

, Jan. 3, 2019.
Immediately after taking office, Jair Bolsonaro, the new president of Brazil, has transferred the regulation of indigenous reserves to the agriculture ministry.  In keeping with his election promise, it will open the reserves to farming and ensure more deforestation in the Amazon Rainforest.
Bolsonaro's plan is to abandon all previous plans by international or non-governmental agencies that acknowledge and protect the indigenous populations.  His aim is to end demarcation of such lands and reduce the influence of environmental organizations.  
 V.  Miscellaneous Items
---
Story from 

The Guardian

, Jan. 30, 2019.
Monarch Butterflies in the U.S. are categorized as the Eastern and Western Monarchs divided by the Rocky Mountains.  The Eastern Monarch numbers migrating this year to the southwestern states of Michoacán and Mexico are up by 144%.  This is really good news after a steady decline with historic lows in 2013-14.  This year's positive note was well received but taken with cautious optimism.
Climate change has been blamed as a major reason for their decline along with other contributing factors including habitat destruction, the decline in milkweed, storms and conditions that affect egg laying.
Story from 

CleanPowerSF

 website; 

SF Examiner

, Jan. 21, 2019.
San Francisco is transitioning to its own new green power plan called CleanPowerSF.  The new community choice aggregation plan aims to:
set stable and affordable rates,

develop infrastructure and create jobs, and


provide a renewable energy source for residents and businesses.
Delivery Rates will be the same for CleanPower SF and for non-CleanPower SF customers.  What changes will be the generation rates.  The new options for ratepayers:
Green – 43% Renewable – automatic enrollment. 
SuperGreen – 100% Renewable – choose to Opt In.

***

Opting Out – continuing with the usual PG&E energy package.
***Opt In for SuperGreen on Feb. 10, 12:30pm at UUSF (1187 Franklin St., San Francisco): The Environmental Justice Working Group is sponsoring an event to help citizens understand and sign up for SuperGreen.
VI.  Events
---
Tuesday, Feb 5, 6:00 – 7:30pm, Conservatory of Flowers

Free First Tuesdays.


100 John F Kennedy Dr., Golden Gate Park, SF.



Tuesday, Feb 5, 12, 19,  6:00pm – 8:00pm, Food Policy in the Trump Era

Lectures:  Food politics in 2019 (free).


UC Berkeley Logan Multimedia Center, 121 North Gate Hall, Berkeley.



Wednesday, Feb 6, 10:45am – 12:30pm, Deliver Green New Deal Petitions to Nancy Pelosi
Help with the effort to get Rep. Pelosi onboard the Green New Deal.
Federal Building, 70 7th St., San Francisco.
Wednesday, Feb 6, 6:30pm, Moving Money to Make Change
Socially responsible investing and gift giving.
YWCA, 2600 Bancroft Way, Berkeley.
Wednesday, Feb 6,  7:30pm, Robert Reich

Speaking on The Common Good.


First Congregational Church, 2345 Channing Way, Berkeley.



Thursday, Feb 7, 3:00pm – 8:00pm, East Bay Electrification Expo

How to get away from gas and electrify your house.


Ed Roberts Campus, 3075 Adeline St., Berkeley.



Thursday, Feb 7, 1.- 4:00pm &(2.) 6:30 – 10:00pm, The Serengeti Rules

Two film screenings of academy award winner with discussion after the later screening session.  Please RSVP.

The David Brower Center, 2150 Allston Way, Berkeley.

Friday, Feb 8, 7:00pm, Green Friday – Community Science
Connecting people with their watersheds.
Sierra Club HQ, 2530 San Pablo Blvd., Berkeley.
Saturday, Feb 9 & 16, 10:00am – 1:00pm, Candlestick Point Eco-Stewards
A volunteer project of Literacy for Environmental Justice for cultivating the next generation community leaders.
1150 Carroll Ave., SF
Contact:  Anthony Khalil, 415-240-0984, anthony.khalillejyouth.org
Monday, Feb 11,  7:30pm, Vandana Shiva & Vijaya Nagarjan

Speaking on "Women, Ritual, Ecology in India".


First Congregational Church, 2345 Channing Way, Berkeley.



Sunday, Feb 12,  6:00pm, Warrior Women (Film Screening)

Traces countless untold stories of Native American women (free event).


San Francisco Public Library, 100 Larkin St., SF.



Sunday, Feb 17,  9:00am – 12:00pm, Surfrider SF Ocean Beach Cleanup

Join Surfrider for beach clean up.  Gloves, grabbers provided.


Ocean Beach, Stairwell #17 (directly across Great Highway from the Beach Chalet restaurant), SF.



Saturday – Monday, Mar 16-18,  March for Fossil Fuel Freedom
To expose Wells Fargo Bank with a 3-day march from Palo Alto to bank headquarters in San Francisco.

See website:

 

https://oilywells.com/
Other Sources of Events:
350Bay Area – Includes other 350.org branches in the Bay Area.
Planet Drum – San Francisco bioregion awareness center.
David Brower Center – The environmental center in Berkeley.
Ecology Center – Berkeley sustainability center.
Sunflower Alliance – Bay Area umbrella organization for activism.
Sierra Club San Francisco – Bay Area website.
The End