November 2, 2020
I.  The MOSAIC Arctic Ice Expedition

---
The German research icebreaker Polarstern ended a year of study in the Arctic on October 12.  The expedition was organized by Germany's Alfred-Wegener Institute and was historically the greatest science expedition of its kind.  It was called MOSAIC and its mission was to deliberately be frozen in the ice north of Siberia, then drift with the ice for an entire year and monitor climate change.  The carefully planned adventure included a contingency of 100 scientists and crew who rotated in and out of the expedition.  During the expedition there were coronavirus infections, fierce storms, at least one polar bear visit, and ever-changing ice conditions.
The MOSAIC project (Multidisciplinary (drifting) Observatory for the Study of Arctic Climate Change) modeled its mission after a former Norwegian expedition headed by the polar researcher, Fridtjof Nansen over 125 years ago. The MOSAIC researchers were from 20 countries including one American, Dr. Matthew Shupe, an atmospheric scientist from the University of Colorado.  In describing his experience, he said it included being "embedded right in the middle of climate change".  The study documents in extensive detail the shrinking ice coverage in the Arctic polar region.

II.  Environmental Initiatives on State Ballots

---
Michigan – Land protection
A ballot measure, Proposal 1, will expand and restructure Michigan's conservation and land trust fund, allocating more money for protected areas and parks.  It should be said that it is funded by the fossil fuel industry and would allow oil and gas leases to be sold to raise the money for the State Parks Endowment Fund.
Nevada – Increased renewable energy standards by 2030
Question 6 would amend the current renewable energy standard of 25% to be increased to 50% by 2030.  It already passed in 2018 and is on the ballot for the second time.  Nevada requires an amendment to be passed in two elections.
Colorado – Gray wolf reintroduction
This measure, Proposition 114, would charge the state's Parks and Wildlife Commission to propose a plan to reintroduce and manage gray wolf populations.  This measure would offset the Trump Administration's announcement that it is taking wolves off the Endangered Species list starting Jan. 1, 2021.
California – Industrial property tax correction
Proposition 15 would correct a loophole created by Proposition 13 (1978) that allowed commercial and industrial properties to be taxed at the rate based on the purchase price.  This measure will change that to require these companies to pay at the current market value of the property.  The funds raised by this proposition would be used for schools, wildfire safety, and other public services.  The biggest forces against the bill are the fossil fuel industries.
Alaska – Oil production tax
Measure I would tax the oil companies on the North Slope in the form of a fuel production tax. This would increase the $400 million tax money presently paid by oil producers to about $1 billion. Indigenous communities along with wildlife species, especially polar bears, are at risk from Alaska's oil field producers.
New Mexico – Energy commissioner restructure
Amendment 1 is a constitutional amendment that would restructure the state's utility commission. It would change the process for selecting commissioners because the system is now influenced by corporate money. This measure would require one of the three commissioners be from a local indigenous group and would also require a list of candidates from state environmental experts. The governor could then choose from those selected. It would ensure that commissioners are not connected to special interests that are hostile to New Mexico meeting its 100% clean energy targets.
Louisiana – Amendment to exempt fossil fuel companies from taxes
Probably the most anti-climate change mitigation measure is Amendment 5 in Louisiana.  It would permanently exempt oil companies from paying property taxes.  It's mainly supported by the Cameron liquefied natural gas company.  In an agreement with the state it paid only $38,000 in taxes last year.  Their agreement expires this year and this amendment would exempt fossil fuel companies from taxes.  It would require companies to pay comparatively small amounts to the government.
California – Gig-driver companies
The state's Proposition 22 would allow drivers for app-based companies like Uber, Lyft and Door Dash to remain independent contractors and not employees. It would negatively impact workers' rights to organize and would put more cars on the road, adding to the state's transportation impact on the environment.
III.  Louisiana's Tropical Storms from Cristobal to Zeta

---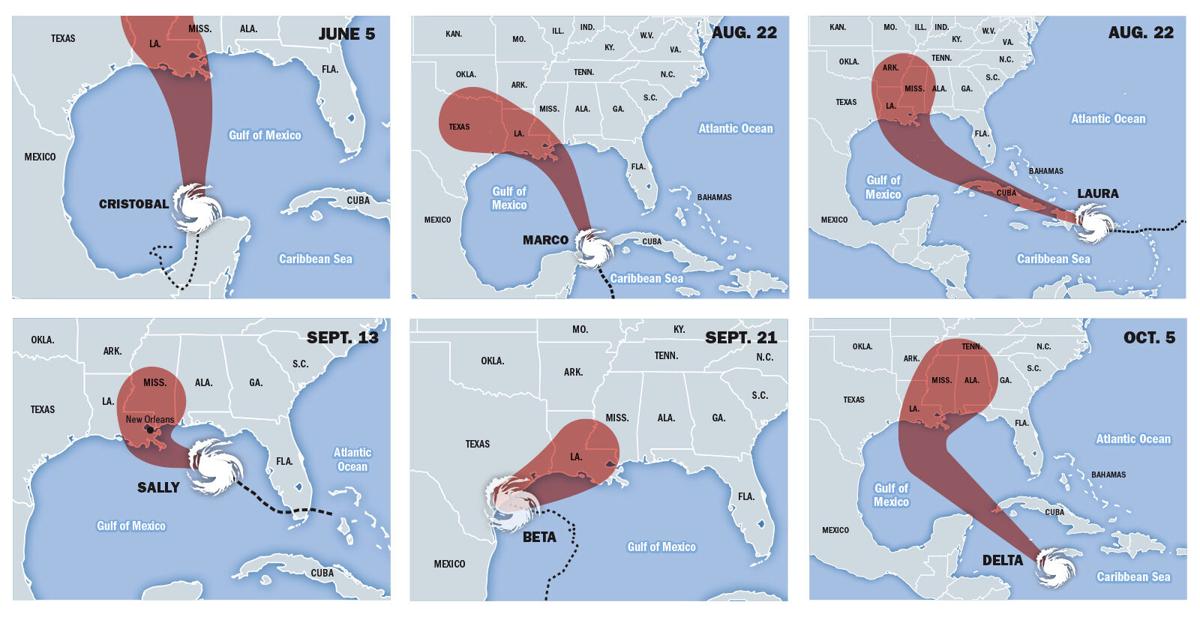 This article was meant to focus on Hurricane Delta with some comparisons to Hurricane Sally and casual mention of the previous four storms.  Then came Hurricane Zeta, bearing down on the Louisiana coast like the other six out of nine Gulf hurricanes this year. 
We really have to wonder if this is the new normal as global warming holds our imaginations and continues to hurl ever more record-breaking weather phenomena from our oceans.  Nature's heat transfer mechanisms translate to "weather" for us and have the capacity to become very wet and violent.  How climate change will affect such things as the atmospheric Jet Stream or the oceanic Gulf Stream remain the subject of much scientific speculation.  Extending that to the global level and other ocean currents and atmospheric streams, the world is in for increasingly disruptive, costly experiences that humanity has never before seen.
Louisiana has been the target of seven out of nine hurricanes that came through the Gulf this year (although two were considered tropical storms and one hit Florida).  Hurricane Delta was the record-breaking tenth hurricane to hit U.S. shores this year and the sixth to impact Louisiana.  It was also this year's record-breaking 25th storm from the North Atlantic.  If that weren't enough, on October 28, Zeta, the 27th named North Atlantic storm, came ashore as a category 2 hurricane on October 28.
The Atlantic hurricane season may seem to be synchronized with western states' wildfire season.  They both extended through the Summer and hopefully will end by the end of November. This year they both had peaks in October and both have set new records.  We know how humans generate this type of  climate change and the U.S. is politically too weak to look at this seriously.  All the other nations of the world have made an agreement to at least start working collaboratively on phasing down of emissions and creating a world of cleaner energy systems. 
IV.  Newsom's Three New Environmental Laws

---
In an ambitious step toward slowing climate change, the California Governor signed an executive order on September 23 to ban vehicles that use gasoline.  All new cars and light trucks will be prohibited from using gasoline fuels by 2035.  Other countries have already banned internal combustion engines by 2030 or 2040.  This will make California the first state to do this and will have far-reaching effects in this country. 
The governor makes a deliberate statement to halt fracking in California in  Executive Order N-79-20 which includes this powerful statement:
"WHEREAS to protect the health and safety of our communities and workers the State must focus on the impacts of oil extraction as it transitions away from fossil fuel, by working to end the issuance of new hydraulic fracturing permits by 2024;"
This statement responds to a demand by many California activists.  It seems the Governor has taken a bold stand with this executive order.  It appears it may contradict California's law, SB 4, that allows fracking in the state and was enacted under Governor Jerry Brown in September, 2013.  This part of Newsom's executive order will be of great interest to environmentalists and to the oil and gas industry.

A new plastics law, governing the recycled content in plastic beverage containers was signed into law on September 23.  Beverage companies that use plastic containers of almost all types will be required to use a progressively increasing amount of recycled plastic in their production: 15% by 2022, 25% by 2025, and 50% by 2030.
This is the world's most aggressive effort to promote recycled plastic that would help slow down the proliferation of discarded plastic in the oceans and in other environments.  It will also slow down the use of petroleum in the manufacturing of plastic.  The bill, AB 793, was introduced by Phil Ting, D-San Francisco and Jacqui Irwin, D-Thousand Oaks, and is considered one of the most significant environmental bills passed this year.
Newsom signed Executive Order N-82-20 to direct the state's policymakers to place 30% of California's land and 30% of coastal waters under conservation measures by 2030.  The order is known as "30X30".  It will be put in place by the California Natural Resources Agency. The idea is to halt the loss of species and ecosystems and to encourage carbon sequestration projects on farmland.  It's a collaborative effort that includes working with other countries: Canada, Great Britain and the European Union.
In general, the plan forms a statewide biodiversity program that would include researchers, political leaders and community members. The Governor intends to bring farmers into the plan as a unification effort to incentivize a climate adaptation strategy by building healthy soils. It would also help in wetland restoration and bee population protections.
V.  Norway's Solution to Bird Deaths

---

Norway's Smøla wind farm, spread over 18 square kilometers with 68 wind turbines, has been looking into how to prevent bird deaths. A research facility in Trondheim performed mitigation tests and found that painting one blade black reduced the mortality rate by over 70%. While more testing is needed it has promising results.
The Royal Society for the Protection of Birds (RSPB) has weighed in with their polices recognizing the proper placement of wind turbines. The Norwegian Institute for Nature Research in Trondheim has been testing various bird mortality mitigation methods and painting one blade black was one of those tests.  The black blade allows birds to recognize a possible barrier ahead instead of a blur or smear in the sky.
VI.  Events
---
Wednesday, Nov 4, 12:00 pm – 3:00 pm, Protect the Vote

Join one of 350BayArea's Direct Action contingents
Register: Use the link above.
Wednesdays, Nov 4, 11, 18, 25, 10:30 – 12:30pm, Sutro Stewards
Volunteers of "at risk" (over 60) people for habitat restoration on Mt. Sutro.

Meet at Sutro Nursery Parking Lot, 476 Johnston Dr., SF



Saturday, Nov 7 , 10:00 – 11:00 am, Northern Elephant Seals

Webinar with Dr. Dan Costa, marine mammal expert
Register:  Use the link above.
Friday, Nov 13, 7:00 pm, Green Friday:  What to do about the Coming Extinction

Sierra Club's Green Friday virtual event


RSVP at link above.



Saturday, Nov 14, 7:00 – 8:30 pm, Earth Echoes: Seeds of Hope
Brower Center hosts a dance film with social justice discussion
Register:  See the link above.
Saturday, Nov 14 , 7:00 – 8:30pm, Virtual Humpback Soiree!

Online event about Humpback vocalizations

Register:  See link above.



Tuesday, Nov 17 , 3:00 – 4:30 pm, Walk with Obi: Coastal Redwoods on Fire

Virtual event with conservationist, artist and author Obi Kaufmann

See link above for more information; $10 fee.

Thursday, Nov 19 , 7:00 – 8:00 pm, Symphony of the Soil

Film and panel discussion on garden soils

Register:  Use the link above.
Other Sources of Events:
Friends of the Earth – located at the David Brower Center, Berkeley.
350BayArea – Includes other 350.org branches in the Bay Area.
Planet Drum – San Francisco bioregion awareness center.
Ecology Center – Berkeley sustainability center.
David Brower Center – The environmental center in Berkeley.
Sunflower Alliance – Bay Area umbrella organization for activism.
Sierra Club San Francisco – Bay Area website.
The End