May 4, 2021
I.  Climate Change

---
The President's "Leaders Summit on Climate" took place on April 23 and 24 in a virtual meeting with 40 other countries, business leaders, indigenous people, youth representatives, and other dignitaries.  The event was a chance to let the world know that Biden believes in the urgency of climate change and for all to review their respective greenhouse gas emission goals.  He also wanted to emphasize how taking this seriously has economic advantages, for example, creating jobs while mitigating climate emergencies. It was also a piece of political showmanship to demonstrate to the world that the President and his team stand behind his words.  His leadership role as a climate change warrior needed to be established. The question is, did he come across that way?  Probably yes and no.  Biden promised to reduce emissions by 50 – 52% from 2005 levels by 2030 and to net zero by 2050.   President Obama promised 26 – 28% from the same 2005 levels by 2025 (the Trump intervention took us off track from that). 
This Summit was a precursor to the annual United Nations climate summit (COP26) scheduled in November of this year in Glasgow, Scotland.  The political scene at Biden's summit was as much about "America is back," as it was about how much damage was done to under the Trump regime.  While Biden can claim some leadership with climate action it was obvious that the other countries were showing signs of a lack of leadership without the U.S.   A lot of work will have to be done regarding actions and not just using goal-setting words.
One very important change from the previous administration is Biden's pledge to stand by science in policy decision making.   He has placed Environmental Justice in the forefront of the Environmental Protection Agency's projects and the U.S. is also getting back on track with the Paris Agreement.  The power struggle between the Democrats and Republicans and the 2022 election hang in the balance.  Our political situation will make some difference in what can actually be accomplished by the end of Biden's first term in 2024.  There are many questions about the stability of our government and democracy and how that will affect Biden's presidency.  Getting the U.S. "back on track" will take some time and the Biden team may do well to take some enthusiasm lessons from the youth representation.
II.  Young Protestors in the News

---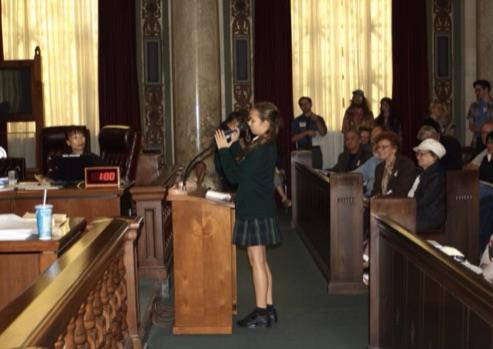 This young woman, Nalleli Cobo, from South Los Angeles joined a youthful grass roots effort to stop an oil drilling company, Allenco, from polluting their neighborhood.  She contracted cancer at 9 years old and after three operations, was able to overcome her cancer, at least temporarily.  During that time she joined the neighborhood effort against the drilling company and won a temporary reprieve by shutting down drilling operations.  Their actions actually went further and won again for more aggressive oil extraction regulations.
Nalleli grew up in University Park, South Central Los Angeles, with her mom and three siblings, grandmother,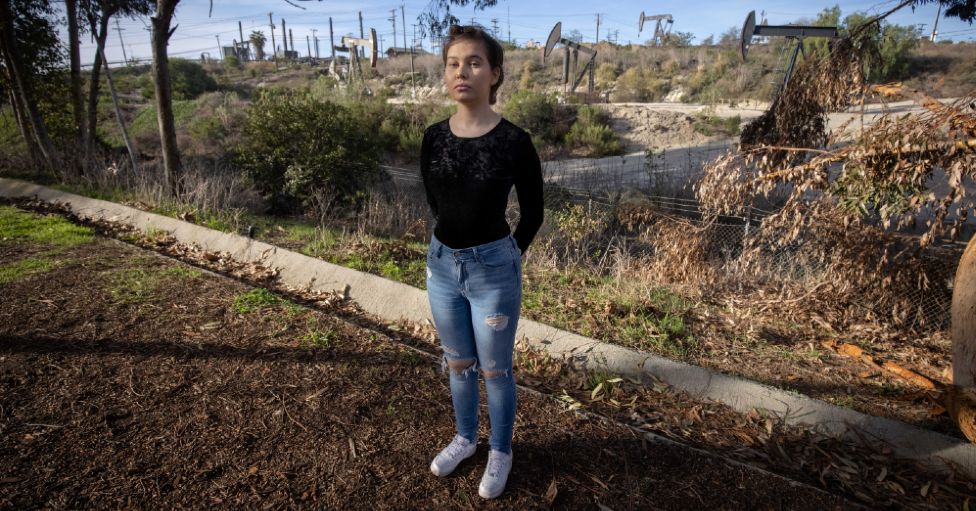 great grandmother and great grandfather, all in a single apartment. Her father from Colombia was deported when she was two years old. In 2010, at nine years old, she started having severe physical symptoms, including incidences of paralysis, stomach issues, and nose bleeds.  Others in the family, her mother, brother, grandmother and others got asthma along with multiple other health issues.
Her young group's campaign, People not Pozos (Spanish for oil wells) brought their message to city hall with neighbors relating their own stories.  Criminal charges have been brought against Allenco for this case and other charges.  
Jerome Foster is a young student who has been protesting alone outside the White House during Trump's last year.  He stood every Friday for 58 weeks with his "School Strike for Climate" sign, much like Greta Thunberg and her strike against the Swedish Parliament.   In fact, he was joined by Thunberg when she visited the U.S. in 2019.
Now Mr. Foster has been appointed to President Biden's newly-formed White House Environmental Justice Advisory Council.  It's an important part of the President's Executive Order on Tackling the Climate Crisis at Home and Abroad.  Foster has remarked that since he's the only member of the council under 40, he'll have to take seriously his role of representing the younger people of the country.
III.  Extreme Manatee Deaths in Florida

---

Manatees in Florida have experienced a lot of bad years lately but 2021 is starting out as one of the worst.  More have died in the first quarter of 2021 than in all of 2020.  649 perished as of April 9 this year, compared to 637 deaths for all of last year.  This unusual death rate is still being studied but the lack of sea grass is emerging as a possible cause. 
Veterinarians are saying many of the animals tested were emaciated, leading to a probable cause.  Climate change and agricultural fertilizer-pesticide runoff have likely worked together to create a scenario that caused the manatees to move to warmer waters where sea grass was near non-existent this year.  Algal blooms that result from agricultural runoff block sunlight, and sea grass desperately needs sunlight to grow.  The cold weather in the eastern half of the United States this past winter may have given the huge animals reason to duck into the river systems a bit earlier than they would have normally.  It is suspected that the lack of sea grass in the preferred warmer areas where led to many of the deaths.

IV.  International Law

---
Ecocide: An International Crime?

,  by Nicholas Kusnetz, Katie Surma, Ylify Talmazan,  Apr. 7, 2021, Inside Climate News
A new international crime is being discussed by world leaders such as Pope Francis, French President Emanuel Macron, and others.  (The pope is even trying to make it a "sin".)  What constitutes the crime (or sin) of Ecocide is described by the pope as "the massive contamination of air, land, and water."  It includes "any action capable of producing an ecological disaster".   It would include events like:
The burning of the Amazon jungles, especially under President Bolsonaro's encouragement, that is destroying the lands of indigenous peoples and ecosystems in Brazil.
The tar sands of Alberta, Canada, with the destruction of 400 square miles of forests and placement of toxic waste tailings ponds.
The Deepwater Horizon disaster (2010) in the Gulf of Mexico that killed 11 people and released 168 million gallons of crude oil, killing countless numbers of marine life species.
The Chernobyl nuclear plant explosion (1986) that has left a radioactive wasteland and has disrupted the lives of hundreds of people.
The "Stop Ecocide" campaign was launched by a small group of people, but the need for a global regulation is growing.   An American environmental lawyer said, "Ecocide is now endemic all over the planet."  The idea came out of the 10 years the U.S. military sprayed millions of gallons of agent orange and other herbicides in Vietnam, Cambodia and Laos, and the people there are still grappling with its effects.
The International Criminal Court (ICC) convened in 1990 to address environmental crimes, and in 2002 a treaty called the Rome Statute emerged.  The U.S., U.K. and Netherlands objected to the statute on the basis that it was not precise enough.  The push to criminalize ecocide is moving forward even though the United States is not a member of the ICC.  Even so, it would still influence member nations and corporations.  The statute has not been ratified as yet and is still a work in progress.

V.  Events – Mostly Virtual (all events in Pacific Daylight Time)

---
Saturdays, May 1, 8, 22, 29, 9:00 – 11:30 am (ages 8-11) & 12:30 – 3:00pm (ages 12-15), Welcome to Wildlife – Youth Connecting with Nature

Outdoor event, Oakland
Register:  Use the link above.
Tuesday, May 4, 1:00-3:00 pm, Spring Wildflower Walks on Mt. Sutro

Gentle walk to explore slopes of Mt. Sutro


Register: Use link above – donation requested.



Wednesday, May 5, 10:00 – 11:00 am, Healthy Monarchs, Healthy Planet

Webinar – Lecture


Use the link above.



Friday, May 7, 9:00 am, Action to Defund Line #3 Pipeline

March through Financial District – meet at 522 Market St.

Meet at 522 Market St. – See link above.
Saturday, May 8 , 10:00 – 1:00 pm,  Restoring San Bruno Mountain Dunes

Volunteer work party

Register:  Use the link above.
Thursday, May 13, 20, 27, 9:00 – 11:00 am, Sea Level Rise

Series by several Sierra Club chapters.

Use the link above.
Friday, May 14 , 7:30 pm, Sierra Club's Green Friday

Monthly speaker-discussion program

Register: Use the link above.
Wednesday, May 19, 5:00 – 6:15 pm, Building Momentum for a Green Future

Special program by 350 Marin

Use the link above to register.
Other Sources of Bay Area Events:
Friends of the Earth – located at the David Brower Center, Berkeley.
350BayArea – Includes other 350.org branches in the Bay Area.
Planet Drum – San Francisco bio-region awareness center.
Ecology Center – Berkeley sustainability center.
David Brower Center – The environmental center in Berkeley.
Sunflower Alliance – Bay Area umbrella organization for activism.
Sierra Club San Francisco – Bay Area website.
The End