August 3, 2021
I.  Climate Change

---
Geologists agree that we're in an interglacial period (receding glaciers with higher temperatures) and climate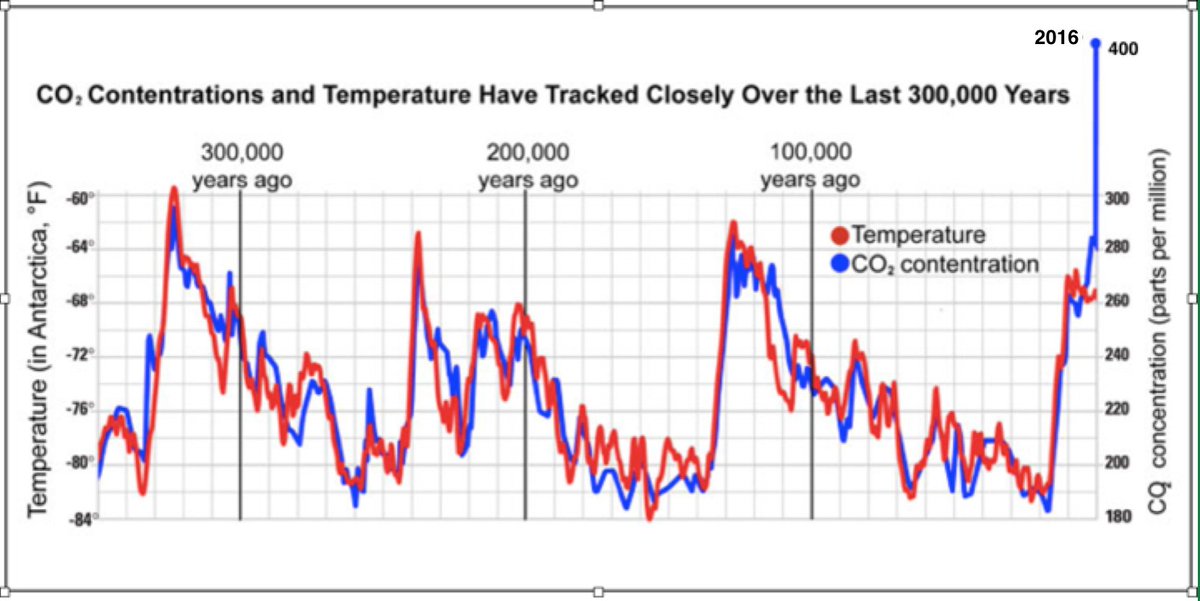 change has been a part of the Earth's history for millions of years. The latest cycles of glaciation and interglaciation (expanding and receding glaciers with lower and higher temperatures) are on the order of tens of thousands of years in duration (see chart above). 
There are various interpretations of why these cycles exist but one thing that affects Earth's climate is greenhouse gases, and the most problematic gas is Carbon Dioxide (CO2).  Data charts show that we've exceeded the amount of CO2 in the atmosphere over any previous glacial-interglacial period, and climatologists agree CO2 is a major factor in natural cycles.  There are many different types of charts that show the Earth's atmosphere has an exorbitant amount of CO2, and we're experiencing record temperatures year after year.

Earth's temperature is rising.  Geologists have shown us how CO2 is a measurable greenhouse gas record, showing how human history played a role in the increase. This chart (above) shows the level of CO2 was about  285 ppm in the year 1750, about a hundred years before the Industrial Revolution.  Things began to change drastically from there (see chart 1840 – 2020) as factories began to burn millions of tons of coal at first, and in more modern times oil became the preferred (fossil) fuel. 
No company has come under scrutiny regarding its relationship to climate change than the petroleum
giant, ExxonMobil.  It was in 1957 when scientists from Humble Oil (the original corporation) noted that increasing amounts of CO2 were being released in the atmosphere by fossil fuels.  In 1957, CO2 levels were about 317 ppm.  About a decade later in 1966, an American Petroleum Institute scientist reported an increase in atmospheric CO2 was due to fossil fuels and could cause extreme planet-wide phenomena, including sea level rise, disrupt oceanic species and would increase plant photosynthesis (plants take in CO2 to make cellulose).
Humble Oil became Exxon in 1973.  Another company scientist, this time from Exxon, warned the company via an internal briefing paper of possible catastrophic events related to CO2 increase.  He implored the company to generate a research team to study the scientific results and report back to the corporate office. The recorded CO2 levels in the atmosphere at the end of 1975 were 331 ppm.
Research continued along with other oil companies into the 1980s with many warnings about greenhouse gas emissions and resulting catastrophic events. In 1983, Exxon cut its research budget to one-sixth of its previous amount (from $900,000 to $150,000). This was after the Reagan administration cut its budget by a similar amount for climate research. In 1989 the UN formed its Intergovernmental Panel on Climate Change (IPCC) and also in 1989 Exxon and other fossil fuel companies formed the Global Climate Coalition (GCC) with an opposing view.  The Kyoto Protocol, adopted in 1997, was meant to go into effect in 2005.  Despite the Kyoto Protocol research, the corporations maintained that "the role of greenhouse gases in climate change is not well understood."  Fossil Fuel companies acting under the GCC maintained political power in Congress despite their own research contradicting what these petroleum companies' claimed.  CO2 in the atmosphere had reached 353 ppm by the end of 1989.
In 1993, the GCC scientist Leonard Bernstein led a team investigation that reported even more about the disastrous effects of climate change due to greenhouse gas emissions.  Other members of the GCC were BP, Chevron, Mobil, Exxon (and later ExxonMobil), and Shell.  These companies made a concerted effort to deny the case for fossil fuels being the cause of climate change.  The New York Times in 1998 reported on leaked corporate documents to the National Environmental Trust, and named Exxon, Mobil and Chevron who were participating in a plan to deny fossil fuel's part in climate change.
As CO2 emissions reached 369 ppm in 1999, Exxon merged with Mobil. The corporation continues to claim in ads that the science is "Unsettled".
  New documents have become available from the corporate archives and ExxonMobil has steadily been fighting lawsuits around climate change.  It has publicly stated that it is in favor of a carbon tax on fossil fuels, while privately lobbying to stop any kind of carbon tax or other type of serious attempt to make oil companies accept some responsibility for on-going climate catastrophes.
Climate change was definitely out of the closet.  Phony research papers began to emerge that mimicked authentic scientific organizational styles like the National Academy of Sciences.  One such paper was done by a think tank funded by ExxonMobil called the "Oregon Petition" that challenged the consensus of other climate change researchers. It was a campaign of disinformation that introduced confusion into the mix.  The shareholder meetings began to receive an increasing amount of concerns about climate change.
In 2019, the state of New York brought a lawsuit against the firm, New York v. ExxonMobil by the State's Attorney General Letitia James.  It had to do with the company's policy of keeping a mysterious separate set of books suggesting the company is fraudulently misleading investors about managing risks posed by climate change. Their separate accounting records suggested the company kept one set of books for public use and another internal set based on the potential cost of climate change.  Rex Tillerson, former Exxon CEO, testified that the separate accounting records were an attempt to communicate possible climate change impacts for company information and made available to shareholders.  The company claimed it's a method of documenting the risks of climate change by relating it to a carbon tax that would increase over time.  For example, in 2030 the tax might be $40 per ton of CO2 and would possibly increase to $80 per ton by 2060.  It leads one to believe the company has genuine concern about the risks of climate change in the future and is also supporting a carbon tax.  The case was dismissed for failure to prove a "preponderance of evidence" that ExxonMobil was misleading investors.  On the contrary, some investors feel the company is forward looking and, according to the judge, many investors in the early 2000's would not look that far ahead in their investing strategy.
The Official Website of the City of New York reports a more recent lawsuit on Earth Day, April 22, 2021.  The City filed a case against ExxonMobil, Shell, BP and the American Petroleum Institute for violating the City's
Consumer Protection Law.  Mayor Bill de Blasio is taking on these corporations for green-washing and false advertising regarding climate change.  The Mayor announced that the City is filing suit against ExxonMobil Corp., Royal Dutch Shell Plc and BP Plc along with the America Petroleum Institute for making claims that these companies were promoting themselves as being sensitive to climate change and that their products somehow fit within the realm of being "green" and for representing themselves as fighters against climate change.  The City maintains these corporations and the American Petroleum Institute are engaging in deceptive practices.  They claim their products are somehow "greener" and "cleaner" and they never disclose the real impacts of their products.  New York City is seeking to block companies from such claims along with charging civil penalties.  The case is still on-going.

At ExxonMobil's last Shareholder meeting on May 26, 2021 (CO2 now at 418 ppm), a rebellion of a sort took place that put two green candidates on the slate for the Board and they were elected and instated.  A small hedge fund called Engine No. 1 was responsible for bringing the support of the three largest pension funds behind the vote: California Public Employees' Retirement Fund, California State Teachers' Retirement Fund and New York Common Retirement System. Thomas Friedman covered this quite well in his June 3 column calling it "one of the most consequential weeks in the history of the oil and gas industry and shareholder capitalism."

In another ExxonMobil moment in June of this year, a secretly recorded interview by Greenpeace with an ExxonMobil lobbyist, Keith McCoy, who is a senior director in ExxonMobil's Washington, DC office.   Mr. McCoy revealed how he regularly entices U.S. Senators to show concern for climate change and at the same time adapt a policy to do nothing about it.  The lobbyist discusses the subject of climate with Congresspersons so that they can have talking points, show that they would be for a tax on carbon, and feign some sort of competence about climate change when needed.  It's a charade to side-step doing anything about climate change.

The company continues to mislead with misinformation.  It disregards its role in covering up its own scientific analyses and ignores the professional sources and the innumerable peer-reviewed research data by university scientists.  It falsely persuades and corrupts politicians to support its energy stance despite climate emergencies while attempting to sell itself to consumers as an environmental advocate.  ExxonMobil doesn't invest in renewable energy like European oil companies (BP, Shell, Total, Eni).  It did invest in solar power,  as a diversifying investment during those wavering OPEC price fluctuations.  An attempt to make solar energy profitable didn't pan out for ExxonMobil and closed that out in 1984.  In more recent times the company uses solar energy as a cheaper power to run its facilities.  This shows how the company has an emission reduction agenda and solar power is part of that program.  It also advocates for biofuels, and carbon-capture-and-sequestration.  With all of its public relations, smoke-and-mirrors claims the company is really in the business of continuing to profit from its strong support of fossil fuel production while passing the cost of climate change to the public.
ExxonMobil is not the only source of greenhouse gases and not the only corporation with this sort of conspiratorial perspective when it comes to managing a company.  It is, however, one corporation that could do something about the global situation of our degrading Earth that will make it too uncomfortable and expensive for most of us.  While it does, no doubt, do good things for some communities it has a tunnel-vision view of the what is meant by "the Environment".   A colorful TV ad about how the caribou are being saved in the Arctic while attacking their habitat for oil is not environmentally friendly.  The election of two "greener" members to the Board is a step in the right direction.  
It has become obvious that ExxonMobil's corporate governance that guides the company has a corporate strategy with a gaping integrity hole.  It's obvious that the corporation's sense of human dignity comes into question as it pursues its profit motive.  ExxonMobil and many other corporations could use a corporate governance behavior modification that includes a social conscience.  They need reasonable, transparent, programs instead of dangerous schemes that depend on corrupting politicians and that are perilous to our way of life.  In the meantime, CO2 levels continue to trend upward. 
V.  Events – Mostly Virtual (all events in Pacific Daylight Time)

---
Wednesdays, Aug 4, 11, 18, 6:00 – 7:15 pm, Beginners Natural History Class

Zoom class for adults

Register:  Use the link above.
Friday, Aug 6, 9:0011:00 pm, 2021 Bay Area Clean Energy Access Summit

Hosted by Acterra – features slate of speakers

See web site.

Friday, Aug 13 , 7:30 pm,  Amos White on 100K Trees for Humanity by Amos White

Sierra Club's Virtual Green Friday presentation

Register:  Use the link above.
Thursday, Aug 19, 6:00 – 7:30 am, The Green New Deal: A Conversation

Presented by Grandmothers for a Green New Deal

Use the link above.
Other Sources of Bay Area Events:
Friends of the Earth – located at the David Brower Center, Berkeley.
350BayArea – Includes other 350.org branches in the Bay Area.
Planet Drum – San Francisco bio-region awareness center.
Ecology Center – Berkeley sustainability center.
David Brower Center – The environmental center in Berkeley.
Sunflower Alliance – Bay Area umbrella organization for activism.
Sierra Club San Francisco – Bay Area website.
The End